The Film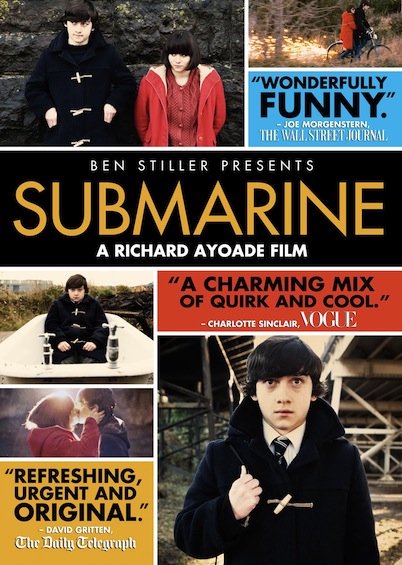 "Submarine" is a distinctly British (specifically, Welsh) coming-of-age film with a strong, acknowledged influence from Wes Anderson. This is British actor/comic Richard Ayoade's debut feature film and, to my eternal shame, I still have not seen any of his "The IT Crowd" (2006-Present) or "Garth Marenghi's Dark Place" (2004). They're on the list. Meanwhile, this scene is one of my favorites, ever.

Young Oliver Tate (Craig Roberts) is having a difficult time. He's a little different from other kids at school; he has a crush on Jordana Bevan (Yasmin Paige), an insular pyrotechnic; and to top it all off his parent's marriage is slowly falling apart. Tate narrates these events set in the 80's, with an intelligent wit and occasionally breaking the fourth wall. Craig Roberts as Oliver more than handles his own in a cast of older, more established actors. His dialogue and delivery cracks just as much as Sally Hawkins' and he brings a soulful understanding to the strangeness he finds himself in. Yasmin Paige as the shut-off, hurt and occasionally bullying Jordana is equally impressive, never flinching from the role. There's a reason Jordana closes herself off and acts out, and it's never handled in a heavy-handed way. Paddy Considine is, of course, stonking aces as the mullet-haired self-help bullshit guru ex-flame of Oliver's mum.

"Submarine" is a funny film, with a knowledge and love of cinema and cinematic conventions. Ayoade is a confident director and has done extraordinary work in balancing the smarts and the heart; compare "Submarine" to the more emotionally distanced "Eagle vs. Shark" (2007). It's just... I was (perhaps unfairly) expecting more. I've had a difficult time writing about this film (as you can likely tell from my short, stop-start review) and I believe it's because I am still unsure what I make of it. There were my expectations and then the reality and, in the midst of the constant cinematic craziness of watching and reviewing many films, I have not had the time to properly digest and contextualize. "Submarine" is a film I will revisit and I look forward to getting my thoughts on it in more order.

Video


Presented in the film's original theatrical ratio of 1.85:1 this transfer comes to DVD with an anamorphic image. It's been a few years since I've watched a DVD having moved onto HD with Blu-ray and Blu-ray 3D, so it was a little jarring having to watch something in standard definition, shot on a meager budget this picture isn't going to blow anyone away by any stretch of the imagination. Shot in 35mm film the transfer does look good, with a decent amount of grain and texture. The overall picture looks a little flat and colors muted slightly (supposedly not an issue with the Blu-ray release). The standard definition pictures is decent enough for the format, with natural skin tones and an overal clean print. The detail could use a boost and the blacks are a little noisy, which makes for a rather ho-hum viewing experience.

Audio


A single English Dolby Digital 5.1 surround track is presented here, the dialogue is clean and clear for the most part, it's also a rather subdued film so the surrounds aren't exactly active, aggressive or robust but rather perfectly suited for this film. Pop ballads are a staple of this film and make decent use of the surrounds, other than than the back channels are mostly quiet.
The only subtitles featured are in English for the hearing impaired and Spanish.

Extras


Anchor Bay have released this film with only a small handful of supplements, they incude a short featurette, a collection of deleted and extended scenes and a couple of bonus trailers. Below is a closer look.

First up are a collection of 9 deleted and extended scenes, these can be viewed individually or with a 'play all' option, they are:

- "Jordana on Oliver's Imaginary Death" runs for 1 minute 19 seconds, Jordana talks to the camera about Oliver's death.
- "Jordana Bevan's Back on the Market" runs for 47 seconds, Oliver learns that Jordana is single again.
- "The Graham T. Purvis System" runs for 1 minute 4 seconds, Graham Purvis introduces his "system" or colors to an audience.
- "What is Light? (Extended)" runs for 2 minutes 14 seconds, an extended version of the scene already in the film about Graham explaining what light is.
- "I am a Prism (Extended)" runs for 2 minutes 40 seconds, more of the same from Graham as he talks about being a prism.
- "Color Blockers" runs for 38 seconds, Graham tells of people that stop you from your "journey" the previous three scenes and this one could have been cut together to form one long extended sequence
- "Nonage: A Period of Immaturity" runs for 1 minute 9 seconds, Oliver spies on Graham practicing some fight moves, then takes a call from Jordana about not being ready to break up yet.
- "Tryptophan" runs for 1 minute 19 seconds, Oliver and his dad Lloyd break a Christmas cracker at the dinner table and Lloyd explains why you get sleepy after eating Turkey.
- "Rights & Responsibilities" runs for 1 minute 42 seconds, is a school lesson about rights and responsibilities, the class is asked for some examples.

"The Making of Submarine" featurette which runs for 10 minutes 57 seconds, and is the usual EPK stuff, nothing with substance here, I suppose a film like with that was released to a handful or art house theaters won't really get a full-blown making-of that delves into the production, so I suppose we should be lucky to get anything... in any case viewers can expect the usual fluff here, some interviews with key cast and crew mixed in with some production footage...

Rounding off the disc are a couple of pre-menu bonus trailers for:

- "Dirty Girl" which runs for 2 minutes 29 seconds.
- "Blue Valentine" which runs for 1 minute 53 seconds.

Packaging


This disc is packaged in a standard keep case housed in a cardboard slip-case.

Overall


The film review was originally published on the blog Rockets and Robots are Go! by Andy James. The A/V and supplements were reviewed by Noor Razzak.

| | | | | |
| --- | --- | --- | --- | --- |
| The Film: B- | Video: C+ | Audio: C+ | Extras: C | Overall: C- |