The Film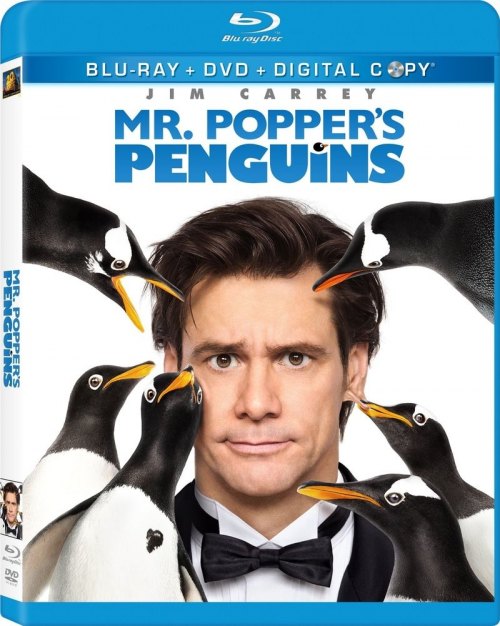 A better title for Mark Waters' tepid adaptation of Richard and Florence Atwater's Newbery award-winning 1938 children's novel "Mr. Popper's Penguins" would probably be "Popper's Pooping Penguins (and the Painfully Predictable Plot)". My suggested title kind of works better, I think. At the very least, it's considerably more honest. I say this because, the film, which stars Jim Carrey as the titular Mr. Popper, has little in common with the Atwater's beloved book, besides the name and the basic premise of a family suddenly burdened by an overabundance of penguin-kind. Plus, there's a plethora of poop (or, poop jokes) and lots of predictable plot points to pad the 90-ish minute runtime. While one of those things will probably please the kiddies (that'd be the poop-humor, folks), it's the latter (and, truthfully, the former too) that will have parents rolling their eyes.

The script, by Sean Anders and John Morris (with contributions from former Disney scribe Jared Stern, who touched up both "Bolt" (2008) and "The Princess and the Frog" (2009)), is a toughly modern modification of the source material. Their version of Popper is as a businessman (vaguely involved in real estate dealings), and like many a modern movie dad, he's a neglectful nitwit obsessed with work and the almighty dollar. In pretty much every way, Carrey's Tom Popper is a far cry from the kindly, but painfully poor, house painter of the book. And the plastic-faced Carrey, who's looking noticeably old and even tired these days, presents an unlikable character, clichéd to the extreme. Popper's a master manipulator, and always puts his career ahead of his family and friends, not unlike many a Carrey character (he is particularly reminiscent of the lying lawyer Fletcher Reed from "Liar, Liar" (1997)). Popper's kids, who he sometimes has on the weekends—Popper shares custody with the ex-wife (Carla Gugino), that, deep down inside, he still has feelings for—are annoying archetypes of contemporary teenaged terribleness: Janie (Madeline Carroll) is a constantly-texting twat, while her brother Billy (Maxwell Perry Colton), a big-mouthed brat.

The little squawking seabirds foretold in the title come into the picture, courtesy a combination of ace animal wrangling and some slick and skillful CGI, when Popper's father—who, it turns out, was also a negligent parent, off exploring the far recesses of the globe and ineptly ignoring his son—dies, giving custody of his gentle gentoo penguin, called Captain, to Popper in his last will and testament. Promptly planning to return the penguin, predictably something goes wrong and Popper's palatial New York apartment is suddenly swarming with the waddling Orca-food, a sea of black-and white cascading into the chilly confines. Things get ever more penguin-y with the arrival of five more flightless figures: Bitey, Lovey, Loudey, Nimrod, and, perhaps the most poop-tastic penguin of all, Stinky. Popper's kids love the penguins, and slowly, as he begins to care for them, the father's relationship with his children is reformed.

Popper's life is grand. For you see, when the kids are happy, Mom is happy too. The Mr. and Mrs. begin dating again; his kids suddenly want to be around him once more, and well… all is well… for a while anyway. That is, until Popper's bosses ask him to poke and prod an old aristocrat named Selma Van Gundy (Angela Lansbury) for the deed to The Tavern on the Green, the last privately owned piece of prime real estate right in the heart of New York City's famed Central Park. This task seemingly undoes everything the film presents up to that point. Popper send the birds away—and into the care of zany zookeeper Nat Jones (Clark Gregg)—and he falls back into his old careless habits of putting work first over family. Fear not however, as, like all films of its ilk, "Popper" rights all wrongs once again before the final minutes in the final act.

The film is predictable, plodding, and poop-riddled, although competently constructed to a fault. It's technically sound, but only because Water's and company have stuck so rigorously to the formula. The barely-there villain is forgettable, and the ups and downs of the character arcs and plot points are so easily spotted, it's as though we've ridden this roller coaster before (and, if you've watched a family comedy in the last twenty years, you already have).

Relying on silly slapstick, the frivolous family film is billed as a comedy and, I suppose, to a kid, it's pretty funny. The punchlines are as base as you might expect. Most of the laughs will probably come from the under-eight set, who will heartily belly laugh at every kick to the groin, preposterous moment of Carrey's careless physical comedy routines, or more simply, the penguins plopping poops in their wake. And therein lies the problem. "Popper's Penguins" is something that the kiddies will lap up—as they have no discernible tastes, certainly not cinematically speaking—and I suppose then, "Popper" isn't a complete failing of a film. It'll entertain the easily amused child, and that's what Waters and company obviously set out to do in the first place. It's just… dreadfully uninteresting and will eventually even become unfunny to any adult within range, because the plot is as plain(ly unoriginal) as day, and predictable from a mile away. (You mean, you didn't see Popper getting "the girl"—his wife—while also working through his daddy issues, reconciling with his children, and even making good on the deed deal?). But, in the end, although far from awful, family fare like "Popper" just makes me sad. Carrey—like so many other once-reliably raunchy comedians—has fallen victim to the paycheck gig, cashing in the big bucks on films that are safe, silly and soulless. It's doubly tragic in Carrey's case because, more so than most populist performers, he also happens to be tremendously talented dramatic actor too.

Video


"Mr. Popper's Penguins" makes for a particularly pretty presentation on Blu-ray. Shot digitally in high definition, with the Arri Alexa, the direct digital-to-digital transfer is a spotless spectacle. Crisp, clean and colorful, the 1.85:1 widescreen 1080p 24/fps AVC MPEG-4 encoded image has excellent detail and impressive contrast (a must for a film with a "cast" that is primarily two-toned in black-and-white "tuxedos"). The transfer reveals immense texture—both in clothing fabrics and facially. Carrey's wrinkles are especially prominent, and, as I mention above, he looks unusually aged here (his plastic face is no longer as pliable, I guess). Technically, the disc is as close to flawless as they come: there are no compression artifacts, or signs of edge enhancement or DNR. I didn't notice any issues with banding and aliasing is only an issue in a few select shots of the New York skyline.

Audio


The squawks and honks of "Popper's" penguins populate the English DTS-HD Master Audio 5.1 soundtrack (48kHz/24-bit) with such piecing power, they're hard to ignore. Panning between the left and right speakers is playful, with the penguin sounds getting suitable directionality, but rears are reserved, really only engaged in a few crowd scenes. The LFE is also low-key, restrained, if perhaps more expectedly so considering the film is light comedy with little need for bombastic bass. Dialogue reproduction is superbly handled though, with perfect clarity, and not a single distorted sound to be heard at any moment. Although perhaps not as shockingly sophisticated as the video transfer, the lossless sound mix is very close to perfection, and I go as far to say that "Mr. Popper's Penguins" sounds exceptional for the genre. English Descriptive Video Service (DVS) 5.1, Spanish Dolby Digital 5.1, French Dolby Digital 5.1 with optional English for the hearing impaired and Spanish subtitles have also been included.

Extras


In a clear case of quantity over quality, "Mr. Popper's Penguins" offers a plethora of perfectly plain extras on its three platters. A 3-disc set, the release includes an audio commentary, a short film, deleted scenes with optional commentary, a gag reel, five featurettes, an "original story sampler", the film's theatrical trailer, several bonus trailers and the BD-LIVE live lookup function. A standard definition DVD and a digital copy have also been included on additional discs. All supplemental content on the Blu-ray disc is encoded in 1.78:1 widescreen 1080p high definition unless otherwise noted, with 2.0 Dolby Digital sound. For the record, Fox has authored the disc with optional bookmarks and the resume playback function.

DISC ONE: BLU-RAY

"Popper" features an average audio commentary with director Mark Waters, editor Bruce Green, and visual effects supervisor Richard Hollander. Carrey is notorious for not participating in commentaries, and with the actor out of the loop, it's up to the technical team to entertain listeners. They fail, instead offering a not-so-surprisingly dry and technical track—talking about adapting the book, working with the animals, and noting what's CG and what isn't. This is exactly the opposite of what viewers would probably want from a commentary accompanying a family comedy. Then again, are fans of this particular film the commentary type? I suppose not: it's a very peculiar seven year-old who listens to one.

"Nimrod and Stinky's Antarctic Adventure" (1080p, 6 minutes 11 seconds) is a truly awful short film. This poorly animated, stupidly silly sequel pits the penguins against their nemesis—the zookeeper. It is an assault on the eyes, and horrible in every way, from the quality of the low-rent animation to the horrific "story". Meaning, the kids will love it, I'm sure.

Twelve deleted scenes (1080p, 14 minutes 32 seconds) feature optional audio commentary from director Mark Waters, editor Bruce Green, and visual effects supervisor Richard Hollander, available only in the "play all" mode. The scenes—also playable individually—are nonessential nothings and have self-explanatory titles, like:

- "Young Popper in classroom"
- "Popper talks with homeless man"
- "Popper meets Rick (James Tupper)"
- "Popper meets his neighbor, Kent (David Krumoltz)"
- "Popper's lonely weekend"
- "Popper's penguin pen"
- "Popper escapes the Guggenheim"
- "Popper presents tower concept to his bosses"
- "Popper's second first date"
- "Popper says goodnight"
- "Popper, Kent and the apartment board"
- "Popper escapes the zoo"

An obligatory gag reel (1080p, 2 minutes 5 seconds) has also been included. The penguins and Carrey split the runtime, each getting about equal laughs from me: none.

The disc's first featurette is called "The Legacy of Mr. Popper's Penguins" (1080p, 4 minutes 4 seconds). Predictably, the piece provides a brief back-story on the book that inspired the film.

In "Ready for their Close-up" featurette (1080p, 8 minutes 28 seconds), Popper's pesky penguins—the real one's, not the CGI creations—get considerable attention. This featurette is devoted entirely to them.

"Ladies and Gentooman" (1080p, 5 minutes 55 seconds) is a featurette with Jessica Perry, a senior level aviculturist at my local SeaWorld in San Diego. She talks about penguins and their natural habitat.

"Stuffy Penguin Theater" (1080p, 4 minutes 21 seconds) is a short featurette about how the filmmakers used stuffed penguins as stand-ins for the eventual CG replacements.

"Penguin Pandemonium" (1080p, 3 minutes 12 seconds) is an even shorter featurette. This piece includes audio commentary from director Mark Waters, editor Bruce Green, and visual effects supervisor Richard Hollander which plays over raw camera footage. They talk about planning out scenes with puppet rehearsals.

"The Original Story Sampler" (1080p, 11 pages) is an interactive gallery, featuring pages from the first few chapters of the original book, with subtle effects and a syrupy underscore. This feature's Java implementation is clunky and it actually locked up my usually problem-free PS3.

Lastly, Fox has included the original theatrical trailer (1.85:1 widescreen 1080p, 1 minute 13 seconds) for "Mr. Popper's Penguins".

Bonus trailers and promos (1080p) for:

- "Fox Digital Copy" promo (49 seconds).
- "Alvin and the Chipmunk's: Chipwrecked" (1 minute 7 seconds).
- "Marley and Me: The Puppy Years" (25 seconds) on blu-ray and DVD.
- "Tooth Fairy 2" (1 minute 8 seconds) on blu-ray and DVD.
- "Spy Kids 4D: All the Time in the World" (30 seconds) on blu-ray and DVD.
- "Digital Copy: How To" (3 minutes 35 seconds).

"Mr. Popper's Penguins" is also BD-LIVE enabled. Under a menu titled "Live Extras" viewers with an internet-connected Profile 2.0 player will find Fox's BD-Live portal and the IMDB-powered Live Lookup feature.

DISC TWO: DVD

The second disc is a full retail DVD-9. It presents the film in 1.85:1 anamorphic widescreen with English Dolby Digital 5.1, English DVS 5.1, Spanish Dolby Digital 2.0 and French Dolby Digital 2.0 surround and English and Spanish subtitles. It includes several of the supplements from the Blu-ray: the audio commentary, deleted scenes, gag reel, short film and three featurettes—"Ready for their Close-up", "Ladies and Gentooman" and "Penguin Pandemonium"—and the same set of trailers.

DISC THREE: DIGITAL COPY

The final disc contains a digital copy of "Mr. Popper's Penguins", which is compatible with iPod, iPad and other Apple-branded products and WMV-compatible portable devices.

Packaging


"Mr. Popper's Penguins" waddles onto home video from 20th Century Fox Home Entertainment in a seemingly sizable 3-disc package. The triple platter set includes the film and special features in high definition on a dual layered BD-50, a standard definition copy of the film on a DVD-9, and a digital copy on a DVD-5. The Blu-ray disc is reportedly locked to Region A, the DVD locked to region 1. The digital copy is compatible with iPod, iPad and other Apple-branded products and WMV-compatible portable devices. All three discs are housed in an Elite keep case; a cardboard slipcover has been included on first pressings.

Overall


With poop-jokes a plenty, "Mr. Popper's Penguins" is probably best enjoyed by the kiddies. The underdeveloped, unoriginal and undoubtedly more adult subplot between Popper and his wife will fly right over the young one's heads, but mom and dad won't find enough in it to make the film worthy of a watch. At the very least, the Blu-ray has a spotless video transfer and a surprisingly splendid audio track. Extras? Well, the disc has a lot of them… but very few are interesting or insightful. Overall, it's a real mixed bag… of rotten fish—your little penguins, who don't have a more refined palate, will probably eat it right up; but "Popper" will make anyone with more critical cinematic tastes… perhaps not want to puke, but certainly skip a second serving. Rent it first. Chances are, once will be enough to placate the little ones.
| | | | | |
| --- | --- | --- | --- | --- |
| The Film: C- | Video: A | Audio: A- | Extras: C- | Overall: C+ |