The Film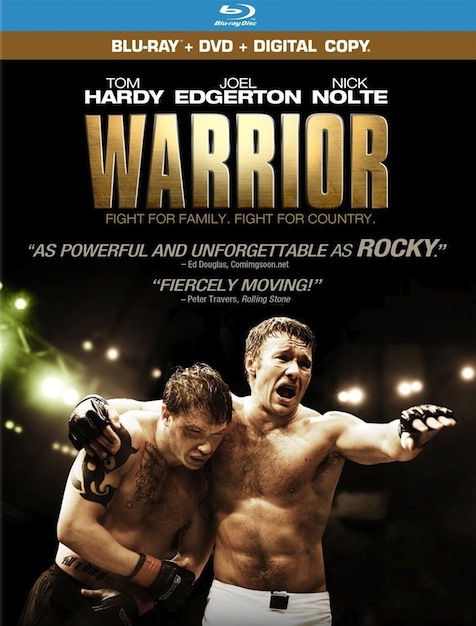 "Warrior" is a film that unashamedly goes for the big emotions and grand gestures. It could almost be written off as a high gloss, high concept B-movie, but it's pulled off with such deft aplomb you cannot help but get sucked into the tale of familial melodrama.. and kickboxing.

Joel Edgerton and Tom Hardy are estranged brothers Brendan and Tommy. Their dad, played by Nick Nolte in full-on grizzled and haggard mode, is an ex-alcoholic and back in the bad old days, their mum left him. Tommy, a prize-winning wrestler trained by his dad, went with her while Brendan stayed with the old man. Brendan is now happily married with kids, a job teaching and money troubles that he tries to ease by fighting in car park mixed martial arts bouts. Tommy cared for their mother and watched her slowly die before joining the Marines. He washes up on his old man's doorstep. Neither brother has much to do anymore with the man responsible for so much pain in their lives - until Tommy washes up on his doorstep looking for a place to crash.

Both of these guys are fighters and both have very good reasons for needing money. Co-writer and director Gavin O'Connor is intent on giving the audience plenty of time with Tommy and Brendan, to really come to understand these two men and their motivations. It's possible too much time is given over to this set-up before O'Connor even reveals the pot o' gold at the centre of the film: a winner-takes-all mixed martial arts tournament with a massive cash prize. Of course the two brothers are going to end up facing off in the cage in the final round. Everyone knows where the film is going, O'Connor just takes his time getting there. Yes, this allows the audience into the worlds of Tommy and Brendan but it begins to become frustrating when the tournament isn't even mentioned until a decent way into the film. But then, O'Connor has set himself a challenge by, essentially, attempting to give us two Rocky's in one movie.

Joel Edgerton and Tom Hardy are two of the most interesting and physical actors working their way up Hollywood. Hardy of course has caught people's eyes with his transformation in "Bronson" (2008) and his scene stealing in "Inception" (2010), while Edgerton made a big impression with little screen time in "Animal Kingdom" (2010). They're both incredible presences and work to make their physicality as much a part of their characters. Hardy's Tommy is a hunched over bruiser, trying to hide his emotional bruising. As a fighter he's quick, vicious and brutal. He goes for the knockouts and doesn't stick around for the applause; he's only there to dish out the pain and win. Edgerton's Brendan though, stands tall; he has a solid base of family to support him and has worked through any demons he may have had. He's a battler, tenacious with his opponents. He doesn't give up, even against far bigger fighters.

And then between these two is the shambling presence of Nick Nolte, trying to do right by his boys but neither of them willing or able to forgive and forget his abuse. Nolte really knocks it out here - where Hardy internalizes everything and lets that show through his physicality, Nolte cannot help but express everything. His Paddy Conlan is such a broken figure shuffling around his small house, hopeful for forgiveness but unsure he'll ever receive it.

"Warrior" is a big emotion sports movie - two underdogs, both equally compelling and both hungry for the prize. I know next to nothing about the world and sport of mixed martial arts, but then I don't need to. I'm not much for sports, but I do love sports movies. There's something about them, the way they're able to distill the visceral thrill of a game or a bout, with the emotional investment of a dedicated fan and Warrior does not disappoint. That final bout, the showdown between brothers, is what the film is all about and O'Connor ensures there's enough drama and tension to keep you invested. I think Warrior could comfortably play in a double-bill with Stallone's "Rocky" (1976).

Video


Presented in the film's original theatrical ratio of 2.40:1 mastered in HD 1080p 24/fps using AVC MPEG-4 compression codec. Lionsgate have done a splendid job bringing this film to Blu-ray, the picture is sharp and nicely balanced. There's no issue with softness here with beautifully detailed foregrounds and backgrounds, additionally close ups looks great and we see a decent amount of detail in faces, right down to stubble and the beads of sweat on our two leads faces during the fights. It's almost real enough to smell the muskiness of the surroundings in your own home (thankfully we haven't expanded on the smell-o-vision concept). Colors are solid, blacks are deep and bold with natural looking skin tones. Shadow detail remains consistent and the picture is free from dirt or any digital manipulation. There's a nice thin layer of grain which reminds viewers that this film was shot on film and digital options that are more readily available (and cheaper) to most filmmakers. Overall the picture is excellent.

Audio


Three audio tracks are presented here in English DTS-HD Master Audio 7.1 surround mixed at 48kHz/24-bit, English DTS-HD Master Audio 5.1 surround also mixed at 48kHz/24-bit and an English Dolby Digital 2.0 stereo track. For the purposes of this review I chose to view the film with its DTS-HD 7.1 audio track. The audio for this film can be summed up in one word "incredible" the audio is rich, dense, details and brilliantly complex that all helps in immersing the viewer in the action and totally encapsulate you into the whole experience. Dialogue is clear and distortion free, but that's not why we are here, the fight sequences are incredible, with a rumbling robustness that transports you to the ring. The surround activity is as active as any big budget action movie, the film's ambiance is nicely mixed and appear natural and never out of place, the score adds further dimension to the overall mix. Everything works in this track and can easily be considered reference quality.
Optional subtitles are included in English, English for the hearing impaired and Spanish.

Extras


Lionsgate has packed this disc with some decent extras that include an audio commentary, an enhanced viewing mode, a documentary, a single deleted scene, a gag reel and three featurettes along with a second disc featuring a digital copy version of the film. Below is a closer look at these supplements.

DISC ONE: BLU-RAY

First up is the feature-length scene-specific audio commentary with director Gavin O'Connor, co-writer Anthony Tambakis, editor John Gilroy and actor Joel Edgerton. First impressions of this track are slow and bit lacking, I was initially worried that the participants would offer up many silent gaps and offering hardly anything for fans to savor. Thankfully they kick into it after the slow start and offer up the usual production information, the development, casting and shooting as well as offer up some technical trivia. It's nice to hear from experienced editor Gilroy who has edited some big name films such as "Michael Clayton" (2007) and "Salt" (2009) who has a decent handle on cutting both drama and action. There's some good background on the production and fans get an insight into the shooting and production process from the perspective of these participants making it, in the end, a good track to listen to.

Next up is the "Full Contact" enhanced viewing mode feature, this feature, which can be viewed along side the film includes some interviews with key cast and crew and choice behind-the-scenes of the making of the film delving into various key elements of the production.

"Redemption: Bringing Warrior to Life" is a documentary (1080p) that runs for 31 minutes 57 seconds, it's nice that we get a decent-length in-depth making of on a disc rather than being relegated to a collection of short EPK clips. This feature incorporates the usual talking head interviews as well as a collection of behind-the-scene production video that allows viewers an inside look at the making of the film. It's definitely worth checking out, although there is some minor repetition between this and the audio commentary.

There's a single deleted scene (1080p) entitled "The Diner" which runs for 3 minutes 2 seconds, this scene can be viewed with optional audio commentary by director Gavin O'Connor, co-writer Anthony Tambakis, editor John Gilroy. Tommy and Paddy in a Diner as Paddy tries to reconnect with his son. The commentary explains why the scene was omitted despite the director actually liking the scene very much.

"Cheap Shots" is the usual collection of flubs in this gag reel (1080p) that runs for 3 minutes 58 seconds, not really worth repeated viewing, but what gag reel is? Unless we're talking about a Judd Apatow film these reels aren't really worth much.

"Brother vs. Brother: Anatomy of the Fight" is a featurette (1080p) that runs for 11 minutes 55 seconds that breaks down the climactic fight between storyboards, rehearsal footage, production footage and the finished scene. The various stages are played out for your viewing pleasure. While very interesting to see the genesis of the scene an audio commentary by the director would have been good to accompany this clip.

"Philosophy in Combat: Mixed Martial Arts Strategy" is the next featurette (1080p) which runs for 21 minutes 7 seconds, this clip takes a closer look at the brutal sport in which this film is based around and includes some interviews with actual MMA fighters and discusses the strategy of the fight.

"Simply Believe: A Tribute to Charles "Mask" Lewis, Jr." is the final featurette (1080p) which runs for 13 minutes 58 seconds. Lewis Jr. was one of the co-founders of the Tap Out MMA brand, he passed away before this film was made and this clip is a memorial/homage to the man and his legacy.

Rounding out the extras are a collection of bonus trailer (1080p) for:

- "Brothers" runs for 2 minutes 22 seconds.
- "The Expendables" runs for 1 minute 11 seconds.
- "Affliction" runs for 1 minute 11 seconds.
- "Facing Ali" runs for 2 minutes 32 seconds.

DISC TWO: DVD

This is the standard definition DVD version of the film.

A digital copy is also included for portable media devices via a redemption code.

Packaging


Packaged in a 2-disc keep case housed in a cardboard slip-case.

Overall


The film review was originally published on the blog Rockets and Robots are Go! by Andy James. The A/V and supplements were reviewed by Noor Razzak.
| | | | | |
| --- | --- | --- | --- | --- |
| The Film: B+ | Video: A+ | Audio: A+ | Extras: B | Overall: B+ |