The Film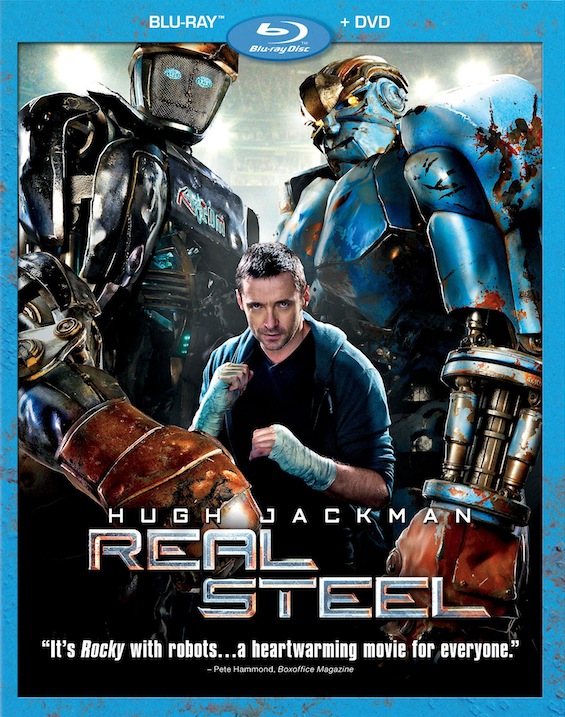 From "Warrior" (2011) to "Real Steel"... both ostensibly sports films, but both very, very different approaches. Where "Warrior" strove for a more grounded (though still heightened) world, "Real Steel" features boxing robots. However, in a further congruence both films have a surprisingly effective emotional core and both feature broken families, with an emphasis on flawed father figures.

In "Real Steel" that flawed father is Hugh Jackman's washed up boxer, Charlie Kenton. Back when boxing was still featuring human boxers, he was an up-and-coming star. With the advent of robot boxing though, his star quickly fades and he finds himself dragging a rusting old robot around the fringes of the sport, constantly trying to stay a few steps ahead of his creditors. This ragged existence of his is interrupted when his ex-girlfriend dies and Charlie has to take some sort of responsibility for his son - a son he doesn't know or want.

The extent to which the film goes to make Jackman's Charlie a complete asshole of a dad is actually really stunning and brave, especially in a Disney family film. Charlie Kenton is not only a guy who has had nothing to do with his 11 year-old son Max (Dakota Goyo) but who actively sells the kid to his ex-girlfriend's sister. Charlie needs money, the kid's aunt's husband has money and so Charlie brokers a deal. I mean, this guy is an asshole. But, y'know, at the same time he's Hugh "Wolverine" Jackman, a man with a very high charisma quotient. So Charlie still scrapes by as a charming sonuvab***h. The child-trading aside, Charlie has one summer to spend with his son before the smart-ass tyke goes to live with his aunt. So Charlie, not wanting some annoying kid slowing him up, tries to dump the kid with another ex. But Max is too smart for that; he's big in to robot boxing and wants to spend some time on the road with his dad learning about it. They're both incredibly clear-eyed about the father-son relationship - Max stumbles to his dad's selling of him fairly quickly - but the two of them come to know, appreciate and love one another.

Yep, "Real Steel" is not just a movie about robots pounding seven shades of crap out of each other (helloooooo "Transformers: Dark of the Moon"! (2011)) but features an emotional "A" story about an estranged father and son bonding. And director Shawn Levy - the man behind such classic "comedies" as "Cheaper by the Dozen" (2003) and "Just Married" (2003) - manages to not club the audience over the head with enforced pathos and obvious emotional manipulation. It seems when he isn't troubling over the "comedy", Levy can get some emotional honesty from a film. Or, the fact that screenwriter John Gatins is no stranger to uplifting sports movies - "Coach Carter" (2005), "Dreamer: Inspired by a True Story" (2005), "Hardball" (2001) - could also have helped, even if none of them ever really caught on. In fact, it seems like Gatins has only written sports films; know your niche I guess. Through whatever thrice-damned alchemy they used, they crucially never overstep into the overwrought or cloying sentimentality that could have otherwise crippled the film.

As Max's bot Atom - old, clunky, can take a beating but can't dish it out - progresses successfully through bout after bout, the plucky trio catch the eye of the robot boxing big leagues. Max is a smart and fired up kid - he won't sell Atom and he won't quit. He's a little bit of a jerk, but understandably so - his father did walk out on him and then try to sell him. He's also smart - smarter than his dad, as is constantly shown throughout the film - but he's also still just a goofy kid; he's fascinated by the robots because, c'mon! What kid wouldn't be? The connection Max makes to this old sparring bot he digs up is realistically childlike and unforced. A lot of this is down to Dakota Goyo's portrayal of Max and the easy rapport he has going on with Jackman. As someone who is more accustomed to the annoying kid characters that are so obviously designed to try and fit a "cool, hip and outsider" mold and just don't, Max is something of a relief.

"Real Steel" is far from perfect; I wouldn't call it a great piece of cinema and it makes no pretense of striving for that. I would, however, say that the film and it's makers are upfront and honest about what it is and what it's goals are. Much like one of Charlie's robots, "Real Steel" is a pieced together machine of other films. But the machine works so well, with a plucky trio at the heart of it all, you barely notice the gears.

Video


Buena Vista has released this film onto Blu-ray in HD 1080p 24/fps and mastered in AVC MPEG-4 compression in the film's theatrical ratio of 2.35:1 widescreen. Disney are terrific at delivering recent films in HD with impressive results and "Real Steel" is no exception. The image is stunningly beautiful, depth is excellent and detail is fine right down to the stubble on Jackman's face. The HD image also allows the CG robots to shine, with some terrific effects (nominated for an Academy Award this year) allowing the digital creations to live alongside the flesh and blood actors in the film. Textures hold up well, especially in the unique and interesting underground boxing locales. Colors are bold and vibrant, black levels are deep and inky, and skin tones are natural. The print feature no compression problems, no edge-enhancement or other digital flaws. The picture looks terrific and especially so on a big screen.

Audio


Four audio tracks are featured in English DTS-HD Master Audio 7.1 surround mixed at 48kHz/24-bit, as well as tracks in French DTS-HD High Resolution 7.1 surround, Spanish Dolby Digital 5.1 surround and an English Descriptive Audio Dolby Digital 2.0 surround track. For the purpose of this review I chose to view the film with its English DTS-HD 7.1 track. Much like the image the audio is equally terrific. First and foremost this is an action-packed sports film, albeit a futuristic sports films but the aggressiveness of the track is evident from the first scene. The boxing sounds crash and bang around your sound space placing the viewer in the middle of the action like all good surrounds tracks should. Music also adds another element to the overall depth and range of the track, while dialogue is clean and clear, ambient and environmental surrounds appear natural and subtle.
Optional subtitles are included in English for the hearing impaired, French, and Spanish.

Extras


Buena Vista has released this film in two formats a 3-disc version that features a Blu-ray, DVD and a digital copy version of the film. The other option is a 2-disc version which only features the Blu-ray and a DVD copy. This review is for the 2-disc version. The supplements featured here are an interactive feature, a series of four featurettes, deleted & extended scenes, bloopers, and bonus trailers, the second disc features the DVD version that also includes some extras from the Blu-ray and includes an audio commentary. Below is a closer look at these supplements.

DISC ONE: BLU-RAY

Firs up is the "Real Steel Second Screen: Ringside with Director Shawn Levy" (1080p) interactive feature. In order to access this feature you can download an app from the app store and interact with this feature on your computer or iPad to access some exclusive behind-the-scenes content and a commentary with the film's director. You don't have to have the app to view the feature, but the app adds a more streamlined way to view the bonus content. It's an interesting use of an app to add some value to the overall viewing experience but I like to keep things simple, if you want to bother with the additional connectivity then this feature is for you.

"Countdown to the Fight: The Charlie Kenton Story" (1080p) is a featurette that runs for 13 minutes 51 seconds and is basically a mockumentary about Jackman's character in the film. It offers viewers a back story to the character, it's interesting but not worth repeated viewing.

"Making of Metal Valley" (1080p) is the next featurette which runs for 14 minutes 14 seconds, takes a behind-the-scenes look at the creation of this sequence in the film, which looks incredibly complicated with the use of many practical and digital elements to help create it. This is probably my favorite feature in this extras section as the director delves into the nitty gritty of the process of getting this sequence down.

"Building the Bots" (1080p) featurette runs for 5 minutes 38 seconds, this clip takes a closer look at the special effects used to help create the robots for the film. There's both practical and CG effects as we get a look at the design, creation and development of the robot boxers and their seamless integration into the film.

"Sugar Ray Leonard: Cornerman's Champ" (1080p) is the final featurette which runs for 6 minutes 19 seconds. Legendary boxer Sugar Ray Leonard was brought onto the production to help Jackman train as a boxer and also serve as a consultant on the film to help Jackman and the crew create believable characters that can actually box and also to help the effects team to build realistic boxing robots.

A collection of two deleted & extended scenes (1080p) that feature introductions by director Shawn Levy, these scenes can be viewed individually or with a 'play all' option. The intros have director Levy comment on the scenes offering viewers a background and also on why they were omitted. They include:

- "Extended Meet Ambush" runs for 4 minutes 5 seconds.
- "Deleted Butterfly Storyline" runs for 13 minutes 43 seconds.

A series of bloopers (1080p) are presented as a reel which runs for 2 minutes 36 seconds, featured are the usual flubbed lines and actors laughing in-take, it's not that humorous to be honest.

There's also a series of bonus trailers (1080p) for:

- "The Avengers" runs for 1 minute 55 second.
- "War Horse" runs for 2 minutes 33 seconds.
- "The Help" runs for 1 minute 39 seconds.
- "Castle" promo runs for 32 seconds.

DISC TWO: DVD

This disc features the film in standard definition DVD, with an audio commentary by director Shawn Levy (stripped down from the interactive feature on the Blu-ray disc) as well as the "Making of Metal Valley" featurette, "Building the Bots" featurette, the bloopers reel and the same bonus trailers.

Packaging


Packaged in a 2-disc keep case housed in a cardboard slip-case.

Overall


The film review was originally published on the blog Rockets and Robots are Go! by Andy James. The A/V and supplements were reviewed by Noor Razzak.
| | | | | |
| --- | --- | --- | --- | --- |
| The Film: B- | Video: A+ | Audio: A+ | Extras: C+ | Overall: B+ |