The Film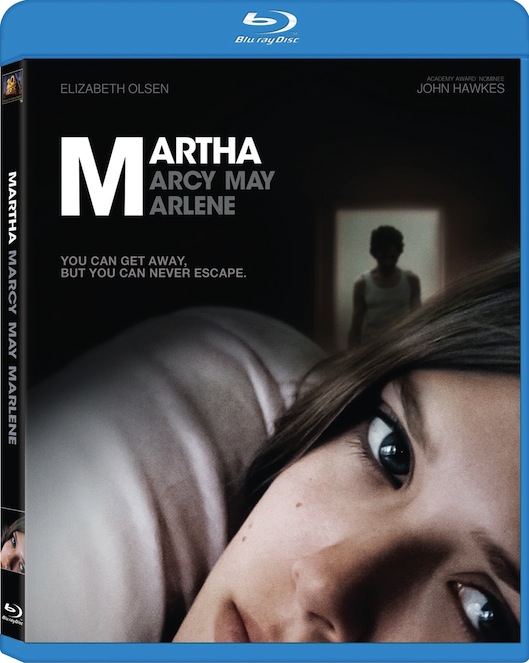 Making her feature film debut (and proving there is some acting talent in the Olsen gene pool after all) Elizabeth Olsen anchors this quietly devastating exploration of a damaged young woman.

Shying away from the tween friendly Mary-Kate and Ashley multi-billion dollar brand as far as possible, Olsen stars as the eponymous heroine; a recent escapee from a self-sufficient cult controlled by the menacing Patrick (John Hawkes). We first see her as she escapes from the farm where the cult is situated, as fellow cult members enter the woods, racing after her and crying out "Marcy May!" – a name we will quickly learn was given to her by Patrick as a way of divorcing her from her previous life. Her given name is Martha and she makes it in to town. She's distressed and frightened but manages to call her sister Lucy (Sarah Paulson) who comes and picks the shaken young Martha/Marcy May up. The film is then, essentially, Martha trying to mentally escape the cult and "Marcy May".

The narrative plays out across two timelines: Martha recuperating at the newlywed Lucy's summer house with her husband Ted (Hugh Dancy) and Marcy May's life in the cult. This chronological cross-cutting lends the film a unique tension as events in the past lead to echoes in the present. Hawkes is a wiry and intense presence as the calm but twisted cult leader, sensing the kids' vulnerability and using it to control them. Martha is an obviously lost soul before she even stumbles into life in the cult and post-escape she is a fragile, volatile presence in her sister's and husband's lives. She's almost naive about the world again, no longer conforming to societal norms as she has lived apart from it for so long. Olsen is the centre of the entire film; the fulcrum around which everything else turns and she totally owns it. It is a raw, uncompromising role and Olsen is quietly brave without being flashy or "actorly" and you can't help but feel concern for this damaged and used girl.

Director Sean Durkin lets the film take its time playing out; allowing the horror of Martha's experience soak into you, teasing backstory and details out and building the tension between the sisters as Lucy and Ted struggle to deal with the changed Martha. "Martha Marcy May Marlene" is an understated film, working its way under your skin and is the type of film that sits with you for awhile afterwards. An impressive, deftly handled debut feature film from Durkin and quite the announcement for Elizabeth Olsen.

Video


Presented in the film's original theatrical ratio of 2.40:1 mastered in HD 1080p 24/fps and using AVC MPEG-4 compression codec. This film looks beautiful on Blu-ray, shot in 35mm (it's nice to see a new film shot on original film elements as opposed to digital). the transfer maintains the filmic look with rich and textured detail. Colors are nicely balanced and saturated although toned down aesthetically and remains consistent. Detail is impressive with wonderful tones and looks clean and free of any flaws. There are no marks or dirt (expected from a recent release) no edge-enhancement or compression related issues. Skin tones appear natural and have a luminescence to them, blacks are nice and deep, grain is light but present and helps preserve the original film look. Overall it's a very nice looking image.

Audio


Three audio tracks are presented on this disc in English DTS-HD Master Audio 5.1 surround mixed at 48kHz/24-bit as well as a French Dolby Digital 5.1 surround and Spanish Dolby Digital 5.1 surround tracks. For the purpose of this review I chose to view the film with its DTS-HD audio. Subtle but present is the best way to describe this audio track, it won't light your surround sound system on fire but it perfectly matches the tone and intention of the film. Dialogue is clear and distortion free, while ambient sounds are nicely detailed and remain in the background along with the haunting depth and environmental surrounds. All of which appear natural and never seemed out of place. Music is well mixed and overall the track does a decent job of immersing the viewer.
Optional subtitles are included in English for the hearing impaired, French and Spanish.

Extras


Fox has released this indy darling with a few select extras that feature a short film, a collection of five featurettes, a music video, the film's original theatrical trailer, plus a series of bonus trailers. Below is a closer look at these supplements.

First up is "Mary Last Scene" (1080p), a short film that runs for 13 minutes 36 seconds, this film can be considered an opener or prelude so to speak for the film itself and is about a young girls entry into the cult. It make for interesting viewing and offers some background on the cult, this would have been great with an optional audio commentary from the director, in saying that a feature-length track from the director is lacking here and would have made for a welcomed addition to this set of supplements.

"Spotlight on Elizabeth Olsen" (1080p) is the first featurette running a brief 2 minutes 46 seconds, this is an EPK clip that introduces viewers to the actress and her character in the film.

"The Story" (1080p) is the second featurette on the disc and runs for 3 minutes 41 seconds, this is yet another EPK clip that covers the film's story and themes as key members of the cast ans crew are interviewed.

"The Making of Martha Marcy May Marlene" (1080p) is the third featurette running for 3 minutes 9 seconds, this EPK clip offers a brief look at the production of the film. Nothing too important to glean from this piece other than the basics.

"A Conversation with the Filmmakers" (1080p) is our fourth featurette which runs for 3 minutes 14 seconds, featured in this clip are the director and producers as they comment on the production and overall finished film. It's a decent clip but could have been expanded into a much longer clip.

The fifth and final featurette is entitled "The Psyche of a Cult" (1080p) and runs for 5 minutes 6 seconds, this is a fascinating yet ultimately short look at cults by Rachel Bernstein, an expert on cults.

"Marcy's Song" (1080p) is a music video by John Hawkes which runs for 3 minutes 58 seconds, turns out Hawkes isn't only a decent actor but he's also a musician!

The disc features the film's original theatrical trailer (1080p) as well and runs for 2 minutes 25 seconds.

Rounding out the extras are a collection of bonus trailers (1080p) that run a collective 13 minutes 12 seconds and are for:

- "Chronicle"
- "Shame"
- "The Whistleblower"
- "The Killing: Season 1"
- "There Be Dragons"
- "Machine Gun Preacher"
- "Texas Killing Fields"

Overall


The film review was originally published on the blog Rockets and Robots are Go! by Andy James. The A/V and supplements were reviewed by Noor Razzak.
| | | | | |
| --- | --- | --- | --- | --- |
| The Film: A | Video: A | Audio: A | Extras: C | Overall: A- |