The Film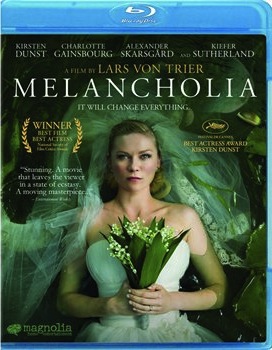 I'm not sure I even know where to begin with Danish provocateur Lars von Trier's new film. His previous film, "Antichrist" (2009), was a disturbing, dividing and hysterical film that I found was equal parts beauty and horror. "Melancholia" might be more palatable to the arthouse crowd but it is nothing less than a von Trier film.

I guess I'll begin at the start and go from there. It is no small gift that von Trier turned away from the Dogme 95 aesthetic from earlier in his career, as he has crafted some of the most beautiful cinematic images ever projected on the big screen. The start of "Melancholia" is an extended slow-motion montage of various characters from the film, with each image capturing their different emotional states as then later seen throughout the film. The film itself is split into two parts, each one focusing on a different sister: Kirsten Dunst's Justine and Charlotte Gainsbourg's Claire. Justine is getting married and her half is entirely set during her wedding day to Alexander Skarsgård's Michael. Except the day (and night) quickly descends into the worst wedding ever; Justine suffers from depression and she sinks lower and lower, with little help offered from her family (including John Hurt as her wonderfully wayward father Dexter and Charlotte Rampling as her acidic and cynical mother Gaby). And any offers she does get, she spurns. It doesn't help any that her boss (Stellan Skarsgård - Alexander's father and here playing his best man) is constantly pestering her throughout the night for new marketing ideas.

"Justine" is a well drawn family drama, with little around it of the science-fiction and is anchored by an incredibly brave and moving central performance from Dunst. She doesn't make the role histrionic or overly dramatic, instead finding the humanity (though not necessarily sympathy) in the depression. The planet named (rather on the nose) Melancholia, is there, but still distant. Then in "Claire" the focus is, unsurprisingly, on Claire and her reaction and growing agitation to the approaching planet Melancholia. She is increasingly fearful of the big blue planet hitting the Earth, destroying everything, and her growing hysteria is that of a mother unable to protect her child from harm. Her husband Jack (Kiefer Sutherland) is defiantly rational, offering the opinions of the world's scientists and offering little in the way of comfort. We know Melancholia will end this world - as much is explicitly laid out in the opening minutes - but it's all about the characters reactions to it that are interesting. From Jack's denial, Claire's sense of impending doom and Justine's resignation are all working together and against one another.

"Melancholia" is a beautiful, moving piece of a cinema with von Trier operating at the height of his directorial powers. Every piece - from the casting to the photography to the thematic underpinnings - adds and mixes to the whole, creating a wonderful, delicate and genuinely moving work of art.

Video


Presented in the film's original theatrical ratio of 2.35:1 mastered in HD 1080p 24/fps using AVC MPEG-4 compression codec. Overall Magnolia has done a decent job of bringing this film to Blu-ray, however while watching it I couldn't help but thinking that when I saw this film theatrically it had a darker tone in terms of its look. I felt like upon first impressions this disc's image was a bit on the "lighter" side and after some searching online and doing some reading it may have indeed been darker. In fact having looked at the review of the UK release versus this US release on DVDBeaver (which can be viewed here) you can see that the UK release is a little darker in tone, as a result the UK disc's transfer looks better with deeper shadows, blacks, and definition with the lighting is better shown on that disc. Magnolia's release looks a little bit flatter, not by much but enough to be noticeable. This may not be immediately noticeable to the average viewer but to cinephiles who scrutinize things right down the the most minute detail this may be a slight issue. In saying that the image is clean and crisp, with colors that are solid, detail looks good and overall it's a fine presentation but the film's tone is largely conveyed by the cinematography and I feel like in this case the UK release nailed it, while this domestic US version "almost" go it right.

Audio


The English DTS-HD Master Audio 5.1 surround track is mixed at 48kHz/24-bit, Magnolia's track is a solid effort offering excellent sonics. Dialogue is clear and distortion free, the film's ambient surrounds help to create excellent depth and the dynamic range from the more subtle moments and the film's music is well mixed. The audio does a great job of immersing the viewer in to von Trier's world and into the character's lives.
Optional subtitles are featured in English for the hearing impaired and Spanish.

Extras


Magnolia has released this film with a collection of five featurettes, two theatrical trailers, a bookmarks option and BD-Live access. The UK release featured similar extras but also included an audio commentary by the director also a much longer documentary and some interviews all three of which are sadly missing from this release, not sure why Magnolia chose to license the featurettes but not the other extras? Below is a closer look at these supplements.

First up is "The Making of Melancholia" (1080p) featurette which runs for 12 minutes, takes a look at the story elements and development of the film, with interviews from key cast and crew and behind-the-scenes footage.

Next up is the "Melancholia Visual Effects" (1080p) featurette which runs for 7 minutes 2 seconds, and takes a closer look at the haunting special effects created for the film, it's cool to delve into the intricacies of post-production and this clip offers viewers a decent look at that process.

Following that is "The Universe" (1080p) featurette which runs for 4 minutes 25 seconds, this takes a look at a key element of the film with yet more interviews and footage.

There's also "The Visual Style" (1080p) is a featurette which runs for 10 minutes 11 seconds, takes a closer look at the aesthetic for the film, as viewers get an in-depth look at seeking the right tone for the film.

Finally there's the "HDNet Look at Melancholia" (1080p) featurette which runs for 5 minutes 6 seconds and is an EPK clip that promotes the film and was made for the HDNet network.

The disc also features a theatrical trailer 1 (1080p) which runs for 2 minutes 14 seconds and theatrical trailer 2 (1080p) which runs for 2 minutes 9 seconds.

Rounding out the extras are a bookmarks feature that allows viewers to mark their favorite scenes as well as BD-Live access (profile 2.0 only) for access to online content.

Overall


The film review was originally published on the blog Rockets and Robots are Go! by Andy James. The A/V and supplements were reviewed by Noor Razzak.
| | | | | |
| --- | --- | --- | --- | --- |
| The Film: A+ | Video: B- | Audio: A | Extras: B | Overall: B+ |