The Film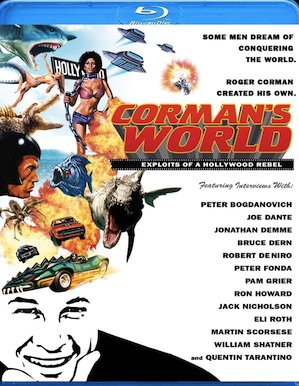 Let's start this off with a fact: Roger Corman is a legend in the world of filmmaking.

Now, those of you who aren't familiar with Roger's contributions to cinema might not be able to fully appreciate that statement. In fact, some of you might dismiss it outright, assuming Corman is just some king of schlock, and nothing more.

The truth is that Roger Corman has been bankrolling almost every picture he's made since he got started in the business with "Monster From the Ocean Floor" way back in 1954. As someone who has been a fan of Corman's work since childhood (New World Pictures released some great films on VHS back in those days!), I never would have guessed how well his business model works, and continues to work, with little to no outside help. Corman is the reason they invented the term "one man army" in the film world; he's been responsible for almost every facet of a film's production at one time or another. He's one of film's renaissance men, able to command any post at a moment's notice to ensure the production runs smoothly. This is one of Corman's greatest strengths: saving money. There's a lexicon of stories regarding his legendary penny pinching, including tales of how he would quickly re-dress sets if he finished filming a picture early, that way he could make another film on the fly with the space he already rented! I can't think of anybody else who has done what Roger has done – and been successful at doing it – while turning out films that are genuinely regarded as cult classics still enjoyed today.

And that, of course, is why Roger Corman deserves to have his own documentary. I think it's a tall task to tell his life's tale in one film, but the producer's of "Corman's World: Exploits of a Hollywood Rebel" (2011) have done a commendable job of condensing a nearly 60 year career into a scant 90 minutes. It's an impossible task to cover every base, every major film production, every back room production story, every heated on-set argument… which is why they do well to keep away from specifics here and instead focus on the grander picture that is Corman's world.

I got worried early on that this was going to be a documentary that relied heavily on Roger telling his own stories, with some peppered-in comments from a few vaguely well-known former actors telling us about the dramatics of working on one of his low-budget films. You know who showed up to prove me wrong? Jack Nicholson. Quite possibly the most famous of all of Corman's former talent, Nicholson delves into his history and discusses how he came to work with Corman (the only guy who would give him a job at the time), how they worked together, the duties (and double duties) that he pulled, why they split… and then Jack gets so emotional about his feelings towards Corman that he literally CRIES during the interview. Among the other heavyweights who drop in to shine some love onto Roger: Ron Howard, who is interviewed in a graveyard; Bruce Dern, who's in the middle of getting a haircut (!) when he gets his moment; Jonathan Demme, riding in a limousine; the inimitable Dick Miller, and many more. It almost felt like a running joke to see where some of these guys were getting interviewed. I mean, Bruce Dern is sitting in a chair at a friggin' Fantastic Sam's or something while the filming takes place. It definitely keeps things more interesting than most documentaries where everyone is interviewed with the same exact backdrop behind them.

Another thing I wasn't expecting was the inclusion of archival interview footage of deceased stars talking about their experiences working with Corman. One was slightly expected, though: David Carradine. Other than his work on "Kung-Fu" (1972-1975), Carradine was best known for one of Corman's more popular productions, "Death Race 2000" (1975). The footage of him looks pristine, likely taken only a short time before his untimely demise. We also get some face time with director Irvine Kershner (he did some space film people seem to like), and one of my favorite Corman actor/directors, Paul Bartel. Even more impressive is that all of this footage is seamlessly integrated, so that even the clips of Bartel flow organically within the picture. Nothing looks too vintage or beaten up.

I don't want to spoil any of the stories here because, well, that's a great majority of the fun in watching a picture like this. You have to hand it to a man who has been able to buck the system, operating outside the norm by his own standards and his own rules, and in the process he's launched dozens of Hollywood careers, produced a countless number of films that have, and will continue to, stand the test of time. Corman might not be making them like he used to (the recently released "Camel Spiders" (2012) might just be the worst thing with his name attached… and that's certainly saying something), but the fact is that he's STILL making them despite the fact that he's well into his 80's! That proves that, while ostensibly his motives are financial, the truth is that the man simply loves what he does. And with any luck, he'll be doing it until the day he dies. There's a comfort in knowing that the King of B Movies is still out there, doing what he does best, and nobody will ever be as prolific or independent.

Video


The 1.78:1 1080p 24/fps AVC MPEG-4 encoded image starts off looking beautiful as we go on location to watch Corman shooting his latest feature in Puerto Vallarta, Mexico. The sun-baked sandy beaches and sparking blue water pop off the screen with impressive clarity. After the opening, the footage becomes a hodgepodge of assembly, with newly shot interviews interspersed with classic interview footage and old film clips. I was surprised to see how well much of it looked, in particular the older Corman films that have never had proper releases on home video. If anything, it proved to me that with some TLC and the right restoration team, these films have the potential to look incredible in high definition. Of course, there are still plenty of scratches, lines, cigarette burns, etc. that need to be dealt with, but I can't fault the documentary for doing the best they could with film footage that likely hasn't been transferred to HD as of this writing. The interviews and footage shot specifically for this film is crystal clear and sharply defined. Documentaries aren't often heralded for their visual style, but this is ably shot in HD, and they did some good work cleaning up footage that could've easily looked much, much worse.

Audio


The English Dolby TrueHD 5.1 surround sound track mixed at 48kHz/24-bit is a typical, front-loaded affair. The film is 90 minutes of people talking, so the only thing it needed to get right is making sure everyone is intelligible and easy to understand. And they are. The newer footage sounds much better than the old, but that's not unexpected. Music is sparsely used, so there's little opportunity for the track to showcase range or dynamics. Subtitles are available in English for the hearing impaired and Spanish.

Extras


Unfortunately, for a film so rich and intriguing, with thousands of possible anecdotes, etc. to cover the man's extraordinary life, we get a severely limited amount of supplemental material. There are some extended interviews and personal messages to Roger featurette, the former holds some interest but the latter is pure fluff. It's a shame they didn't do more to try to include more, but I'll just pretend it's in keeping with the ethos of Roger, and there are so few bonus features so that costs could be kept down.

Extended interviews (1080p) run in a reel for 13 minutes and 8 seconds. We get some extra bits with Eli Roth, Penelope Spheeris, Ron Howard and a few others who didn't get enough time to tell all their tales in the feature.

"Special Messages to Roger" (1080p) featurette run for 15 minutes and 12 seconds. This is a reel of the interview subjects sending praise to Corman. It's essentially a long back stroking, but without much of a happy ending. Totally pointless if you ask me.

The film's theatrical trailer (1080p) runs for 2 minutes and 6 seconds.

Finally, the disc opens with a couple bonus trailers (1080p) for the following:

- "Texas Killing Fields" runs for 2 minutes and 16 seconds.
- "Son of No One" runs for 2 minutes and 27 seconds.

Packaging


The single disc comes housed in an eco Blu-ray keep case. Although they could have done more with it, and been a little more creative, I dig the cover art.

Overall


Roger Corman is as prolific a filmmaker as anyone out there – perhaps the greatest of all-time. Many film fans know his name, maybe they've seen a few of his films, but this is the best way to get a flyby tutorial of the man himself. Learn how he got where he is, who he's helped and inspired along the way, and relax as Roger's soft, soothing voice takes you back to a time of greater days in Hollywood.
| | | | | |
| --- | --- | --- | --- | --- |
| The Film: A | Video: A- | Audio: B | Extras: C | Overall: B+ |