The Film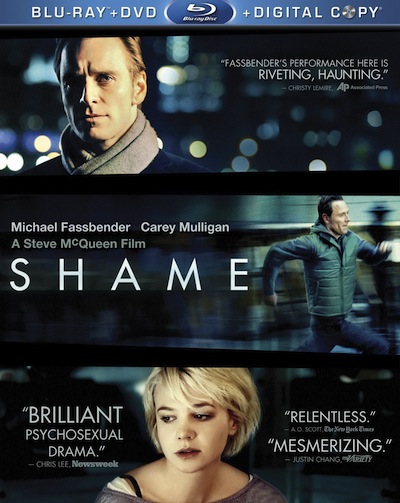 British artist-turned-filmmaker Steve McQueen's "Shame" is a stark look at one man's addiction, the depths he sinks to and what it costs him. It doesn't pull punches and really doesn't shy away from showing anything and everything. And that is graphically shown in the first few minutes of the film with Michael Fassbender's Brandon wanders to and fro in his fancy apartment, absolutely starkers and yes, his cock in full view. But despite all of the nudity and the subject matter this is no erotic film. It is, in fact, entirely un-erotic, the sex and nudity being frank, matter-of-fact or entirely hollow and emotionless.

Brandon is a charming, well groomed and intelligent man with a job he seems to enjoy and is particularly good at. He has a nice enough apartment, no doubt expensive. He enjoys a drink with the lads. He is a sex addict. He picks up random women from bars or employs prostitutes. He spends his night's at home hollow-eyed and hunched over his laptop, surfing the internet for porn. He's not picky where he gets his fix from and, like most addicts, manages to keep it all secret from his boss and workmates.

This perfectly structured life of Brandon's is interrupted and thrown around by the arrival of his sister Cissy (Carey Mulligan), a singer who has decided to stay for an indefinite period of time. There is a lot of history between these characters hinted at, rather than spelled out. There is that sibling closeness, followed by Brandon blowing up at having to constantly "look after" Cissy.

McQueen allows scenes to run and run, the takes lingering and only cutting away when it becomes absolutely necessary. In this way, he allows the film to really get under your skin; to soak into you. The camera doesn't look away and, thus, neither can you. This long-take technique never becomes pretentious or allows itself to become a distraction to the viewer but instead is just another tool in McQueen's director's toolbox.

When you have a director who is using long-takes, it helps to people the film with actors who are really at the top of their game. Fassbender and Mulligan, two young British actors who have really broken out in the last couple of years, own the frames. Fassbender is an actor who projects and easy charm and charisma, as evidenced in "Inglorious Basterds" (2009) and as the globe totting Erik Lensherr in "X-Men: First Class" (2011), and "Shame" is the first time I've witnessed that dark side he is capable of.

Video


Presented in the film's original theatrical ratio of 2.35:1 mastered in high definition 1080p 24/fps using AVC MPEG-4 compression. The film's transfer is superb, the image is crisp and sharp. All of Brandon's environments from his apartment to office to the city-scape of New York look brilliant in HD with all their details, from the emptiness and white-aesthetic of his apartment, the steeliness of the office and the endless lights of night time New York city. The depth is breathtaking, details are nicely rendered right down to Fassbender's intimate skin imperfections. Speaking of skin, skin tones look natural, blacks are deep and bold which also adds to the overall brilliance of the picture. The colors are rather stark when it comes to Brandon's day-life but when it comes to the sex and the nigh life the image peeks and takes on a much richer tone, juxtaposing these elements of his life in the photography is a nice approach and looks great here.

Audio


Two audio tracks are featured in English DTS-HD Master Audio 5.1 surround mixed at 48kHz/24-bit and a Spanish Dolby Digital 5.1 surround track as well. For the purposes of this review I chose to view the film with its English audio. This film doesn't have a lot of dialogue, most of the film uses long takes, there's many moments where words aren't necessary. To counter this the audio is extremely rich, depth and range are terrific especially in scenes that take place in and around New York, the New York environment really adds more to the depth and spectrum of the sound track. There's one scene in which Brandon enters a gay sex club and the sound tracks really kicks in enveloping the viewer and makes you feel as if you're walking trough the halls yourself. Additionally the film's score by Harry Escott is haunting and harrowing and really encapsulates Brandon's mind space adding a further layer brilliance to the soundtrack.

Extras


Fox has released this film as a 2-disc set featuring a collection of five brief featurettes, the film's original theatrical trailer, a collection of bonus trailers, plus a DVD copy of the film which also included a digital copy for portable devices. Below is a closer look at these supplements.

DISC ONE: BLU-RAY

First up is "Focus on Michael Fassbender" (1080p) featurette which runs for 3 minute 1 second, the fil's star comments on the film, its themes and the character as well as what attracted him to the film and on working with director Steve McQueen for a second time.

Next up is "Director Steve McQueen" (1080p) featurette which runs for 3 minutes 9 seconds, this clip sees the film's director talk about the film, the process of casting and working with Fassbender and the relationship they developed.

"The Story of Shame" (1080p) is a featurette which runs for 3 minutes 19 seconds, the film's director comments on the story and themes as well as character arcs in this brief clip.

"A Shared Vision" (1080p) featurette follows and runs for 2 minutes 38 seconds, this clip takes a closer look at the vision of the film's director and his star, Fassbender, whom, after working on two films including this one, have developed a close working relationship.

"Fox Movie Channel Presents: In Character with Michael Fassbender" (480p) is a featurette which runs for 5 minutes 15 seconds, and is a EPK clip that was made for the Fox Movie Channel. In this clip we have actor Fassbender commenting on his character and preparation for the film.

The disc also features the film's original theatrical trailer (1080p) which runs for 1 minute 47 seconds.

Rounding out the extras are a collection of bonus trailers (1080p) for:

- "Blu-ray" promo which runs for 1 minute 18 seconds.
- "The Descendants" which runs for 2 minutes 12 seconds.
- "Margaret" which runs for 2 minutes 14 seconds.

DISC TWO: DVD

This disc features the film in standard definition as well as a digital copy version of the film for portable devices.

Packaging


Packaged in a 2-disc blu-ray case housed in a cardboard slip-case.

Overall


The film review was originally published on the blog Rockets and Robots are Go! by Andy James. The A/V and supplements were reviewed by Noor Razzak.
| | | | | |
| --- | --- | --- | --- | --- |
| The Film: A | Video: A+ | Audio: A+ | Extras: C+ | Overall: B+ |