The Film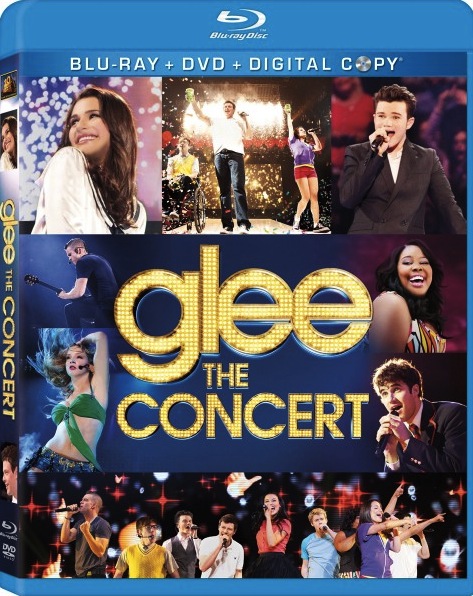 For every word of praise that I've written about "Glee" (2009-2012) on this site in the past two years, I've always maintained that the show's greatest strength—and, truthfully, it's worst weakness—is in the writing. The characters, the themes and plot (and decidedly NOT the song selection, singing or the show-stopping choreography) are what make, or as it's looking more likely every minute, made, "Glee" work. The music? Well, I've always viewed it as secondary; strange as that may sound considering the show is a Musical (with a capital "M") comedy. And for a while—at least during the first 13 episodes of the first season—it seemed like the producers and writers/co-creators Ryan Murphy, Brad Falchuk and Ian Brennan felt the same way.

Sure, they'd work a Journey (or other ironically-out-of-date) tune into the episode or pick an appropriate Broadway standard and fit it in between character beats somehow, and choreographer Zach Woodlee would work his magic to create some impressively large and complicated dance number, but they always did so at the service of the plot and in the vein of self-aware parody.

As "Glee" got popular though—and this has only gotten worse the more popular it becomes—the writing has fallen to the wayside, in favor of perhaps too much, bad, music. There have episodes in recent months that, honestly, would've worked better with less music, or, perhaps, no music at all. "But it's a Musical", you say, "What would it be without music?" Alright, without the music "Glee" would just be a horrible teen drama—and lord knows we don't need another on of those—so the music isn't exactly the problem. What is an issue though, is that the songs are now chosen not because they work in the context of story or fit into a dramatic character arc, or even just because they're good and fit in the wheelhouse of a particular member of the cast. No, now they're chosen because they'll sell on iTunes.

It's about profits, and not plot, now, which is why, instead of covering The Rolling Stones or, honestly, any other artist or band that existed before the invention of Youtube, they're throwing five Katy Perry and Justin Bieber and K-dollar-sign-ha "hits" into episodes that don't really work at all. Frankly—and it pains me to say this, because I honest-to-dog, once-upon-a-time, really, really, really liked "Glee"—the show has progressively gotten worse with each passing season precisely because "Glee" is the great musical money making machine for FOX and the record companies, and they're milking it dry. Beating a dead horse. Killing it, softly, with Kung fu, as it were.

"Glee: The Concert Movie" is pretty much the epitome of this money-making-first-mentality that has infected the minds of the people behind the show. Although I won't say the end result brought to life by director Kevin Tancharoen is absolutely awful—it does what it set out to do, and that's entertain, and it does that fairly well with song and dance. But as a calculated cash grab, designed to sell tickets and DVD's and iTunes albums, but not to tell a story, this concert movie offers viewers little, other than flashy production value and what amounts to over-produced cheap karaoke. How is that different than the actual show? Well, truthfully, it's not. Not anymore anyway. But, at the least the show is funny. Or was. It used to be hilarious (remember when "Glee" was just a sharply crafted but ultimately silly satire, and not the plodding preachy mess it's become? [Sigh]… I miss that.)

The concert movie has very little humor, and the tiny bit that it does feature is odd and uncomfortable, built upon the conceit that the people singing and dancing on stage—and messing about in the dressing rooms before the big performance—are, most of the time, the characters from the show. See, that's not Lea Michele up on the stage; its Rachel Berry. But how and why the kids from McKinnley High are suddenly touring the States in a huge concert series is never really explained, although all the actors make sure to play like they're super psyched to get away from their small town and "see the world". (The truth is that the concerts were conceived of, as a way to keep the "Glee" brand in the cultural consciousness over the summer hiatus; but that wouldn't really jibe with the whole pseudo-docu-concert thing, no matter how truthful it might be.)

Except, sometimes, it is Lea Michele. Or at least we're reminded that it is, because interviews with real-life "Gleeks"—the hard-core fanbase of the show, which has grown too insane for me to willingly admit that I once considered myself one—constantly make references to the show, and the actors by their real names. And it's distracting. Off putting odd. And inconsistent. Sure, most everyone is just here to see the music anyway, but the inter-spliced interviews are about as awkward as you'd expect when half your interviewees are overweight, over-50, moms and dads, and the other half are their overzealous artsy-fartsy, androgynous Hipster children wobbling between worlds of reality and fiction on a whim. Awkward, probably. Unintentionally funny, you bet. Also really really annoying.

The awkward interviews are only part of the problem, as Tancharoen and the producers fall victim to the belief that everything not related to the actual music needs to be smothered in soupy socially aware quote-unquote messages (a flaw that also weakens season three of the series, but that's for another time and another place). Tancharoen weaves an unneeded narrative in-between the backstage convos with cast and the concert footage and the pre-concert interviews, tracking three (or four) other—for lack of a better word—characters outside the concert, in the real world. The so-called real real-life cast filled with amalgams of Brittany and Becky, Kurt and Blaine and Dave Karofsky, and Lauren Zizes.

First, there's Janae, a Cheerio through-and-through, only she's a little person, so she faces adversity day in and day out on and off the cheer squad. Her story, though touching—especially in light of the fact that she has a nicer, less Sue Sylvester-y coach named Natalie and a team of seemingly wonderful teens by her side as support—is disconnected and jarringly unusual when you stop for a second and remember, this movie is supposed to be about a "Glee" concert. Similar problems arise with the other two awkwardly inserted documentary storylines. One features Trenton, a teen gay in the mold of Kurt, who faced his own Karofsky when he was outed and bullied at school, and Josey, a heavy-set girl with Asperger's syndrome, who made friends, supposedly, because she bonded with people over a mutual love of "Glee". All of that is fine and dandy, but again, why is it bulking up screen time to a bloated 90-minutes? Cut most of the docu-junk out, and you have leaner, meaner filmed concert, which is all this was ever going to be in the first place.

So, what about the actual concert and the concert footage? Well, some of it isn't half bad. Certainly, it helps that most of the songs picked are at least decent, and almost always have a solid vocal or interesting choreography. And, again, the production value is high. It's a loud, colorful light show with some, occasionally, impressive set pieces and a few really well done covers. If you can get over the fact that it's supposed to be Noah Puckerman belting out a rock-a-billy cover of Queen's "Fat Bottom Girls", and not Mark Salling—despite all the inconsistently inter-spliced evidence to the contrary—you might enjoy it. If only partly. I was sort of okay with it, once I learned to tune out the interviews and the three documentary storylines. In the same way that I'm okay with about a third of every other episode of the show these days; I just kind of ignore the parts I don't like. And tolerate the parts that are just okay.

The full track listing for the concert is as follows:

- "Don't Stop Believin'"
- "SING"
- "Empire State of Mind"
- "I'm a Slave 4 U"
- "Fat Bottomed Girls"
- "Don't Rain on My Parade"
- "P.Y.T. (Pretty Young Thing)"
- "Ain't No Way"
- "Jessie's Girl"
- "Valerie"
- "Firework"
- "Teenage Dream"
- "Silly Love Songs"
- "Raise Your Glass"
- "Happy Days Are Here Again/Get Happy"
- "Safety Dance"
- "Lucky"
- "River Deep, Mountain High"
- "Forget You"
- "I Want to Hold Your Hand"
- "Born This Way"
- "Loser Like Me"
- "Don't Stop Believin' (Reprise)"
- "Somebody to Love"

Video


"Glee: The Concert Movie" arrives on Blu-ray in both 2D and 3D configurations. I was sent the 2D release, which features an above average but slightly problematic 1080p 24/fps AVC MPEG-4 encoded high def transfer framed at 1.78:1 widescreen. Shot digitally, primarily in 3D with dual Arri Alexa and RED Epic HD camera rigs, "Glee: The Concert Movie" looks about as good as you'd expect a modern concert to. Colors are bold and bright, blacks are inky, and detail is pretty sharp. Like most documentaries and other similarly styled productions, there are a few inconsistencies and issues likely inherent to the source; several scenes exhibit mild aliasing, noise artifacts appear in bursts and the picture appears a little artificial at times. There are a few instances of banding, a handful of shots that exhibit black crush, and several select shots appear to have faint haloing from either edge enhancement or 4K downsampling. In all likelihood, the image was processed just a bit to blend the mish-mash of sources. But overall, I'd say this is a decent enough presentation. Certainly there are flaws; but at times it looks great.

Audio


Likewise, the English DTS-HD Master Audio 5.1 surround soundtrack on "Glee: The Concert Movie" sounds good, but not great. Clean, clear and dynamic, the lossless offering at least provides the basics. What the track lacks however is that truly immersive quality the best concert discs have. Rears are used sparingly. Lyrics are limited, with rare exception, to the center speaker. The track is flat in a few spots, a bit thin in others and never, ever, really robust. More disappointing than the video perhaps, but only because audio is so much more important to a concert film than picture quality. An English Descriptive Video Service 5.1 mix and optional English, Spanish and French subtitles have also been included.

Extras


The 2D 2-disc Blu-ray + DVD + Digital Copy edition of "Glee: The Concert Movie" includes just a few extras—namely, a few additional performances exclusive to home video.

Typical of most 20th Century Fox releases the disc is authored with the resume playback function and optional bookmarks. Unfortunately, there's no "concert only" option that cuts out all of the other nonsense, although the chapters are broken up into 24, song specific, stops.

DISC ONE: BLU-RAY

"Unseen Performances" (1080p, 5 minutes 11 seconds) includes two deleted songs— coincidentally, two of my least favorite song choices from season two "Dog Days Are Over" and "Friday". The latter only works as a joke, in the context of the plot of the show, and is quite honestly one of the worst things ever done. Intentionally so, but still…

Extended performances (1080p, 5 minutes 31 seconds) includes longer versions of "Aint No Way" and "Happy Days Are Here Again".

Still more deleted stuff can be found in "Backstage with the Cast" (1080p, 1 minute 34 seconds) which includes a few in-character interviews.

Lastly, the disc features "Shazam Connectivity" download the Shazam app to your smartphone, and when you see the Shazam icon appear on screen during the film, you can "tag" these moments to unlock additional bonus material on your mobile device, including lyrics, short videos and graphics. It's like a mix between Universal's useless pocketBlu and Disney's frustrating and frequently disappointing SecondScreen.

DISC TWO: DVD

The second disc in the set, a DVD-9, includes the film in 1.78:1 anamorphic widescreen standard definition with Dolby Digital 5.1 and DVS 5.1 sound with optional subtitles in English, French and Spanish. The disc also includes a digital copy for playback on your digital device, such as an iPad or iPhone.

Packaging


"Glee: The Concert Movie" arrives on blu-ray from 20th Century Fox Home Entertainment, in both 2D and 3D SKUs. The 2D version includes a bonus DVD+Digital Copy disc and comes packaged in an eco-Elite keepcase with a cardboard slipcover in first pressings. The blu-ray disc is a region A-locked BD-50; the DVD-9 is locked to Region 1.

Overall


I've become increasingly disillusioned by "Glee", a once great show on a rapid fall from grace. What I dislike most about it is the over-commercialization and the incessant need to pack a message into every frame that's not filled with glitter and glowing stage lights. "Glee: The Concert Movie" removes most everything I still like about FOX's hit series, and amps up the message-y bits with awkwardness, while only occasionally wowing with spectacle and well-done music. Which is pretty bad for something that's billed as a concert movie. The blu-ray release features above average but flawed video and audio and little in the way of bonus materials. I suppose the hard core Gleeks in the halls will flock to the malls and pick this one up. I can't, in good conscience, really recommend it to anyone else. I mean, I still sorta-kinda like the show and begrudgingly watch it every week. But I don't want to see "Glee: The Concert Movie" ever again. For fans only.
| | | | | |
| --- | --- | --- | --- | --- |
| The Film: C- | Video: B- | Audio: B- | Extras: D | Overall: C- |