The Film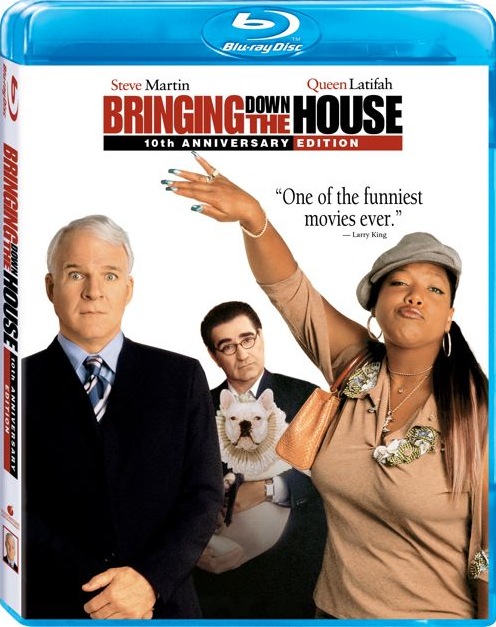 I have always been a full-fledged fan of Steve Martin. Some of the fondest childhood memories I have are wearing out a duped VHS copy of "Three Amigos" (1986) because I used to watch it on a seemingly endless loop. For me, Steve was always the king of comedy up until somewhere around the early-to-mid 90's, when his films got much safer, more family-friendly. It's not that his comedy felt dangerous before, but there was a certain pacification to his films during that period which caused me to lose interest in following his upcoming projects. I can't say that he's made many films that harken back to his days of old since then, but there have been a few minor gems among the rough – mainly, "Bowfinger" (1999) and "Shopgirl" (2004, and not a comedy). I can't say that "Bringing Down the House" (2003) is a return to form by any stretch of the imagination, but there were enough funny bits that I could overlook the fact that it's mostly a dead horse, full of jokes that have been beaten mercilessly in countless other pictures.

There's also this quote gracing the front cover:

"One of the funniest movies ever" – Larry King

That's right, folks. If esteemed film critic Larry King says it's this good, then… well, you're probably f*cked.

Peter Sanderson (Steve Martin) is a tax attorney who can't seem to stop working, even if it means the loss of his personal life. He's divorced and lives alone, but frequently gets to visit with his children. His romantic life gets a sudden jolt when a woman he's chatting with online, known to him as "lawyer-girl", agrees to meet him at his home for a date. Unfortunately, she turns out to be an escaped felon named Charlene (Queen Latifah), and she wants Peter to help her prove she's innocent. Naturally, he freaks out and tosses her out onto the street. But Charlene proves resilient, showing up everywhere Peter does and generally making his life an embarrassing hell until he agrees to look over her case. As you can rightly expect, some of Charlene's "ghetto charm" rubs off on Peter, and his "uppity white guy" sentiments rub off on her. Hilarious, dated racial humor ensues.

While he may not be as wild & crazy as he once was, this is the kind of cinematic vehicle that allows Martin to shine. Although he shares main billing with Latifah, this is more or less Martin's playground to play on. I found his character was funniest when having to react to the outrageous behavior of Charlene, since the rest of the time he's just playing catch-up to his kids for being such a no-show dad. While much of the humor feels dated (even by 2003 standards), there are some great lines that I'll admit had me rolling. Martin's best moments were near the climax, when he decides it would be a good idea to "dress down" like a gangsta in order to infiltrate a nightclub. Obviously, with Martin being just about as white as you can get, he sticks out like a sore thumb. But his energy in positively infectious, and that's what keeps the momentum going throughout.

Queen Latifah is one of those actresses that I can tolerate, but you'll never find me going out of my way to see one of her films. In fact, I'd normally do everything I can do avoid seeing one, however I'd be lying if I didn't say her performance here was solid; a result of spot-on casting. Although she started off in the music world, Queen proves here that she's definitely got the comedic chops to stand toe-to-toe with heavies like Martin, and supporting player Eugene Levy. I was genuinely impressed by her comedic timing. She has a way of carrying herself so that she can be acting like a ghetto chick from Compton one minute, and a lady who knows tact and manners the next. There isn't a lot of subtlety or depth to her character; no heavy, emotional story arc. She is unrefined, crass, and persistent, but there's a twinkle in her eye that somehow makes her seem less imposing than that description.

The supporting cast is padded out with some notable players. The aforementioned Eugene Levy (who has proven in recent years that he will star in almost anything) plays Martin's bosom business buddy, one who has an affinity for, ahem, the full-figured ladies. And wouldn't you know it? Queen Latifah has all the goods he craves. No film with innuendo jokes plays better than when Levy's trademark, shoe polish eyebrows are on full alert. Betty White pops up as the sweet old neighbor lady who also happens to be a complete bigot. It's funny if you're the kind of person who thinks hearing a kindly old woman say "negro" or "fag" is amusing. I think humor of that sort feels too forced, regardless of how many real life old racists are out there. It just feels like old hat.

Speaking of which, screenwriter Jason Filardi seems to have his pulse on the overused comedy beat. So many jokes here feel stale, and that's because you've already seen them done – likely better – in a hundred other movies. I also can't stand how this is one of those comedies where everyone always seems to be in the same place at the same time. When Peter and Charlene go out for dinner, his ex, Kate, (Jean Smart) and her sister, Ashley, (Missi Pyle) just happen to be eating right upstairs, with a clear view of the entire evening. If Peter has lunch, Ashley is sitting one table over. It just feels too convenient, like there's a spy in every scene to report to everyone else what's going on. Am I probably taking too serious a look at this? Maybe, but it's still an irritating part of the script.

A film like this is made to cast a large net; to appeal to as wide an audience as possible. Sure, it has moments where things get a little edgy, but more often than not things are played simple and safe. I don't often find much appeal in these films because it comes across as easily digestible, generic cinema. Martin, and to a lesser extent Latifah, have the chops to keep the pace up, but it's obviously from the beginning where all of this is leading. This one plays it too close to the vest for my tastes.

Video


I don't really have much to say about the film's 2.35:1 1080p 24/fps AVC MPEG-4 encoded transfer. Color reproduction is good; there are lots of vibrant, primary colors to help the image pop. Grain has been preserved, with a fine layer showing throughout. The film doesn't have much style; there's virtually no artistic flair. Scenes are for the most part brightly lit, even at night or in nightclubs, leaving everything out in the open and looking like it was shot for TV. Sharpness is generally solid, though there is a weird blurring effect at times when people are moving. It's nothing major, but I did notice it a few times in the beginning when we're in Peter's office. Otherwise, it's very middle-of-the-pack. You won't complain, you won't be wowed.

Audio


This is basically a rom-com, and that means that the English DTS-HD Master Audio 5.1 surround sound track mixed at 48kHz/24-bit isn't going to be winning any year-end awards for best home theater demo disc. As expected, the majority of the film's sound is confined to the front and center speakers. Dialogue is a tad on the low end at times, but it's never difficult to understand what's being said. I found the score to be so familiar that I could swear it was lifted from "Liar Liar" (1997) or some other such comedy. Films of this ilk aren't often known for their groundbreaking scores, this being no exception. I swear they just used the same music for every big name comedy made during this period. I did notice an irritating ringing sound during one scene near the end, but it was also in a nightclub so that could account for the anomaly. A party scene and the club scenes aid in bringing some bass into the mix, otherwise it's all talk.

There is also a French Dolby Digital 5.1 surround sound track, as well as a Spanish Dolby Digital 2.0 surround track. Subtitles are available in English for the hearing impaired, French and Spanish.

Extras


Billed as the "10th Anniversary Edition" (with an asterisk pointing you to a reminder that "2003-2013" is equal to ten years), this Blu-ray comes with everything that showed up on the first DVD release. Unfortunately (for some, I suppose), it's all in poor quality SD video resolution.

"Da Commentary" (please, fire whoever came up with that) audio commentary features director Adam Shankman and screenwriter Jason Filardi. I felt accomplished enough just making it through this film, so the task of listening to this flat-lined audio commentary wasn't easy. The result is a vapid track that really doesn't tell you a whole lot of interest.

"Breaking Down Bringing Down the House" (480p) is a featurette that runs for 16 minutes and 32 seconds. This is a great alternative to the commentary since it's shorter and packed with some factoids. For example, Queen Latifah was the first one cast, and then once they were able to nab Martin everyone else quickly fell right into place.

"The Godfather of Hop" (480p) is a featurette that runs for 2 minutes and 54 seconds. Did you know that Eugene Levy moonlights as a gangsta? He doesn't, and this unfunny spoof won't convince you otherwise.

"Better Than the Rest" (480p) is a music video by Queen Latifah, featuring cast members from the film, which runs for 3 minutes and 44 seconds.

A handful of (wisely) deleted scenes (480p) are included for the following:

- "Ashley Spies on Charlene & Peter" runs for 38 seconds.
- "More Golfing with Arness" runs for 1 minute and 21 seconds.
- "Howie Confronts Peter on Humping" runs for 58 seconds.
- "Charlene Bitch Slaps Mike" runs for 1 minute and 13 seconds.

A gag reel (480p) is also included, which runs for 4 minutes.

The disc opens with bonus trailers (1080p) for the following:

- "Frankenweenie" runs for 2 minutes and 45 seconds.
- "Anti-smoking" PSA runs for 28 seconds.

Packaging


The 50 GB single disc comes housed in an amaray keep case with artwork similar to the theatrical poster.

Overall


If you're a fan of Martin, this will be tolerable if you find yourself in a situation where watching it is unavoidable. Good for a one-time viewing, I'd say. Just don't go in with expectations of any sort (which I did) and you'll laugh in some spots, cringe in others.
| | | | | |
| --- | --- | --- | --- | --- |
| The Film: C | Video: B- | Audio: B- | Extras: C+ | Overall: C |