The Film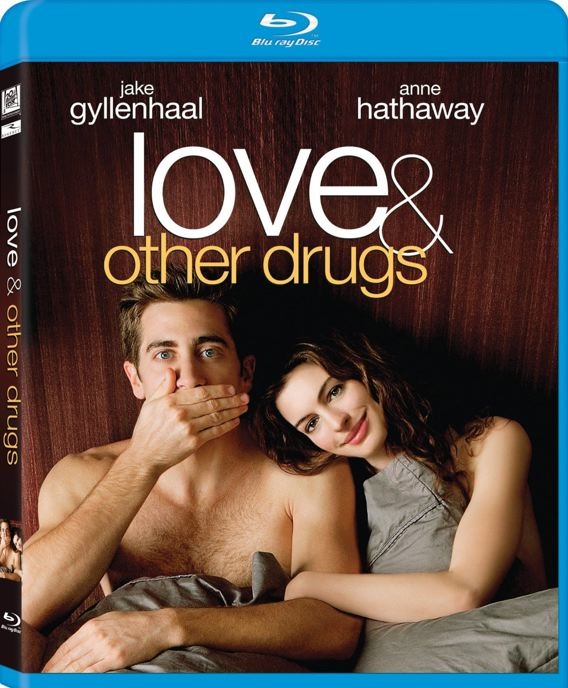 While watching "Love & Other Drugs" (2010), I couldn't help but be reminded of "Thank You For Smoking" (2005). Both feature a handsome male lead lobbying for a controversial product; they have attractive women to give their male leads a romantic subplot; they are both heavily reliant on sharp, witty dialogue fired off at a rapid pace. You know what else do they both have in common? I found them both to be highly unlikeable.

The problem I had with this film specifically is that there's virtually no substance. It's all sizzle, no steak. Jake Gyllenhaal, cast here as real life pharmaceutical rep Jamie Reidy, spends most of the film spouting off one liners and bon mots, while boning down with every single halfway attractive woman in the cast list. But at no point during the film did I feel anything for him as a character. Despite an attempt at creating pathos, the film never manages to materialize it. Jamie isn't a likeable guy. He's lusted after by enough women to make most guys envious, but he just hides his true self behind a wall of sex and his work. Literally, the guy's only motivation in this world is to bang hotties and be King of Pharma Mountain. This would be OK if the film was purely about a womanizing, manipulative schemer looking to get ahead by any means possible. After all, that's essentially what the book, "Hard Sell: The Evolution of a Viagra Salesman", is all about.

But it's not, and that's because the writers decided to shoehorn in a love story. I won't disagree that the film needed it, since I (like the filmmakers, one assumes) would get bored quickly with a film focused solely on Jamie's exploits, regardless of his possible climactic redemption. There's just no way in hell a studio would release a movie with someone like Gyllenhaal and NOT include a romantic angle to draw in both sexes. Maggie Murdock (Anne Hathaway) is introduced to Jake when she comes to see her doctor, Dr. Knight (Hank Azaria, playing it pretty straight for once), and reveals she takes a number of medications for her early onset Parkinson's disease. Her drug connection isn't what attracts Jamie, though; it's the fact that all she wants to do is bone down.

I don't intend to sound like a complete sexist pig here, but I have to applaud Hathaway for baring it all here and dropping her top. It's a big move for most actresses to do nudity; with many having clauses specifically stating they'll never let their sweater puppies get some air. But not Anne. Oh, no. Instead, we see so much of her boobs that you'll get sick of them. Of course, I'm kidding. It's bold, and I can say without much hesitation that it certainly captured my attention.

Back to our regularly scheduled review… Jamie and Maggie have a strictly sexual relationship. Early on, both agree that feelings only get in the way. In Hollywood film speak, that means they'll wind up being together in about 15 minutes. Sure enough, they do. This is when the film tries to develop some heart. For a bit it seems like they're on to something, but eventually it collapses under the weight of a heavy hand. Maggie is more fun when she's into popping her pills and banging the night away, but once we're supposed to feel for her it just doesn't happen. I never felt like their relationship, or either of them as individual characters, was built up to a genuine level where a tragedy of sorts would elicit an emotional response. Jamie is still a womanizing man-child desperate to move up in life, and while Maggie is the more sympathetic of the two I felt turned off by her Holly Golightly attitude to life up until her Parkinson's becomes more of an issue. If either Jamie or Maggie had been written as slightly more than one dimensional, I might have empathized more with their situation. Instead, it seemed like the writers were so intent on making sure that every line out of Jamie's mouth was some witty retort they forgot to humanize him for the audience.

But I'm letting Maggie slide because Hathaway shows us her boobs.

There's only one other character of any note here, and he's an odd one: Josh (Josh Gad), Jamie's younger brother. We meet him early on at a family dinner, sipping away on a drink and fondling his young, hot, blonde girlfriend. I should also mention now that he looks EXACTLY like the love child of Jack Black and Jonah Hill. Like, to a frigging "T"; it's uncanny. Anyway, he has relationship problems soon thereafter and winds up moving in with Jamie. It's odd because he's introduced as the younger brother with a lot of cash, but zero social skills, and he's kind of a dick. But once he hits Jamie's couch, the guy becomes the film's "Fat Comic Relief Guy". And, as this guy, he's supposed to be delivering the laughs, which he mostly succeeds at doing. Despite aping Black and Hill in both style & appearance, the guy has good timing.

One thing director Edward Zwick has not managed to do is properly "date" his film. You see, since this is all about the rise of the erection wonder drug Viagra, the film has to be taking place in 1996. Rather than simply set it in that time, dress our characters in proper clothing, maybe display some billboards for old ads or movies, you know, the stuff that would subtly let us know we aren't in modern times. Nope. Zwick decides to ruin your ears with all those annoying radio hits you hated back then. The film opens with "Two Princes" by The Spin Doctors, and already my ears were bleeding. The Breeders, Fatboy Slim, Garbage… it's a who's who or who's not. And, worst of all, it features the goddamn "Macarena". You did want people to watch your movie more than once, right Ed? I wanted to saw my ears off.

Video


"Love & Other Drugs" comes to Blu-ray with an impressive 1.85:1 1080p 24/fps AVC MPEG-4 encoded image that has a number of positive factors. As you would expect, the picture is sharp as a steak knife, with some great depth to the image resulting from the crisp, defined edges on everything within the frame. The picture also serves a reminder that Jake Gyllenhaal has dreamy blue eyes that are easy to get lost in when you see them in HD. The overall aesthetic has a dirty, slightly grungy feel to it, especially in Maggie's loft. Fitting, given the period in which the film takes place. Colors didn't pop out quite as vibrantly as I was expecting, instead they take on a muted appearance. Skin tones are a little warm, but nothing too overdone. It's a solid, above average transfer that should please most videophiles with a good home theater system.

Audio


I've already mentioned my distaste for the film's soundtrack, but that doesn't mean the remainder of the film's English DTS-HD Master Audio track mixed at 48kHz/24-bit can't be a winner. The LFE lends some strong support to many scenes, with a smooth, low end that fills out the track. Dialogue is the main focus here (it is basically a romcom, after all), and it's all clean, clear, and perfectly pitched. The sound field felt a bit narrow throughout. I thought there were many opportunities to really expand the audio and provide a more immersive experience, but everything was played pretty low key. Even the aforementioned music cues come through in 2.0 stereo, never taking advantage of the full 5.1 channels available. I suppose it's fitting for the film; I just would have liked to have gotten a bit more out of it. There are also Spanish, French, and Portuguese Dolby Digital 5.1 surround sound tracks included. Subtitles are available in English for the hearing impaired, Spanish, French, Portuguese, Chinese (Simplified), and Chinese (Traditional).

Extras


Fox has bestowed this Blu-ray with a decent smattering of featurettes, some deleted scenes, the theatrical trailer plus bonus trailers, but all of it doesn't add up to much in terms of substance.

DISC ONE: BLU-RAY

A reel of deleted scenes (1080p) runs for 7 minutes and 31 seconds. These look rough and unfinished, especially the first scene. I saw nothing here that would have contributed significantly to the final film.

"Love & Other Drugs: An Actor's Discussion" (1080p) is a featurette that runs for 8 minutes. Jake talks about how great it was to work with Anne; Anne talks about how great it was to work with Jake. Director Edward Zwick talks about how great the two of them are as actors. It's just one big love fest in here.

"Beautifully Complex: Anne Hathaway is Maggie" (1080p) is a featurette that runs for 2 minutes and 57 seconds. The actress talks about who her character is, what drew her into the role, etc.

"Reformed Womanizer: Jake Gyllenhaal is Jamie" (1080p) is a featurette that runs for 3 minutes and 34 seconds. This is essentially the same piece as Anne's, with Jake discussing his character in the film. It's clear that all of the above featurettes were shot during one interview session, so why not just combine them?

"Selling Love & Other Drugs" (1080p) is a featurette that runs for 3 minutes and 10 seconds. Since the film is based on a book, Jake had someone tangible to base his performance off of. Here, we get equal face time with both of them. I tell you one thing, dude should be so lucky they got Gyllenhaal to play him, since he is clearly not that good looking.

The film's theatrical trailer (1080p) runs for 2 minutes and 25 seconds.

A BD-Live link found under the "Live Extras" option leads to one lone bonus feature:

"Jake's Favorite Scene" (720p) clip runs for 1 minute and 1 second.

There is also the option to activate the "Live Look-Up" >b>interactive feature powered by IMDB, which allows you to search cast & crew information and obtain facts about the film as it plays.

Finally, the disc contains bonus trailers (1080p) for the following releases:

- "Fox digital copy" runs for 1 minute and 1 second.
- "Black Swan" runs for 1 minute and 53 seconds.
- "127 Hours" runs for 2 minutes and 23 seconds.
- "Casino Jack" runs for 2 minutes and 4 seconds.
- "Conviction" runs for 2 minutes and 27 seconds.
- "Never Let Me Go" runs for 2 minutes and 25 seconds.
- "FX trailer" runs for 1 minute and 2 seconds.

DISC TWO: DVD

This is simply a digital copy of the film.

Packaging


The 2-disc set comes with each disc housed on a hub opposite the other. A paper insert included inside has directions on redeeming your digital copy.

Overall


I could see this film working if the writers hadn't tried so hard to make it a quick-witted zinger fest, with a heaping helping of "here's why healthcare sucks" and "I have a diseased girlfriend I have to fix". I'm sick to death of films that can practically be telegraphed just by looking at the cover art. Jake is a decent enough actor, but this role just wasn't the right fit for him. Anne Hathaway gave me two reasons to like her character, at least.
| | | | | |
| --- | --- | --- | --- | --- |
| The Film: C- | Video: B+ | Audio: B | Extras: C+ | Overall: C |