The Film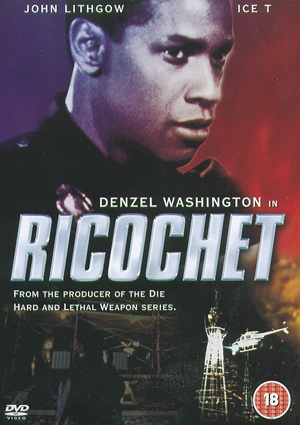 Ricochet is a 1991 action-thriller which, if you added comedy, would be in a very similar vain to either Die Hard or Lethal Weapon. Directed by Russell Mulcahy, I have to admit that I did not hold out much hope when I went into this, mainly due to the fact that without the Queen soundtrack, Highlander is mediocre at best, and a few months ago I had caught Mulcahy's Highlander II: The Quickening - quite possibly one of the worst movies I have ever had the misfortune of seeing, let alone buying. Still, any movie with John Lithgow attached as a maniacal bad guy instantly gets my attention. Here, he is joined by a cast that includes Denzel Washington, Ice T, Kevin Pollak and Lindsay Wagner.

The synopsis from the case reads:
CAPE FEAR meets its match as master movie maker JOEL SILVER (Matrix and Swordfish) turns on the terror in the fast and furious, no-frills thriller RICOCHET.
DENZEL WASHINGTON is crack cop turned deputy DA, Nick Styles. LA's hottest hero, he's on a roll and a rocket ride to the top.
JOHN LITHGOW is a vindictive, sadistic psycho Earl Blake, sent down by Styles and he's out for revenge. For Blake, taking Styles' life will not be enough - tearing it apart will be much more fun.
The ultimate in screen suspense, RICOCHET takes the pace to breaking point as one man's pain becomes another man's very twisted pleasure.

Despite my low expectations due to Russell Mulcahy's involvement, I was pleasantly surprised with Ricochet, an underrated film which has unfortunately been lost in a large glut of genre movies. Denzel Washington is perfect as Nick Styles - a smooth talking cop-come-district attorney who must fight against all the odds when the criminal he put away (John Lithgow) that got him his infamy, escapes prison and sets out to ruin his life by getting him accused of murder, child molestation and using public funds for his own use. John Lithgow is the highlight of the movie as the psychotic Earl Talbot Blake, and it is easy to see why he was typecast in these roles for a number of years.

The action scenes are well shot throughout and there are a few moments of explicit violence which suit the tone of the movie and haven't been included purely for shock value. Unfortunately, this disc does suffer from cuts to the final fight scene where moments including a butterfly knife have been removed. A punch has also been removed making for a total of seven seconds of cuts. The later Optimum Releasing disc goes some ways in fixing this, but still includes four seconds of cuts, so you'll have to bypass the United Kingdom to get Ricochet uncut.

Overall, Ricochet isn't anything new, but is a lot of fun and has better performances than most movies in the genre. If you're a fan of action-thrillers, you'll find plenty to enjoy here.

Video


Despite an original aspect ratio of 2.35:1, Cinema Club have released the movie very poorly cropped with a ratio of 1.33:1. The least they could've done was pan&scan, but unfortunately we miss some of the action, and often peoples heads. The quality of the print itself is not great with a distinct lack of sharpness and a lot of grain/artefacting.

Audio


There is only one audio option; an English Dolby Digital 2.0 Stereo track. Like the picture quality, it is not up to standard. The channel seperation is barely noticeable and there is the occassional hiss and scratch. Dialogue is clear and levels consistent, but it's a poor effort, especially when you consider how much a movie like Ricochet would benefit from a 5.1 experience. No subtitles have been included.

Extras


Nothing at all. Not even a trailer.

Overall


Buy the movie if the price is right, but avoid this release.
| | | | | |
| --- | --- | --- | --- | --- |
| The Film: B- | Video: D- | Audio: D- | Extras: F | Overall: D |