The Film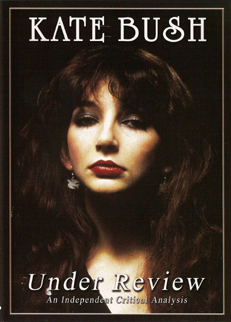 I vividly recall how - among the vinyl LP 's that my sister had a number of years ago - there was a record with the cover of a woman about to kiss a man, but who strangely has a ring on her tongue. That record was "The Dreaming (1982)" from British female singer and songwriter Kate Bush (real name: Catherine Bush), and this was my first time hearing her music. By that time I probably wasn´t ready for her music, but in later years I have discovered what many others have about Kate Bush; she´s one of the best female artists of our time - a unique talent and a mixture of sensualist and artistic appearance, with a powerful (apparently "four-octave") voice and challenging lyrics. Her songs often include piano and they´re melancholy, but the music ranges anywhere from pop and rock to folk and classical music, and the words like "melodramatic" and even "surrealism" have been used to describe the mood and lyrics of her songs. Many songs also include the more unconvential instruments, as well as synthesised drum beats from the 1980s. Like one journalist says in the documentary, the music is "Kate Bush", not necessarily "pop" or "rock". Still, Bush has many catchy songs, even "hits" (she has sold millions of records), so it would be a mistake labeling her music "obscure" or made only for the "uber-artistic intellectuals". Kate Bush is definitely part of pop and rock music, and a big inspiration for many female singer-songwriters (here meaning the ones that actually write and compose their own music).

Bush started very early on, when she got her first record deal with "EMI" whilst being only a 16-year old (with the help of David Gilmour from "Pink Floyd"). From the close to 200 demos that Bush wrote and recorded, 13 were eventually chosen for her debut album in 1978 called "The Kick Inside" (she was now 19 year old). This also included her first hit, the mesmerising "Wuthering Heights", based on the famous novel and film. After her apparently rushed second album, Bush wanted more control over her music, and started pretty much making records "in her own way". This would basically mean long periods away from the public eye (which she didn´t like), perfectionism when it comes to her music and recordings, and not performing live (actually her only tour took place in 1979, when she toured in the UK and in Europe). This made her a slightly controversial figure, but her music was constantly highly regarded, and albums followed. "The Dreaming (1982)" was the first album that Bush produced by herself, and the next - "Hounds of Love (1985)" - is widely considered as her masterpiece. It includes probably one of the best songs in the whole of British modern music - at least from the 1980s, "Running Up That Hill (A Deal with God)", and many others from the record are not very far behind. "The Red Shoes (1993)" also spawned a short film (approx. 45 minutes) called "The Line, the Cross & the Curve (1993)", and after that Kate Bush disappeared from the public eye. The silence was broken finally in 2005, when "Aerial" was released, and showed that Bush hadn´t necessarily missed a beat while she was away. Her music is still powerful, still beautiful, and (for better or worse) still strange, and let´s hope that she continues to make music. All her albums are as follows: "The Kick Inside (1978)", "Lionheart (1978)", "Never For Ever (1980)", "The Dreaming (1982)", "Hounds of Love (1985)", "The Whole Story" (compilation), "The Sensual World (1989)", "The Red Shoes (1993)", and "Aerial (2005)".

The "Under Review"-series from "Sexy Intellectual/MVD Distribution" includes full-length documentaries of the important artists and bands, labeled as "An independent critical analysis of the music and career". In this documentary we have 5 individuals (mainly journalists and radio DJs) going through the career of Kate Bush, and they´re supported with the narrator. Compared to the earlier one from the series that I reviewed ("The Smiths"), the structure is the same (there are analytic interviews, photos, and music segments), but this time Bush herself gets to say a bit more. Her interviews are all taken circa 1980-1985 (one was from 1989), so that´s obviously not the same as Bush talking about her career now, but at least we hear her own comments. I felt that the documentary was a bit more dull compared to "The Smiths", and some of the comments were too "analytic" and praising for my taste (even when this shouldn´t be taken as an average biography in the first place). Too much time is spent on different ways to describe her music and talents, but we don´t really learn that much about the "real Kate Bush" - her talent is something that we already know. I would´ve liked to hear more from the people who actually worked with her (like Morris Pert); how she was in the studio, how she chose the musicians, and what was her recording style - stuff like that, and her "comeback" in 2005 is not very well explored (to my understanding Bush wanted to raise her baby during the long quiet period). Of course, 73 minutes can eventually be a short time to cover a very influential artist that has recorded 8 albums and where none of them is easily studied (also considering the fact she hasn´t been in public so much), but still the documentary left something to be desired. The music segments are also quite short, but you will hear excerpts from the following songs:

-Wuthering Heights
-The Man with the Child in His Eyes
-Symphony in Blue
-Wow
-James and the Cold Gun
-Kite
-Breathing
-Babooshka
-Army Dreamers
-Sat in Your Lap
-The Dreaming
-Running Up That Hill (A Deal with God)
-Cloudbusting
-This Woman's Work
-The Sensual World
-Rubberband Girl
-King of the Mountain

Among the segments, we see some of the quite psychedelic videos by her from the 1980s (in "Cloudbusting", we also see the actor Donald Sutherland), and a couple of interesting live/TV-performances (one for "Running Up That Hill (A Deal with God)"), and the documentary also includes a couple of snippets of the music by the other artists (to connect the documentary to the right time-frame), so Elton John´s "Tiny Dancer " and Ultravox´s "Vienna" are included. "Under Review: Kate Bush" is a mixed pack, since for the newcomers the approach is quite analytic, and for the fans it doesn´t offer enough music and new interviews for Bush herself. Then again you´ll hear how many great songs Bush has done over her career, and based on this documentary many will probably want to seek more of her music. And they should.


Video


The documentary is mostly presented in 4:3 (obviously non-Anamorphic), but there are a few clips here and there that are letterboxed. The overall look is clean and sharp, and most interviews look quite good (for the video based material). The music video and TV-material is usually softer and doesn´t look as good as the rest of the footage, but also those segments are fairly clean. "Single layer" disc is coded "R0", and there are 9 chapters. The documentary runs 73:15 minutes (NTSC).

Audio


The disc has one audio track: English Dolby Digital 2.0 Stereo (with surround encoding). There are no subtitles. The track is generally clean, the interviews are in most parts professionally done. Some vintage footage doesn´t fare that well for the obvious reasons, but no serious complaints on that front either.

Extras


-"Paul Gambaccini Remembers" -featurette runs 3:06 minutes, and here the BBC "Radio 1" host remembers how Bush was the guest of his show in 1980, and how she picked her favorite records (needles to say, they weren´t very "radio friendly"), and we also see a segment from the 1980 "BPI Awards" show, where Gary Numan and Bush were awarded.

-"The Hardest Kate Bush Interactive Quiz In The World Ever" includes 25 questions, and you can view the answers at the end.

-"Contributor biographies" includes 5 people; Radio DJ Paul Gambaccini (the author of "The Top 100 Rock 'N' Roll Albums of All Time"), musician and producer Morris Pert, and journalists Lucy O'Brien (the author of "She Bop: The Definitive History of Women in Rock, Pop and Soul"), Phil Sutcliffe, and Nigel Williamson (author of the book "The Rough Guide to Bob Dylan").

-"More Kate Bush Titles By Chroma Dreams" promo page includes one page of info about the other titles by "Chrome Dreams", which is the original UK-company behind this DVD.

There´s also "Limited Edition Packaging", but that´s just the cardboard slip case (the disc is packaged in the regular keep case).


Overall


A fairly interesting documentary about Kate Bush (seems to be the only one about her on DVD, I might add) on the "Under Review"-series, but which sadly doesn´t offer anything that special for the fans. Worth a look, though. The DVD presentation is a solid - but standard - affair.

For more info, please visit the homepage of MVD - Music Video Distributors.
| | | | | |
| --- | --- | --- | --- | --- |
| The Film: | Video: | Audio: | Extras: | Overall: |