The Film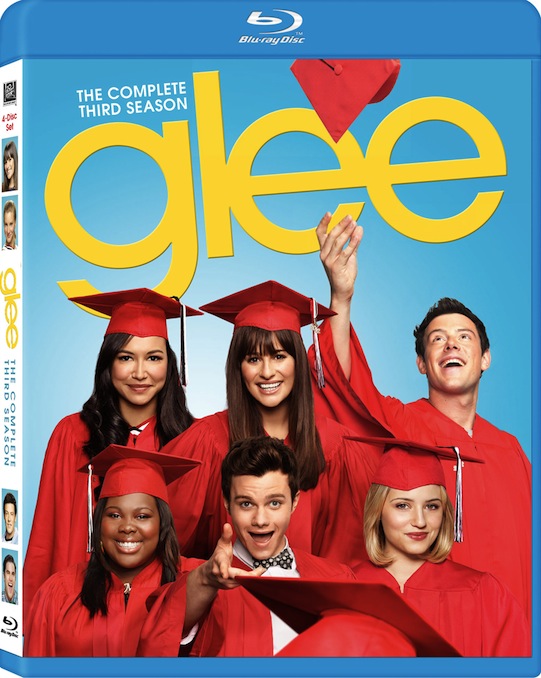 Will: For many of you, this is your last year. Make it special.

It gets better… except, sometimes, better isn't always best. Or something like that, I guess. In its first two years, creator/showrunner Ryan Murphy's "Glee"—the hit musical comedy on FOX about a gang of teenage misfits, and their high school glee club seemingly always one semester away from being cut from the McKinley High budget—proved an inconsistent and troubling series. Each week, its loyal fanbase (a band of brethren who call themselves "Gleeks"; of which, I admit, I was once one) were often left wondering why they even bothered to keep watching. The divisive, at times overly dramatic, and derivative first two seasons were as amusing as they were aggravating; which is to say, very. "Glee's" detractors often complained about the same things week-in-and-week-out that upset the faithful Gleeks—uneven characterization, overly-preachy "message" episodes, sweeping shifts in tone, an almost comical disregard for continuity, and, oh yes, the music: which has become increasingly awkward (and, in more than a few instances, quite annoyingly awful).

I've said it before, I'll say it again, but I honestly believe the first 13 episodes of the series to be an incredible accomplishment in modern American television. Each episode was loud, brazenly satirical, and unusually mean-spirited, all the while put on a successful façade of bright, well choreographed (if not always well-sung) musicality. It was an unbelievably subversive attack on pretty much everyone, and everything, including the FOX network, the after-school special mentality of teen-tastic television, and even the absurdity of musicals. Often, "Glee" approached, and sometimes crossed, the line of outright parody, even going so far as to lampoon itself on occasion.

A great deal of the subversive nature ingrained in the first episodes can be credited to Murphy, co-creator Brad Falchuk and idea-originator Ian Brennan, who all plotted a tightly-knit, generally compelling arc for their curious characters and capable cast, quite unlike anything on TV at the time. (It was superficially a fun musical series, infused with outrageous teen-drama, but on a whole other level, it critiqued those genre archetypes, and twisted the cultural stereotypes, into a strange, mocking, form and managed to create something uniquely its own). Murphy, Falchuk and especially Brennan, did what they did, no doubt, because the creative trio figured the series was going to be pulled off the air at any minute. It was too wonderfully weird, too boldly brash, too much mean fun, to last more than a few weeks on the quick-to-cancel FOX network. And then, amazingly, it wasn't cancelled. The show was picked up for 9 more episodes in season one, and then a full 22 more for season two, and so on, and so on, with its fourth season recently premiering on a new night and timeslot—one of the most competitive of the week.

Cancellation never came, and in fact "Glee" became the new flagship series of the FOX network. In the wake of the unexpected and immense success—both in ratings and sales of the singles and albums on iTunes—the second half of the first season, and the unruly and uneven second season as whole, proved a reboot of sorts. Everything post-reboot has never quite clicked in the same way as the first 13, no matter which way the writing teams re-approach the concept. The show became more about performing the latest piece of Top 40 trash, so that both the original and the "Glee"-cover could sell in the music stores, and was at times just a soap-box from which Murphy could shout his loudest and most inane preachy messages—all at the expense of story and natural character development, and stripped of most of the subversive subtext.

Sure, there were moments and even complete "good" episodes in that later block of season one and sprinkled throughout (mostly the second half of) season two, which recaptured a bit of the magic that made the original 13 so special, and reminded viewers why they liked the series in the first place (or at least why I liked it; the mean-ness, and the smart satire, mostly). But, with each passing season, the gaps between these good episodes and the bad ones seems to be growing. And, unfortunately, growing at an exponential rate. In the series' third season, the gap is now a sizable canyon—and those not careful to navigate through the rocky, rough, outing are sure to fall into a deeper crevasse than the one the writer/creators dug for themselves when they decided that the entirety of McKinley's New Directions glee club were sophomores in the first season, which means, logically, they'd all be graduating in season three.

Finn: I'd call my high school career a total success. I mean not in terms of grades and stuff, but I won a state title in football and a national championship in glee club and it turns out I never actually accidentally got anyone pregnant.

Some of the characters do graduate—or, more accurately, begin the year as seniors in episode one, and then go on to graduate in episode 22. Franken-teen Finn Hudson (Cory Monteith), his bubbly girlfriend Rachel Berry (Lea Michele), and stepbrother Kurt Hummel (Chris Colfer), the vocally challenged but dance-tastically terrific Mike Chang (Harry Shum Jr.), the quintessential mess of a teen-mom Quinn Fabray (Dianna Agron), sassy Santana (Naya Rivera), Mercedes (Amber Riley), with her massive soul, and the fifth-year senior with a Mohawk Noah Puckerman (Mark Salling), are all on their way out the door in season three—onto bigger and better things, far away from the soul-crushingly small Ohio town of Lima. That's the plan anyway. Finn gets it in his head that he's going to be an actor. Rachel and Kurt decide to apply to the New York Academy of the Dramatic Arts—or NYADA, for short—a very exclusive school that will set them on the right path, which leads directly to Broadway. And the others… well… it takes them the season to sort of figure that out.

Mike battles with his strict Asian parents who want their son to go on to Harvard, but he tries to convince them that the stage's the thing. All he wants to do is perform and it's what's best for him. Santana gets it in her head that, while talented and can belt a mean Amy Winehouse ballad, she wants to be Jersey Shore-famous because it's easier. And she also wants to come out of the closet and tell the world of her lesbianic love for fellow Cheerio Brittany S. Pierce (Heather Morris), but not before she tells her mom (played by Gloria Estefan) and conservative grandmother the truth. Puck and Quinn… well, Quinn goes down a somewhat self-destructive path in the wake of their baby's adoption, somehow makes a 180, only to get t-boned in a terrible car accident, which lands her—spoiler alert—in a wheelchair (but only for a few episodes). Puck just doesn't want to be a loser, and will do anything to graduate and maybe get baby Beth back in his life.

The non-graduating kids, on the other hand… Okay, here's the thing: the "Glee" writing staff works some not-so-awesome magic at the beginning of the season with retroactive character continuity. Artie (Kevin McHale), Tina (Jenna Ushkowitz), and Brittany suddenly all become age-appropriate to be seniors next season. Realizing that the underclassmen cast was still shockingly small after that revealed revision, and they'd be in a bit of a pickle in season four unless they did something about it, the writers once again kind of twist things in their favor. Blaine (Darren Criss), Kurt's bow-tied boyfriend, moves from Dalton Boys Academy to be with him, and begins attending McKinley… as a junior, cause why not? Chord Overstreet—seemingly always in that constant state of uncertainty when it to the question of whether his character Sam Evans is on the show or off—returns once again mid-season, and seems to be back for good. And three new cast/character additions for season three—two of whom will stay on for season four—take form in foreign exchange student and possible leprechaun Rory (Damian McGinty), the impossibly annoying Sugar Motta (Vanessa Lengies), a rich girl who gets whatever she wants, whenever she wants it, and the nice long-haired Christian hippie that everyone just calls Teen- Jesus, Joe Hart (Samuel Larsen). (All three of the new cast members won their spots on a really terrible reality TV show spin-off called "The Glee Project" (2011-Present). Ugh).

The core adult characters return too, and get a decent amount of development, if not always in the best-written plotlines of the season. Hopelessly white-bread glee club adviser Will Schuester (Matthew Morrison) finally gets called out for the fact that he teaches Spanish about as well as an illiterate person could teach a graduate-level course in 16th century English Literature, and has his career course-corrected by both student Santana and a night school/substitute teacher (played by Ricky Martin). Meanwhile, McKinley's guidance counselor in desperate need of some, mainly psychological, guidance herself, Ms. Emma Pillsbury (Jayma Mays) tries to come to terms with both her OCD and the fact that her relationship with Will will never be perfect. Elsewhere, each season has seen her sort of slip into the role of supporter of New Directions and to counteract the predictability, Sue (Jane Lynch) sort of gives up the fight fairly early on. She tries very hard to find something to occupy her time usually spent hating glee, and at first, makes a run at political office—campaigning on an "anti-arts" congressional platform against Burt Hummel (Mike O'Malley)—but then calms down and decides what's missing in her life is a child, and so begins her quest towards motherhood (god help her offspring). And Coach Shannon Beiste (Dot Marie Joes) finally finds what could be love, in the form of fierce football recruiter Cooter Menkins (Eric Bruskotter). A new adult addition to the show in the third season is award-winning swim coach Roz Washington (NeNe Leakes), who gives Sue a taste of her own medicine.

Sue: Now I realize this room is America's #1 destination for cheap, sappy moralizing, but your insensitive behavior is about to subject you to a whole new level of preachiness.

Season three includes several of those "good 'Glee'" episodes Gleeks everywhere desperately want. The one's that make the fanbase semi-legitimate. The episodes that you can turn to—when someone complains "Glee" is just a shitty show that exists to simply ruin music (which it sometimes really just is)—and go, "it isn't terrible all the time… [blah, blah, blah, decent writing or whatever]. Yay." In fact, I'd say season three has more decent-to-excellent episodes than any run of the series barring the first 13 of season one. Several arcs across the season are commendably well done. Tying in with the NYADA, Santana's "Imma be a super-star", and Mike Chang's storylines is a… wait for it… totally believable and not the least bit over-the-top group of episodes where the theater and glee kids of McKinley come together to stage a version of "West Side Story" (1961). Better still, unlike season two's problematic send up to "The Rocky Horror Picture Show" (1975), this arc is split across numerous episodes and is given time to organically grow into something that's actually kind of good. (It's also one of the only times the series has actually attempted to show the process of putting a performance on stage without the use of the—what I assume is some sort of DeLorean-fueled—absurd time-compression logic "Glee" usually falls back on).

The writers also circle back to more fittingly address the Kurt and Dave Karofsky (Max Adler) conflict that they totally botched in season two, managing the previously thought impossible—a serious character arc, and an honest discussion of teen suicide, that actually feels genuine, without any of the sick sappiness or the annoying after-school aesthetic that usually derails their attempts at drama. And this too is given time to organically develop over a couple of episodes, and not solved somewhere inside an already jam-packed 44-minutes in the way so many other plotlines have been comprised.

Of course, the season is far, far, far from perfect. Nearly all of the other heavy-handed message episodes are especially lacking in subtlety, fictional finesse, and, most damming, any sense of irony like the worst moments of season two, only, unbelievably, worse. Season three addresses ever-topical issues like the social pressures that are driving the rise of teenage sex (yet again), as well as spousal abuse, substance abuse, and the oh-so-terrible texting-while-driving phenomenon (the latter of which is particularly dunderheaded in its execution).

And so the improvements that "Glee" makes in season three are noticeable, but the come at a cost. The good episodes happened, in part, I think, because Murphy and Falchuk were busy during much of the season making something more suited to their dark, subversive, sensibilities in the excellent anthology series "American Horror Story" (2011-present), and left the scripting duties to Brennan, and several new staff writers including Matthew Hodgson, Ross Maxwell, and a much needed female voice of Allison Adler, which allowed them to put some decent drama in with the humor. But, at the same time, the highs of the season only accentuate the, at other times low, awfulness of whenever the show goes back to the same sort of formulaic commerciality, and illogical idiocy in terms of plot and character, that robbed a lot of the second season of its redeeming qualities.

A majority of the message episodes are weak, but not nearly as pointless and utterly atrocious as a few of the ratings-minded and audience pandering "Very Special" episodes sprinkled throughout the season—including a send up to the music of Michael Jackson, another to the catalog of Whitney Huston, an homage to the disco-tastic Travolta epic "Saturday Night Fever" (1977), and a near jump-the-shark moment where a character's hallucination has different actors figuratively-yet-literally wearing the shoes of different characters (Will, in a full tracksuit with megaphone, walking the halls as Sue, for instance).

Flaws and all, in many ways, the third season of "Glee" still works, if not nearly as well as it once did. It's funny (for the most part), occasionally poignant, and utterly entertaining in some of its musical excesses. Most importantly, it's a fairly fitting send off for the original characters, which was the original intention. (Murphy outlined the show to run for three seasons). By the end of this season, half the characters have graduated, and many of the loose narrative strings have been tied up in solidly satisfying ways that give a sense of closure. Will and Emma are together, Sue isn't such as sourpuss, and the New Directions finally have a trophy in the cabinet. Where will "Glee" go from here? I have no idea, although I hope… up, out of that ever widening, deepening, canyon of quality. That'd be nice, although the show going away might have been for the best, as I fear season four will only widen that gap between what fans will be forced to deem the good, the bad, and, I assume inevitably, the horrible, even more.

Sue: Let's be honest, William. You've been out of ideas since Madonna week.

Fox's 4-disc set of "Glee: The Complete Third Season" features all 22 episodes of the season, including:

- "The Purple Piano Project" - It's Fall and that means back-to-school for the students and faculty of McKinley High. The New Directions clan returns after a devastating loss at Nationals, so Mr. Schuester assigns a project to get them back on track. Meanwhile, Sue Sylvester starts her congressional campaign with announcing her plan of an anti-arts program.

- "I Am Unicorn" - "You're gay. And you're not like Rock Hudson gay. You're really gay. You sing like Diana Ross and you dress like you own a magic chocolate factory." Shelby Corcoran (Idina Menzel) returns to the halls of McKinley. Meanwhile, Schuester initiates a boot camp for some of the more dancing-challenged members of New Directions.

- "Asian F" - A visit from Rusty and Rose Pillsbury (Don Most and Valerie Mahaffey), Emma's Ginger-Supremacist parents, provides some insight into the source of her deep-rooted issues. Meanwhile, Mike Chang struggles with grades, earning an A- (or an "Asian F"), and his parents step in to make sure he stays on the track they have planned for him.

- "Pot O' Gold" - A new foreign-exchange student, Rory Flanagan, enrolls at McKinley, and clashes with Ms. Brittany S. Pierce, who thinks he's a leprechaun because, remember she's almost legally retarded. Meanwhile, Mercedes attempts to recruit new members to join Shelby Corcoran's newly formed Glee club, The Troubletones, and Sue's congressional campaign heats up.

- "The First Time" - Under Artie's directorial leadership, the kids prepare to perform the school musical, a staging of "West Side Story". Meanwhile, Finn clashes with a recruiter, and Coach Beiste has an admirer.

- "Mash Off" - "You seriously think you can out-insult me? I'm from Lima Heights. I was raised on insults. It's how my abuela puts me to sleep at night, and she was not a nice lady. Did you know she tried to sell me once? And it wasn't until I got to kindergarten that I learned my name wasn't Garbage Face." Sue starts a smear campaign to take down her biggest competitor for the congressional seat—who's no longer "A Rapist Running from Prison" or "Undecided", but Kurt and Finn's dad, Burt Hummel. Meanwhile, Puck has a new crush, and Will and Shelby encourage a little friendly competition between New Directions and the Troubletones. Yes, it's another mash-up episode.

- "I Kissed A Girl" - As the race for McKinley High President comes to an end, someone from glee club is caught trying to fix the results. Meanwhile Coach Beiste gets up the nerve to challenge Sue Sylvester, and things get complicated for Puck and Quinn.

- "Hold On To Sixteen" - In an attempt to recruit a few more members for New Directions, Finn tracks down former glee-mate Sam Evans, and convinces him to come back to the club. Tina comes to the defense of Mike, and encourages him to pursue his dream while McKinley prepares to host the big sectionals competition.

- "Extraordinary Merry Christmas" - "Wheels, Porcelain, Other Gay. The yuletide season is upon us, and everyone knows that Christmas is a time for forgiveness. So I have decided to forgive you for having no talent and ruining the American songbook one mash-up at a time." I could leave it at that, really. "Glee's" usually problematic holiday-themed episode is actually fairly decent in season three. When New Directions is asked to perform at two different events on the same day, at the same time, they have a tough decision to make. Will they choose correctly, and spread Christmas cheer, or will their ambition get the best of them? One of the few big event, ratings-minded, episodes that's not terrible this season… at least not totally. Partly presented in black-and-white, with mono sound, this thing is sort of anachronistically awesome.

- "Yes/No" - When Will tries to plan a special surprise for Emma, he enlists the glee club to help him sweep her off her feet. Meanwhile, Becky Jackson (Lauren Potter) sets her sights on Artie, and Finn makes an announcement about his life plan after high school that surprises the glee club.

- "Michael" - New Directions battle the Dalton Academy Warblers and their devious new leader—the season's gay super-villain Sebastian (Grant Gustin)—for the right to perform a Michael Jackson song at Regions. Meanwhile, Rachel struggles with a weighty, lifer altering, decision.

- "The Spanish Teacher" - "Because they don't know any better. And it's your fault. You're their teacher. You went from 'La Cucaracha' to a bullfighting mariachi. Why don't you just dress up as the Taco Bell Chihuahua and bark the theme to 'Dora the Explorer'? You don't even know enough to be embarrassed about these stereotypes that you're perpetuating." Will assigns the glee club a Spanish singing assignment, and enlists the help of a musically inclined night and sometimes substitute teacher when Santana objects to the lesson. Rachel spills the means by telling Kurt and Mercedes about Finn's sudden, secret, marriage proposal. And Mercedes may have relationship complications all her own.

- "Heart" - In honor of Valentines Day, Schue challenges the New Directions to find and perform the worlds greatest love songs. Meanwhile, Rachel's two dads, LeRoy and Hiram Berry (amazing guest stars Brian Stokes Mitchell and Jeff "uh-uh-uh-Freaking" Goldblum), pay a visit to McKinley High.

- "On My Way" - Things heat up as New Directions goes head-to-head with the Warblers at Regionals. Meanwhile, the group is giddy with glee over Finn and Rachel's wedding. Everyone in the group besides the elder Hummel's and Berry's that is, who can no longer keep their objections quiet.

- "Big Brother" - Much to Blaine's chagrin, his big-shot Hollywood actor brother, Cooper Anderson (another amazing guest star in Matt Bomer), comes home and quickly makes his life a living hell by invading McKinley and teaching those willing to learn what it means to be an star. This episode, written by great character actor/comedian Michael Hitchcock, is worth it for Bomer's impression of Nicholas Cage alone. That it's also a pretty decent episode by itself is nice too, I guess.

- "Saturday Night Glee-ver" - New Directions pays homage to the movie "Saturday Night Fever" by grooving to disco-infused dance numbers. Why? Because f**k you, that's why. Horrible.

- "Dance with Somebody" - "Champagne on a Tuesday? You've gone all Hunter S. Thompson." The glee club celebrates a true "icon" (of why drugs are bad, m'kay) when they cover songs from Whitney Huston's catalog. Meanwhile, Emma and Will take one step closer to their dream wedding.

- "Choke" - Rachel and Kurt finally get their chance to audition for NYADA. But, when administrator and industry legend Carmen Tibideaux (guest star Whoopi Goldberg) intimidates her, Rachel chokes by forgetting the words mid-song. Meanwhile, Puck makes a decision about his future after a run in with his long-lost deadbeat dad.

- "Prom-asaurus" - "It's clear that the three of you are incompetent fools, possibly even some sort of terrorist cell. So, as president, I'm gonna decide what the prom theme is going to be this year. And I think that it should be...dinosaurs." Brittany goes into high gear as class president to spearhead the prom. Then, after prom king and queen nominations are announced, the kids kick into campaign mode, and some of the outcasts plan a rival celebration.

- "Props" - As the countdown to gradation continues, the kids of New Directions prepare for a high-concept routine for Nationals. But, when Tina bumps her head, the world of "Glee" upside down, and absolutely nothing is right. Will is Sue, Blaine is Puckerman, Tina as Rachel, etc… oh boy. Just bad.

- "Nationals" - New Directions perform at Nationals for celebrity judges, including a coked-out Lindsay Lohan who filmed her cameo between jail stints and car accidents… I think.

- "Goodbye" - "Our work here is done. There's only one thing left to do. Say goodbye." Or, as I'd prefer to call it: a pretty good episode until the last eight minutes. Graduation is finally upon the seniors of McKinley High, and the Class of 2012 looks to the past and present while contemplating the future. There's a lot of great nods to the pilot and early episodes of the first season in the finale, but for every door "Glee" seems to close here, it opens two more. And for reasons I can't quite fathom—perhaps because they assume the songs are somehow played out—there's no epic Journey-fueled reprise at the end of the episode. Lame.

Video


While each new series arriving on the airwaves these days appears to be shot digitally with the Arri Alexa's, RED One's and Panavision Genesis' of the world, and many of the old 35mm holdouts are moving that way too, "Glee" hasn't quite caught the digi-cam bug, yet. Even into it's third (and now fourth) season the show has kept to its filmic roots. This gives "Glee" a unique look in the era of HD television, one that is decidedly more cinematic than many of its contemporaries. Despite continuing to capture the series on 3-perf Super35 celluloid, and finishing it on a 2K digital intermediate in post-production, what's even more surprising is the level of consistency cinematographers Christopher Baffa, Michael Goi and Joaquin Sadillo have managed to maintain with each passing year. In most ways, the third season of "Glee" looks much like the first did on Blu-ray. Colors are bold and well saturated, contrast is punchy but natural, blacks are deep and true, detail and clarity are excellent, and the 1.78:1 widescreen 1080p 24/fps AVC MPEG-4 encoded transfers themselves are quite solid, with nary an artifact or other anomaly adversely affecting the presentation at all. A thin, consistent, and natural layer of grain remains intact over each episode.

The one area where season three most greatly diverts from the previous two seasons is in stylization. Each season has had moments—usually during the most fantastical musical numbers—that are stylized, but season three has an episode that's in black and white for half of its runtime. Season three's Christmas special, "Extraordinary Merry Christmas", was filmed in color and then had all of the color sucked out of it in the DI stage. Because it's not a true black and white transfer, the decolorized scenes are lacking much of the depth and moody contrast something natively monochrome would have. Still, it's a fun little style quirk, even if it isn't entirely convincing.

Audio


The third season of "Glee" is even more sonically similar to earlier Blu-ray offerings of the series than it is visually. As usual, the series is presented in English DTS-HD Master Audio 5.1 (48kHz/24-bit) and season three's mixes are so near-identical as a whole to the earlier sets that I'll just end up repeating myself. So, for reference, here's what I wrote in my review of season two:

Blu-ray makes huge strides in improving over the other [viewing] options out there, easily besting the Dolby-equipped broadcast and standard-def DVD's by offering ample range, respectable clarity, greater fidelity, and an even better dimensionality and directionality (all areas in which the lesser delivery systems already excelled), which work together [to create] a strong sense of immersion. The show has a genuinely impressive soundtrack. Period. "Glee" isn't a rousing action-packed adventure, but lives up to its musical roots. The lossless mix offers a little bit of something for everyone. First off, the busy-bee and drumline chorus from Adam Anders, Peer Astrom, Murphy and composer James S. Levine that peppers the musical interludes between beats—the closest thing "Glee" has to an original score—provides a nice base from which the show is able to build its sound. The vast array of styles and numbers provides a cross section of genres.

Season three includes more top-40 awfulness, and less Journey awesomeness, but it still sounds very good in a technical sense. And the cast and crew seem to have finally figured out the whole post-sync dubbing thing when it comes to the musical numbers; it's the most consistent and convincing since the first 13 episodes. Note that "Extraordinary Merry Christmas" is the exception again, but not in a negative way—it's just different. Not only was the episode de-colored to appear like an old television special, but sounds as though it was mixed in mono, although it's still packed in a 5.1 container. Unlike the not-entirely-believable monochromatic video transfer of this episode, the single-channel mix is eerily well done, with the dialog and music in the episode exhibiting the thinness and limited dynamic range of era-appropriate programming to perfect pitch. English, Spanish, French and Portuguese subtitles have also been included.

Extras


"Glee" has never been a series overflowing with special features whenever it comes to home video, and season three's meager package might be—quite like the season itself—the best-but-worst grouping of bonuses yet. Sadly, no commentaries or extensive making-of documentaries are to be found within this four-disc set, although the show's rabid fanbase would probably lap that sort of thing up. In the place of those features is the usual fluff stuff. The "Music Jukebox" song index continues to be the highlight, if only because it gives fans exactly what they want—direct access to all the musical numbers without any of the other extraneous scenes. The included featurettes continue to be on the somewhat dry and promotional side. Of some serious note in this release are several deleted and extended scenes from a few of the episodes this season.

Fox has authored "Glee: The Complete Third Season" with a plethora of playback options, including optional bookmarking, the resume playback function, and a handy "Season Play" mode that makes marathoning the series a breeze.

DISC ONE:

Each disc comes equipped with the great "Glee Music Jukebox" (1080p, 1 hour 2 minutes 12 seconds, play all) feature. Disc One includes these songs:

- "We Got the Beat"
- "Ding Dong the Witch is Dead"
- "It's Not Unusual"
- "Anything Goes/Anything You Can Do"
- "You Can't Stop the Beat"
- "Somewhere"
- "Spotlight"
- "Run the World"
- "Cool"
- "Its All Over"
- "Out Here On My Own"
- "Fix You"
- "Bein' Green"
- "Last Friday Night"
- "Waiting For a Girl Like You"
- "Candyman"
- "Take Care of Yourself"
- "Tonight"
- "Uptown Girl"
- "A Boy Like That/I Had a Love"
- "America"
- "One Hand, One Heart"
- "Hot For Teacher"
- "You and I/You and I"
- "Hit Me with Your Best Shot/One Way or Another"
- "I Can't Go For That/You Make My Dreams"
- "Rumour Has It/Someone Like You"

"'Glee' Under the Stars" (1.78:1 1080p, 7 minutes 45 seconds) is a featurette combining several elements from a screening of the premiere for fans at Santa Monica High School. The piece includes clips of a stage show performed before the premiere and more from the cast in the form of a brief Q&A which was held after.

"Ginger Supremacists" extended scene (1.78:1 1080p, 4 minutes 5 seconds) is exactly that—an extended scene featuring Emma's crazy parents.

"Sue's Flashback" deleted scene (1.78:1 1080p, 2 minutes 43 seconds) is a deleted scene, featuring Sue circa 1976, performing in her school's rendition of "Oklahoma!" So the root of all of Sue's hate stems from here…

The disc also includes a pre-menu bonus trailer for "FOX TV on DVD and Blu-ray" (1.78:1 1080p, 1 minute 8 seconds).

DISC TWO:

Each disc comes equipped with the great "Glee Music Jukebox" (1080p, 1 hour 32 minutes 35 seconds, play all) feature. Disc Two includes these songs:

- "Perfect"
- "I'm the Only One"
- "Girls Just Want to Have Fun"
- "Jolene"
- "I Kissed a Girl"
- "Constant Craving"
- "Red Solo Cup"
- "Buenos Aires"
- "Survivor/I Will Survive"
- "ABC"
- "Control"
- "Man in The Mirror"
- "We Are Young"
- "All I Want for Christmas is You"
- "Blue Christmas"
- "River"
- "Extraordinary Merry Christmas"
- "Let It Snow"
- "My Favorite Things"
- "Santa Claus Is Coming to Town"
- "Christmas Wrapping"
- "Do They Know It's Christmas"
- "Summer Nights"
- "Wedding Bell Blues"
- "Moves Like Jagger/Jumpin' Jack Flash"
- "The First Time Ever I Saw Your Face"
- "Without You"
- "We Found Love"
- "Wanna Be Startin' Somethin'"
- "Bad"
- "Scream"
- "Never Can Say Goodbye"
- "Human Nature"
- "Ben"
- "Smooth Criminal"
- "I Just Cant Stop Loving You"
- "Black or White"
- "La Cucaracha"
- "Sexy and I Know It"
- "Don't Wanna Lose You"
- "Bamboleo/Hero"
- "La Isla Bonita"
- "A Little Less Conversation"

"Santa Baby" deleted scene (1.78:1 1080p, 3 minutes 50 seconds) is a deleted scene featuring Finn and Santana out Christmas shopping for friends. They, predictably, break into song.

DISC THREE:

Each disc comes equipped with the great "Glee Music Jukebox" (1080p, 1 hour 15 minutes 4 seconds, play all) feature. Disc Three includes these songs:

- "L-O-V-E"
- "Let Me Love You"
- "Stereo Hearts"
- "Home"
- "I Will Always Love You"
- "You're the Top"
- "Cherish"
- "Love Shack"
- "Cough Syrup"
- "Stand"
- "Glad You Came"
- "Fly/I Believe I Can Fly"
- "What Doesn't Kill You (Stronger)"
- "Here's To Us"
- "I'm Still Standing"
- "Hungry Like the Wolf/Rio"
- "Fighter"
- "Up Up Up"
- "Somebody That I Used to Know"
- "You Should Be Dancing"
- "Night Fever"
- "Disco Inferno"
- "If I Can't Have You"
- "How Deep Is Your Love"
- "Boogie Shoes"
- "More Than a Woman"
- "Stayin' Alive"
- "How Will You Know"
- "I Wanna Dance With Somebody (Who Loves Me)"
- "Saving All My Love For You"
- "So Emotional"
- "It's Not Right But It's Okay"
- "I Have Nothing"
- "My Love Is Your Love"

"'Glee': Give A Note" (1.78:1 1080p, 7 minutes 46 seconds) is a featurette focusing on the donation of $10,000 to a small middle school in Culver City struggling to keep its art programs going. Students and teachers from the school, as well as cast members Dot Marie Joes and Jayma Mays, share their thoughts on why this little act in what makes "Glee" so great. It is pretty cool, actually.

DISC FOUR:

Each disc comes equipped with the great "Glee Music Jukebox" (1080p, 1 hour 5 minutes 4 seconds, play all) feature. Disc Four includes these songs:

- "The Music of the Night"
- "School's Out"
- "Cell Block Tango"
- "Not the Boy Next Door"
- "The Rain in Spain"
- "Shake It Out"
- "Cry"
- "Big Girls Don't Cry"
- "Dinosaur"
- "Love You Like a Love Song"
- "What Makes You Beautiful"
- "I Won't Give Up"
- "Because You Loved Me"
- "Mean"
- "Flashdance… What a Feeling"
- "Edge of Glory"
- "It's All Coming Back to Me Now"
- "Paradise by the Dashboard Light"
- "Starships"
- "Pinball Wizard"
- "Tongue Tied"
- "We Are the Champions"
- "Sit Down, You're Rockin' the Boat"
- "Forever Young"
- "Single Ladies (Put a Ring on It)"
- "I'll Remember"
- "You Get What You Give"
- "In My Life"
- "Glory Days"
- "Roots Before Branches"

"'Glee' Swap: Behind the Scenes of 'Props'" (1.78:1 1080p, 5 minutes 41 seconds) is a featurette with the cast and crew talking about the body-switching qualities of the episode. One of the worst episodes of the season gets its own mini-doc, but there's not a single commentary in the set? Yep. Clearly, someone hates me.

"Meet the Newbies" (1.78:1 1080p, 13 minutes 20 seconds) is a featurette with the "Glee Project" winners and other new cast members of season three. Damian McGinty, Samuel Larsen, NeNe Leakes and others appear to talk about how they came to join the cast, their characters and what it's like working on the series.

The next featurette is titled "Saying Goodbye" (1.78:1 1080p, 15 minutes 19 seconds). Each season of "Glee" has one episode that gets a longer making-of featurette. Fittingly, the season finale "Goodbye" is the one to get the spotlight this season. The cast and crew talk about the episode, and reminisce about the series' long journey to this point.

"Ask Sue: World Domination Blog" (1.78:1 1080p, 6 minutes 7 seconds) is a featurette with Jane Lynch is character reading and responding to posts from fans.

"Return of Sue's Quips" (1.78:1 1080p, 2 minutes 58 seconds) is a featurette featuring a montage of all of Sue's biting one-liners from, mostly, season three.

Packaging


"Glee: The Complete Third Season" comes packaged in a thicker 4-disc Elite style case. Each disc—a dual layered BD-50—is mounted on a flip hub. Oddly, unlike previous seasons, "Glee's" third outing doesn't come with a slip-cover, even in first pressings.

Overall


Rachel: Mr. Schue, when I met you I was just an annoying Jewish girl with two gay dads and a very big dream. Today, I still have two dads, and I'm still Jewish, and I'm probably just as annoying.

With the good, comes the bad. And with growth, inevitable regression. That might as well be the mantra of "Glee", an increasingly frustrating series that seems to get, rather oddly, simultaneously both better and worse with each passing year. There are a few great runs in the 22-episode third season, namely the "West Side Story" arc, which has some of the best moments since the first holy 13 episodes of season one. But many of the other, message, episodes are forced, and muddle the narrative drive of the season… almost as much as the single-artist-centric homages, like the belated send-ups to Michael Jackson (didn't he already get one?) and Whitney Huston, do. As always, Fox grants "Glee" a top-notch Blu-ray release with excellent video and audio. And, again as always, extras continue to be disappointing, although the "Music Jukebox" is still one of the best ideas ever. As both the third season of a heavily serialized series and, more importantly, just a show that sometimes isn't very good at all, "Glee: The Complete Third Season" isn't something I can recommend to the uninitiated. For fans only.
| | | | | |
| --- | --- | --- | --- | --- |
| The Film: C+ | Video: A- | Audio: A | Extras: C | Overall: B- |