The Show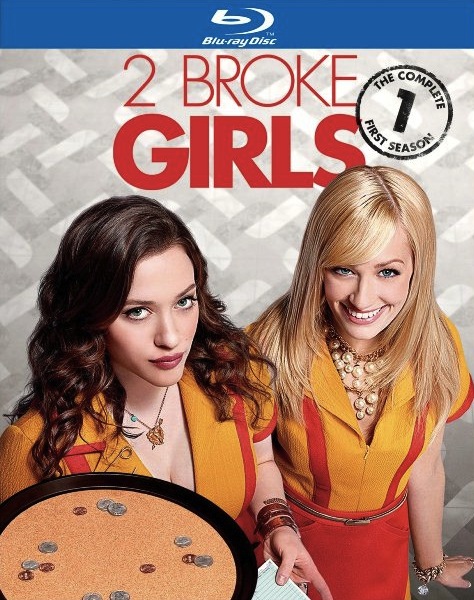 There's been a strange disconnect between the reaction of the audience and critics when it comes to the relatively recent CBS/Warner Brothers TV production "2 Broke Girls". Not that critics and audiences ever usually agree on anything—but to see one side claiming the show great, while the other seems diametrically opposed to saying exactly that… it's odd, to say the least. The series, co-created by Michael Patrick King and the divisive, abrasive, comedienne Whitney Cummings, has been a runaway ratings success for the network and studio, topping out as the number one new comedy in the highly sought after 18-34 year old demographic, with an impressive 11 million viewers on average, in its debut season. Yet, many critics have declared "2 Broke Girls" to be one of the worst things on the small screen. Actually, what's even stranger to me, is that critics seems divided on the show, too—some have called it the best new comedy series of the 2011-2012 television season, while others have blasted it for uneven and unintelligent writing, hazy and cliché plot construction, base humor that uses racial and gender stereotypes as a crutch, and a slew of other undesirable aspects which make it one of the years worst series, new comedy or otherwise. How does such a deep divide in opinion occur? Honestly, I have no idea. I've very clearly sided with one group over the other, though.

I hate to say it, but I'm in the latter critic camp. I think the show is crap, frankly, and I'm flabbergasted at its success. How did this series make it past the pilot stage and get picked up for a series order? How did it beat the odds, and not get cancelled in its earliest days due to poor ratings? What has made it so damn popular, to the point that it's actually been an outright sensation in certain spheres? Why a large group of people like "2 Broke Girls" is just one of those things I'll probably never understand—sadly, something I'm very familiar with when it comes to CBS comedies (I don't get how "The Big Bang Theory" (2007-present) or "Two and a Half Men" (2003-present) are so well-liked by the collective masses. I think they're both horrible, each in their own very special way.) In my mind, despite starring Kat Dennings, an actress I kind of like, "2 Broke Girls" is an utterly awful base case of badness on television. A majority of its jokes are unfunny, made worse by the grating canned-laughter and multi-camera aesthetic of an antiquated soundstage sitcom. In the supplements, King claims that the series is an edgy, modern, tale, and it's tailor-made for the seemingly unrepresented 20-something demographic. I sort of have to laugh at that—first because, as a member of said demographic, his comments tickle me. (Not to mention, stylistically, his modernity claims ring untrue).

I also have to laugh, because, I personally prefer non-traditional sitcoms—like "Community" (2009-present), "Modern Family" (2009-present), "30 Rock" (2006-present), when it was good anyway, and a slew of cable series in the vein of "It's Always Funny in Philadelphia" (2005-present)—which are more half-hour comedies than anything resembling a classic network sitcom, and I know I'm not alone. Those shows are edgy, often outright cynical, in tune with the times, and for various reasons, work, because they work against expectations and convention (and are just freakin funny, well cast, and likable). The one traditional series I enjoy—"How I Met Your Mother" (2005-present)—plays freely with sitcom tropes, and is at times so subversive with the formula, I'm surprised CBS hasn't tried to rein-in the show's creative crew, or at some point attempted to kick it off the air.

But mostly I laugh, because King's comment is the funniest joke to come from this show by far. With the out-dated construction, and formulaic nature of the typical CBS sitcom style, "2 Broke Girls" seems so far out of touch, so far away from that original goal of catering to said age group. The series feels rather like a miscalculated concoction conceived by the old white men in suits—that think they're "hip" and "with it" (and think those terms are not outdated)—running CBS as a way to attract said "attractive" demo to a network that mostly caters to an older audience, because they're so desperately in need of viewership not on their deathbed.

The set up of "2 Broke Girls" is simple, and sitcom-y. Max Black (Kat Dennings) and Caroline Channing (Beth Behrs) are waitresses at a once decaying but suddenly reemerging Brooklyn diner. Max is a sarcastic and street-wise girl subletting her dead grandmother's apartment. Caroline is the daughter of a Bernie Madoff-esque billionaire who seemingly scammed half of New York City out of its money; with her daddy in prison, the (supposedly) book-smart blonde princess is out on her ass and totally broke. When the owner of the diner—a horrible Asian stereotype named Han Lee (Matthew Moy), who frequently makes Mickey Rooney's role in "Breakfast at Tiffany's" (1961) look like a positively-PC icon of racial sensitivity—where Max works hires Caroline, the two girls find themselves initially at odds but eventually become friends. In the pilot, Max offers to let the homeless Caroline stay with her, and the two, broke, girls bond over their troubles. By the end of the pilot, the girls hatch a plan: they'll use each others talents—Max is a pretty decent baker, specializing in novelty cupcakes; Caroline graduated as a business major from a top school in the nation, and is really good with money—to open a cupcake Shoppe in the city, catering to the uppity upper-class socialites that both girls secretly wish they were. Only, they need, according to Caroline (who does the math instantly in her head), $250,000 to make their dream a reality. That's a lot of money, which neither of the girls even remotely has.

Ostensibly, each episode is constructed around the girls attempting—and frequently failing—to work towards that $250k goal. But most of the time, each 22-minute misadventure ends up in some weird, cliché, sitcom situation that is so far removed from the cupcake construct that I found myself wondering why the writers even bothered to create that subplot at all. The episodes are at once both inane and innocuous: a odd, off-putting tone that makes the show tough to watch. "2 Broke Girls" is supposedly pushing the envelope by making as many insensitive jabs at groups of all creeds and colors as humanly possible in 24 individual-wrapped, 20-odd minute, packages of candy-coated xenophobia. But really it's just regurgitating formulaic tripe.

Cast chemistry is something vitally important to a sitcom, and I don't think the characters and cast click at all in "2 Broke Girls". Dennings is slumming it here, and seems totally out of her element; she's doesn't just seem at odds with the rest of the cast, but with the entire fictional environment of the series as a whole most of the time. Worse, we're supposed to believe that Behrs is a super-smart scholar, who's a little slow socially, but in fact, she acts (and looks) the opposite. It's very weird, as sometimes I felt as though the show was reverse cast, so the actresses could play against type. But that just doesn't work, and it was a bad move, if consciously done. The supporting cast of characters are simple stereotypes to better assist the girls on their quest to offend everyone: there's the diner cashier Earl (Garret Morris), a 75-year-old black man who makes off-hand comments about "whitey" and frequently threatens customers with a baseball bat, the diner's unkempt Ukrainian cook Oleg (Jonathan Kite), a rich-bitch named Peach (Brooke Lyons), whom Max frequently baby-sits for, and, as a late-in-the-series addition, Sophie (Jennifer Coolidge), the girls' Polish upstairs neighbor. I'm not put off by stereotypes, a generally raunchy un-PC tone, or genre clichés, if any of it is done in a satirical way, while making some sort of commentary. In fact, I welcome smart satire that confronts those cliches and breaks down preconceived notions. But "2 Broke Girls" doesn't have the insincerity of satire to its meanness or working against its predictability, and there's no deconstruction in its story and character construction. It's just not that subversive, or smart.

It's unfortunate that the show is overall quite terrible, because, occasionally, it did make me laugh. Each episode usually has a few amusing asides from Dennings, whose natural sarcasm seeps through in certain lines. The writers also have a lot of fun with the Brooklyn setting, frequently making fun of the heinous Hipster culture that's sprung up in that borough (and infected many an inner-city burgh and college/university campus elsewhere). But even the hipster jokes get old after a while (something I'd never thought I'd say), and the girls' constant ragging makes it seem like the writers are beating a dead horse named Chestnut after only a 10 or so episodes. Oh, right… I forgot to mention the horse. So, I guess the show needed extra quirking up or something, and as a result the girls have a horse named Chestnut—he lives in their backyard, because Caroline can't afford to board him at the stables anymore. Ugh.

The critics claiming "2 Broke Girls" to be the best new sitcom of last season… I have absolutely no idea what they're on about. Did they not see "Suburgatory" (2011-present) on ABC or "New Girl" (2011-present) on FOX, both of which admittedly have their own issues (one of them even has a hipster chick), but were infinitely better freshmen series than "2 Broke Girls"? The fact that neither of those single-camera series have a laugh track makes them an instantly improvement, in my mind; that their less cliché comedic situations and jokes are usually amusing, often worthy of an actual unforced laugh, is welcomed too. "2 Broke Girls" may have a few genuine jokes here and there, ones that made me laugh, but those few funnies are not enough to undo the unfortunate unpleasantness that is the rest of the series. It's a shame, as I actually like the cast—or some of the actors, anyway. At least, I like Kat Dennings, even if I'm not fond of most things she's in. Too bad she's not in better things—and isn't likely to be now that she's signed onto this dreadful TV show.

All 24 episodes of "2 Broke Girls: The Complete First Season" are spread across 2 discs. The two-part season finale, "And Martha Stewart Have a Ball", is presented as one hour-long (actually, 44 minute) episode. The episodes are as follows:

- "Pilot"—A casual friendship blooms in a Brooklyn diner between sarcastic, streetwise Max and sophisticated, formerly rich Caroline.

- "And the Break-up Scene"—Caroline steals Max's thunder when she innocently interferes with her breakup.

- "And Strokes of Goodwill"—Max introduces Caroline to the art of thrift store shopping. Plus, a certain guy catches Max's eye.

- "And the Rich People Problems"—Max gets a taste of Caroline's posh lifestyle—and her personal life—at her former home.

- "And the 90's Horse Party"—Caroline and Max throw a party to charge rich hipsters for horse rides on Chestnut.

- "And the Disappearing Bed"—Caroline tries to build herself a Murphy bed, and the chemistry between Max and Johnny (Nick Zano) heats up.

- "And the Pretty Problem"—While a potential costumer wants pretty cupcakes, Caroline drags Max to cake decorating class.

- "And the Hoarder Culture"—Caroline and Max clean a hoarder's apartment for extra cash, and Johnny's spray cans speak volumes.

- "And the Really Pretty Cash"—Things get extra awkward when Johnny's girlfriend, Cashandra (Marsha Thomason), hires Max and Caroline.

- "And the Very Christmas Thanksgiving"—Caroline's first holiday with her dad in prison finds the girls spreading the holiday spirit… an equal amount of holiday cheer and holiday jeer.

- "And the Reality Check"—It's the first snow and Chestnut needs a winter home. Will Peach's condo be his luxury lodgings, or will the girls need to look elsewhere?

- "And the Pop-Up Sale"—Friendship is golden… and so are Caroline's T.A.T rings, which she sells to buy Max her dream appliance.

- "And the Secret Ingredient"—Max introduces Caroline to the value of coupon shopping and Han to the law of supply and demand.

- "And the Upstairs Neighbor"—Max and Caroline's new upstairs neighbor, Sophie, offers the girls a new way to make money.

- "And the Blind Spot"—The girls audition for a job with Sophie—and in turn, Sophie urges Max to make a difficult choice about Caroline.

- "And the Broken Hearts"—Sophie's Valentine's Day outfit gives Earl a heart attack, and Caroline attempts to rekindle an old flame.

- "And the Kosher Cupcakes"—One might be sick; the other might be Jewish. The girls get a gig baking cupcakes for a bar mitzvah.

- "And the One-Night Stands"—it's Caroline's birthday, but the girls' one-night stands are getting in the way of a proper celebration.

- "And the Spring Break"—Caroline's vacation plans blow Max's mind—until cupcakes call them both back from paradise.

- "And the Drug Money"—Max convinces Caroline to participate in a clinical trial to help raise money for her father's disposition.

- "And the Messy Purse Smackdown"—Caroline promises Earl that she'll mail his tax return, but when she learns that Max has never filed taxes, she gets sidetracked.

- "And the Big Buttercream Breakthrough"—Max's babysitting gig is in peril if the cupcakes she and Caroline deliver to Peach's socialite friend aren't perfect.

- "And Martha Stewart Have a Ball, Parts 1 & 2"— in this hour-long season finale, the girls have an opportunity to grow their business big time… if they can just crash a gala at the Met in order to meet Martha Stewart.

Video


Traditional sitcoms are not something that really showcase Blu-ray at its best, or most visually impressive. The flatness of in-studio lighting and lifeless multi-camera aesthetic of most network sitcoms isn't the stuff of a particularly dynamic experience, nor one that greatly benefits from the additional resolution and increased clarity, or better color reproduction that the format—and HD in general—affords. Make no mistake; I have no doubt that "2 Broke Girls" in high definition looks noticeably better than its standard definition counterpart. Details are probably more noticeable, the bright colors slightly bolder, the overall image slightly crisper and clearer—and certainly the more advanced compression codecs of of Blu-ray ensure each episode is free of unwanted artifacts, most noise, and other issues that might plague the MPEG-2 DVD's and television broadcasts. In fact, there's not a doubt in my mind that these 24 1.78:1 widescreen 1080p 24/fps AVC MPEG-4 encoded transfers are the best the show looks outside of the uncompressed digital master files. Still, the series—shot digitally in HD with the Sony CineAlta HDW-F900—is a relatively bland affair. One that's clean, clear, and reasonably sharp, but almost clinically plain. The Blu-ray is perfectly fine; it's quite nice looking… for a sitcom.

Audio


Likewise, the 24 English DTS-HD Master Audio 5.1 mixes (24kHz/24-bit) throughout the set are not likely to impress, although they do get the job done—if less impressively than the video. The tracks are front-focused, with clean prioritized dialog and a forceful main title theme coming through with precise clarity. But there isn't much else to the soundtrack. Unfortunately, the laugh track is omnipresent and every-grating; at times, it's overpowering, and always annoying. I hate laugh tracks, especially the obviously forced kind heard here. Had the sound editors actually placed the fake laughs where a real one might naturally fall (as the crew on "How I Met Your Mother" (2005-present) does; fun fact: "HIMYM" is also the only traditional, studio-based, sitcom I've been able to stomach in over a decade, for numerous reasons beyond its almost-unnoticeable canned laughter, but that's for another time and another place), the effect might not be so terrible. But often the canned laughter robs any genuine joke of its hilarity. I'd have liked an option to hear the show without the laughter; it's really a shame that studios/distributors haven't begun offering such options on DVD and Blu-ray. I wonder how unfunny "2 Broke Girls" would be without the fake laughs fueling the jokes? Would it be better? Optional subtitles in English, Finnish, French, Spanish and Swedish have been included.

Extras


It's a shame that most studios have just about given up on producing extras for their TV series. In my opinion, more so than films, TV series on DVD and Blu-ray really need to offer enormous packages of bonus features—because the shows themselves are even more readily accessible than theatrical features, and the value-added supplements could be the thing to get fans actually interested in revisiting a series they likely already watched on the air. But I digress. Warner's release of "2 Broke Girls" is decidedly NOT overflowing with content: no commentaries or gallery of in-depth featurettes. No DVD to make a combo pack, nor, even, the seemingly requisite gag reel. Rather, "2 Broke Girls" includes minimal special features: a making-of featurette and a handful of deleted and alternate scenes. The entire pacakge comes out to around 22 minutes of content all told. Yeah… not great in the way of bonuses. The set also includes an UltraViolet digital copy of the entire first season.

DISC ONE:

There are no extras on this disc.

DISC TWO:

"2 Girls Going 4 Broke" (1080p, 14 minutes 36 seconds) is a featurette with executive producer/co-creator Michael Patrick King, "Pilot" director James Burrows, writer Michelle Nader, Dennings, Behrs and others. This has an EPK feel, but the comments by the interviewees at least give context to the creation of the series. Although each choice made was mostly idiotic, at least now I understand why they made the show (the way they did). There's talk of shooting a sitcom for 20-somethings, the Brooklyn setting, the casting and the writing, among other topics.

Alternate takes (1080p, 6 minutes 14 seconds) is a reel of so-called "unaired" scenes. Really, this is just a mish-mash of deleted, extended and alternate scenes from throughout the first season, and I noticed nothing of any real consequence.

Packaging


Warner Home Entertainment packages "2 Broke Girls: The Complete First Season" in a 2-disc set containing all 24 episodes on region free BD-50's. The discs are housed in an Elite keep case and an outer cardboard slip-case box. A fold out episode guide has been included. The set also includes an UltraViolet digital copy code redeemable for an extra version of the series from the "cloud".

Overall


"2 Broke Girls" was—of those I've personally seen (note: I did not see more than 3 minutes of "Whitney" (2011-Present), so I don't count it)—easily the worst new show of the 2011-2012 television season. Yet, it's been extremely popular, and a genuine hit for CBS and Warner Brothers TV, although I can't for the life of me understand why. Admittedly, I did think the hipster jokes were pretty funny (as are a handful of moments throughout the season). But the rest of "2 Broke Girls: The Complete First Season" is… almost uniformly awful. It's a shame, as I actually like the cast—Kat Dennings, anyway. The Blu-ray has decent audio and video, but doesn't transcend the flat sitcom style. The featurette is a passable supplement, the deleted and alternate scenes less so. The set also includes an UltraViolet for those who care. My advice: Skip It.
| | | | | |
| --- | --- | --- | --- | --- |
| The Show: D+ | Video: B | Audio: C+ | Extras: D | Overall: C- |