The Film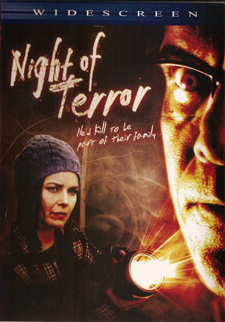 "Night of Terror (2006)" is another TV-movie by "MarVista Entertainment" (I believe it premiered on "Lifetime Television" in the US), directed by William Tannen (he has done a few Chuck Norris-movies: "Hero and the Terror (1988)" and "The Cutter (2005)"), and is a mixture of light drama and equally light suspense. Well-to-do real estate broker Jill Dunne (Mitzi Kapture - many might remember her from the TV-series "Silk Stalkings 1991-1995") has lost her father some months ago, and now she has to deal with her spicy 17-year old daughter Olivia (Martha MacIsaac), as well as her husband Sean (Rick Roberts), who´s working long hours and is also travelling. Olivia´s boyfriend Zack (Joe MacLeod) is also a very frequent visitor at the house, which doesn´t always please Jill. One day Jill gets a call from the credit card company, which informs that there are some problems with the bill made from the local hotel. Since she hasn´t been at the hotel, it´s time to solve the situation. It becomes evident that it´s her husband Sean that has been using the hotel, and that puzzles Jill, who also hears that her husband won´t be at home that night due to his "work". Another surprise call comes soon from the hotel manager Richard Grant (Nick Mancuso - from "Death Ship (1980) ", "Under Siege (1992) ", and "Rapid Fire (1992)"), who´s telling that Sean has just checked in at the hotel. Jill rushes back to the scene, and finds out that her husband has been having an affair. The cat is out of the bag.

At first Jill plans to avoid the whole situation, but things take another turn when she ends up showing a condo on sale to the same, slick hotel manager Richard that she met earlier. Work turns into a late night drink, and that drink turns into kisses. Soon Jill and Richard are at the hotel, and the clothes are about to fall off - until there´s a knock on the door by the room service, which interrupts the scene completely, and Jill suddenly comes to her senses about being married and runs off. Richard on the other hand shows his dark side, being totally furious and acting like a mad man. Back at home, Jill finally talks with Sean, and they plan to try and steer their marriage onto the right track. Sean has a plan, which involves a week of camping in the countryside and a boat trip with the whole family, and getting away from the hectic city-environment and the recent problems. The old place from their honeymoon, Stonelake, would be a perfect location to find that lost sparkle, and make up the mends. The romantic trip turns into a nightmare, when Richard - now obsessed with Jill, is following them, and he wants her, by any means necessary…

"Night of Terror" has a promising start, involving some family drama with complicated issues of marriage and work, and raising a daughter on the verge of adulthood during the process. Still beautiful Mitzi Kapture is a solid actress and her work in the role is quite believable, but the problems of the story are starting to show when the audience - now getting used to the "drama" aspect (also due to the fact that it´s really taking its time), should suddenly be "scared" and feel the tension, when the film slowly turns into the "stalker in the woods"-type of movie (or at least it tries). This change is by no means smooth or even very interesting, and with a few hints you should start to believe that Richard is an unstable villain, and the lives are in danger. The audience is probably a bit puzzled as to whether this film drama is in the heels of "Unfaithful (2002)", or will it eventually offer some tension like e.g. "The River Wild (1994)" and "Cape Fear (1991)", which both operated in the wilder environment, so to speak - or will it be a good old slasher (hey, I can always hope, can´t I?). The film doesn´t really live up to its bold name, since there´s very little "terror" in the film, not even when there should be. As we all know, camping in the woods would be a perfect opportunity to create that "terror", but with this TV-film that just doesn´t happen. As a viewer I felt disappointed, since with a few subtle changes to the story, this could´ve been at least partly intensive. Now, the "scary scenes" are so weakly paced that you have to wonder - did the director change when they got shooting these scenes? Playing the psychotic villain is never easy, and actor Nick Mancuso gave me some mixed feelings (as did Rick Roberts). In some scenes he´s quite good, but in the second part of the film he´s a bit overacting for my taste. The more I think about it, the more it feels that the whole "camping"-aspect of the film should´ve just been left out of the film, and have the stalking in the city. Since the first part of the film is fairly interesting and Mitzi Kapture is not bad as an actor, the film should´ve deserved better. Then again, for the casual TV-audience over the microwave-dinner and a can of beer, this might be a satisfying effort.


Video


The transfer is presented in Anamorphic 1.78:1, and it looks fairly good. Black levels and colours are solid, and transfer is sharp enough. You have some issues of grain (especially during some of the darker scenes) and a glimpse of edge enhancement, but nothing that major. "Single layer" disc is coded "R1", and the film runs 88:35 minutes (NTSC). There are 15 chapters.

Audio


Hmm, I´m a bit worried now. The last TV-production ("Absolute Zero (2005)") from "MarVista Entertainment" that I reviewed included one audio track - English Dolby Digital 5.1, which disappointingly was basically just a Mono-track duplicated to all 3 front channels, with added "artificial echo" on the rear channels. Well, that´s pretty much the case also this time, so don´t expect any proper 5.1-surround. The track has also some background noise, but I´m not sure if that is partially just due to the low budget production sound. The film is mainly dialogue driven, so surround-activity is not that missed, but you would still expect better than this. There are no subtitles, but English Closed Captions are included.

Extras


There are no real extras (only chapter-selection and a very basic menu), but 2 bonus trailers are included before the "Main menu" (they can be skipped); "Salvage (2006)", and "Love Thy Neighbor (2005/TV)". They run 2:36 minutes together.

Overall


Despite the over-the-top back cover text, and the title, "Night of Terror" is more like a TV-drama than anything with real suspense, although it offers something from that department before the end credits. Image is fair enough, but the 5.1-track was again a disappointment - let´s hope that this is not a trend of some kind when it comes to TV-movies produced by "MarVista Entertainment".

For more info, please visit the homepage of Echo Bridge Home Entertainment.

| | | | | |
| --- | --- | --- | --- | --- |
| The Film: | Video: | Audio: | Extras: | Overall: |