The Show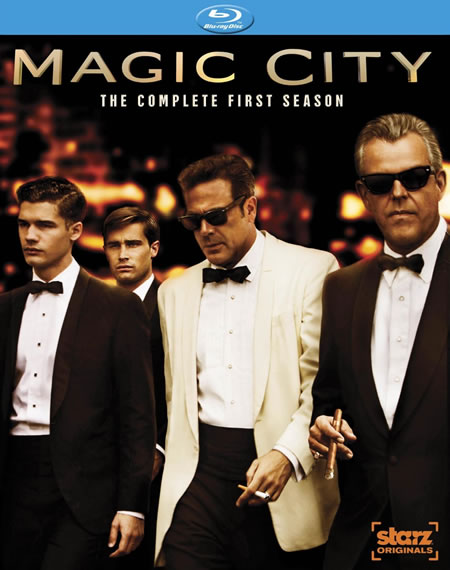 Starz entered the original series arena a few years back with the quickly cancelled "Party Down" (2009-2010), a sitcom from Rob Thomas, creator of the equally extinguished-to-early "Veronica Mars" (2004-2007). Then came the bloody, brutal, and ultra-sexed "Spartacus" (2010-present), which has gone through several iterations—prequels, sequels and a sort of reboot—since the initial lead actor was diagnosed with cancer and, subsequently, died. That show got off to a troubled start, and never quite recovered from the loss (the series' currently filming fourth season will be the last). After "Spartacus" came the largely derivative and woefully miscast "Camelot" (2011). The series was cancelled after one season and rightfully so. An ill-received and costly co-production with the BBC on a fourth "season" of Russell T. Davies' "Torchwood" (2006-present)—a 10-part mini-series dubbed "Torchwood: Miracle Day" (2011)—was a gamble that has yet to pay off. The eventual fifth series with the immortal Captain Jack Harkness is in a seemingly perpetual state of limbo. And it seems the well reviewed, but apparently rarely watched, "Boss" (2011-2012), which earned star Kelsey Grammer a Golden Globe, has been cancelled after its second season. For whatever reason, although they've made many attempts to put a mark on the television landscape, most of Starz original endeavors haven't worked out. Perhaps their newest series, "Magic City", will be different?

Then again, considering the first time I'd heard of "Magic City" was when it showed up for review, perhaps not. The series premiered, to little fanfare outside of the Starz media empire, back in March of 2012. Although it was immediately picked up for a second season—of ten episodes—based on the dismal ratings it garnered on release, I fear "Magic City" will meet a fate not too dissimilar to all those other cancelled series the network has aired.

"Magic City's" eight-episode first season run proves a decent watch, with excellent period production values and solid performances from a respectable cast that includes a former Bond girl, the man who once called played papa to fictitious demon-decapitating brothers Sam and Dean Winchester, and a man who actually did call John Huston Dad. But, the series is far from exceptional. In some ways, "Magic City" comes off as a poor imitator—of "Mad Men" (2007-Present) most obviously, but others too (everything Mob-y these days seems to imitate "The Sopranos" (1999-2007), intentional or not)—with occasionally weak writing and a purposefully plodding pace. The show certainly looks great. Unfortunately, looks can be deceiving, and, sometimes, there isn't anything beyond a pretty but entirely superficial exterior. Which is exactly the fault I find with "Magic City"—the first few episodes of it anyway.

December 31, 1958. On the eve of the final days of the Cuban Revolution, Ike Evans (Jeffrey Dean Morgan)—the owner of the Miramar Playa, one of the finest hotels in Miami—signs a deal with the devil… if not actually incarnate, when the devlish mob-boss Ben "The Butcher" Diamond (Danny Huston) helps out the hotelier in need. This otherwise unadvisable agreement between Evan and Diamond—an action that will block Evans' staff from unionizing—unfolds on the eve of the communist takeover of Cuba, and is the binding that brings together these two opposing forces, and acts as our entry point into the series. Supposedly based on his childhood experiences, creator Mitch Glazer, who is also credited with writing most of the episodes, contrives a contrast between the glitz and glamour of the so-called magic city of Miami on the cusp of the 1960's, and the seedy underbelly of a harsher "reality" driven by deception and deeds of outright degradation. I get what he's trying to do; I just don't think it always works. And the plot is somewhat predictable, constructed around the lives of these men and their wives, and intermixed with the troubles of their adult children, who are over-sexed little screw-ups.

Rife with relationship drama, "Magic City" sees socialites sleeping around to somewhat scandalous ends. Ike is in love with his second wife, Vera (Olga Kurylenko), a former Havana nightclub dancer, and so is someone else. Ben is on his third wife, who's at least screwing someone else—Ike's oldest, out of control, son, Stevie (Steven Strait). And Ike's younger male offspring, Danny (Christian Cooke)—a clean-cut law student on the straight and narrow—is interested in Miramar-Playa maid named Mercedes (Dominik García-Lorido). The plotting is sensationalistic for certain. But the whole concept of contrasts between appearances and actuality sometimes causes an odd incongruity. Also, the dialogue, especially in the early episodes, is often outright awful, and seems only to fill gaps between the sensationalism—almost like a bad porno. With so few episodes in the season, the series—which jettisons much of the "we're on cable, so we can show all this" sex in the later episodes for… gasp… actual story, a little lopsided. Half the time the show is an admirable attempt at serious character drama, all dressed up in very appealing 50's-60's production and costume design. Near as often, it's a slimy show that seems to proclaim "we're on premium cable, so we don't have to worry about the censors"—and overall "Magic City" suffers for it.

"Magic City: The Complete First Season" includes eight episodes on three discs. First two discs have three episodes each; the third disc houses two episodes and the supplements. The episodes are:

"The Year of the Fin"—Isaac "Ike" Evans, the owner of Miami's most glamorous hotel, the Miramar Playa, prepares to ring in the new year of 1959 with a concert performance from Frank Sinatra. But, when his employees threaten to unionize, Ike is forced to make an ill-fated deal with Miami mob boss Ben Diamond to ensure the success of his glitzy establishment. Meanwhile, Ike's son Stevie begins a relationship with Lily (Jessica Marais), who unknown to him at the time is the new wife of Diamond.

"Feeding Frenzy"—Ike is forced to deal with the disgruntled father of a missing union official. Meanwhile, the DA uses Danny to help him fight organized crime. And Stevie decides to continue his affair with Lily, despite discovering who she truly is.

"Castles Made of Sand"—Ike tries to bribe government officials, in hopes of them legalizing gambling for his hotel. Ben begins to worry that his wife is sleeping around. Vera has an unexpected visitor from her past. Meanwhile, Ike is forced to ask his wealthy former sister-in-law for a big favor.

"Atonement"— While Ike has to deal with a break in at his hotel, Vera begins planning an extravagant charity function that she hopes Jackie Kennedy will attend. Elsewhere, Miramar-Playa manager Victor (Yul Vazquez) struggles to get his wife out of Cuba.

"Suicide Blonde"— Ike is determined to save local prostitute Judi Silver (Elena Satine) from Ben Diamond. Polaroid's of Stevie and Lily surface. Vera continues on her quest to get pregnant. And Danny and Mercedes' bond grows. Meanwhile, state attorney Klein (Matt Ross) gets more aggressive in his war on crime.

"The Harder They Fall"— Ike and Ben Diamond bet big on a boxing match. Jackie Kennedy cancels on Vera. Danny gets blackmail photos meant for Stevie. And Klein finds something that will change Ike's life forever.

"Who's the Horse and Who's the Rider"—Danny confronts Stevie about his affair. Caught lying to Ben, Ike must make a deal.

"Time and Tide"—Juggling family, Ben Diamond, and a new partner, Ike's future is uncertain, as Lily and Stevie's affair gets more dangerous.

Video


You know how with Instagram, you can use your iPhone (or whatever) to take pictures that sorta kinda almost look like a vintage Polaroid? And how, when you do, your picture doesn't exactly look like a real old time-y photo, because that 8 mega-pixel camera in your smartphone is just too sharp, capturing too much detail, to look absolutely authentic? Sure the filters, tweaked contrast, and the added/boosted grain and noise, and the little fake frames, can make an Instagram a decent imitation—a digital approximation—of a Polaroid. But an Instagram'd picture isn't an actual Polaroid photo, and it never will be. That's sort how I'd described "Magic City". The look seems near-enough vintage, but at the same time is too modern to actually be mistaken for the era it takes place in.

Shot digitally, with the alluring Arri Alexa HD camera system, and tweaked in postproduction via a 2K DI, the series fakes the look of film—and slightly aged film at that. The crew hasn't taken it too far—here's no print damage or anything. But the opening credits, and several other scenes throughout the eight-episode run, have a heavy layer of artificial grain. Diffusion filters are employed intentionally to soften certain shots, particularly of actresses, a technique that was very common in movies of the era. There's a vintage façade to "Magic City".

However, behind the façade, just as an Istagram is to a Polaroid, the Arri-captured series clearly isn't a 35mm film of the late 50's or early 60's, even if that's exactly the look Grazer and cinematographer Gabriel Beristain were attempting to recreate. "City" is digital through and through and the digital tweaking, and period production design, makes for a reasonably convincing imitation of the era, sure. It's just… the picture is too clear, too crisp, and too sharp—and the contrast fluctuations, clipping and crush, and hopelessly stylized intense color grading, betray the effect of authenticity. Also, decidedly more modern is the camerawork, with a use of obtuse angles and otherwise stylized framing.

That's not necessarily a bad thing. "Magic City" looks very nice indeed. Contrast runs hot, and daylight exteriors are bathed in blooming whites and warm—almost orange-biased—saturated hues, befitting the balmy Miami setting. The black level is occasionally weak, seemingly intentionally tinted towards a blue, but in most scenes it's deep and rich. And as noted, detail is excellent, with fine texture clearly evident in clothing and the elaborate sets and breathtaking locales. Some long shots appear a little hazy on the edges, and the infrequent CG backdrops add an artificiality, but again I assume this is intentional—each an attempt to mimic the look of the era (the backdrops almost look like rear projection, which is kind of awful and awesome at the same time).

Starz presents "Magic City" on three discs, each episode offered in 1.78:1 widescreen 1080p high definition, via AVC MPEG-4 encodes. Compression is largely solid, with only a few scenes scattered across the season showing artifacts or non-source based noise. Edge enhancement and artificial sharpening, unwarranted DNR, color banding, aliasing and any other anomalies are also minimal if at all noticeable.

Audio


From the sound of it, Henry Mancini, maestro behind some very popular themes in the 50's and 60's, could've easily scored "Magic City". Sadly, Mancini is no longer with us—he died in 1994—so instead, the series has a very fitting Mancini-esque sound, supplied by composer Daniele Luppi. Music is key in "City" and the understated, but nicely done, English Dolby TrueHD 5.1 soundtrack does its best with the eclectic mix of popular period music, from crooners to local Cubans. Fidelity and overall clarity suffers a tad during some of the period tracks, worn down with age. But the new material by Luppi is rich and full. Dialogue is crisp, and always intelligible. The track is very subtle in atmospheric surround effects, but is still satisfying. Spanish Dolby Digital 2.0 mono, and optional subtitles in English and Spanish has also been included.

Extras


"Magic City" features a relatively paltry set of supplements amounting to about half an hour of featurettes. Pity, as the series is certainly worth of at least some discussion beyond the suferficial stuff seen here.

DISC ONE:

The only extras on the first disc are pre-menu bonus trailers for three Starz Original Series:

- "Boss" (1.78:1 1080p, 1 minute 3 seconds).
- "Magic City" (1.78:1 1080p, 1 minute 39 seconds).
- "Spartacus: War of the Damned" (1.78:1 1080p, 33 seconds).

DISC TWO:

There are no extras on disc two.

DISC THREE:

The last disc includes all of the major extras, six featurettes, some of which are highly promotional and others that are informative but too short.

"Starz Studio: 'Magic City'" (1.78:1 1080p, 13 minutes 33 seconds) is an EPK featurette, featuring an annoying narrator and little substance. Clips from the show are copious, and the interviews, with creator Mitch Glazer and other members of the cast and crew, canned. Slightly informative, but almost entirely on a superficial level, this piece feels more like an extended trailer, or more correctly—a commercial.

"The Cars of 'Magic City'" (1.78:1 1080p, 1 minute 32 seconds) is a short featurette with Ted Moser, owner of the Picture Car Warehouse, and others, who talk about the classic cars seen in the series.

"The Style of 'Magic City'" (1.78:1 1080p, 4 minutes 2 seconds) is a featurette, with members of the cast and a multitude of style and fashion advisors employed by Glazer, focusing on the "more 60's than 50's" look of the series.

The shockingly short "Building an Empire" (1.78:1 1080p, 1 minute 32 seconds) is a featurette with Glazer and production designer Carlos Barbosa, in which they talk about the massive Miramar Playa set.

"The Golden Age of Music" (1.78:1 1080p, 7 minutes 42 seconds) is the second longest featurette in the set, and with good reason. The series is filed with excellent choices in music from the era, and its clear a lot of work went into both the soundtrack and the score by Daniele Luppi, which is both eclectic and authentic.

"Miami Beach: The Real Magic City" (1.78:1 1080p, 3 minutes 29 seconds) is the final featurette, with Glazer, style expert Phillip Bloch and others discussing the dualistic nature of the historical city in the late fifties and sixties, the balance between the showy sunshine and nasty nightlife that came out of the increasing mob presence.

Packaging


"Magic City: The Compete First Season" arrives in a 3-disc set from Anchor Bay and Starz Home Entertainment. Each dual layered BD-50 is mounted on its own page of a tri-fold digipak. A slip-cover encases the digipak. Although well made, with sturdy construction, the package is ultimately pretty cheap. Synopses or an episode guide have not been included, despite the vast amount of empty space underneath the disc hubs and the interior flaps. The release is locked to Region A.

Overall


Well acted by the leads, and nicely appointed with period-appropriate production design, "Magic City" is somewhat undone early on by an over reliance on premium-cable sex to spice up a slow-burn story. The later episodes better integrate the sordidness with a more structured story, but at a mere 8 episodes it seems still too early to tell what this series will amount to. And it remains to be see if the Starz network will keep it on the air longer than another season. The Blu-ray has very nice, if at times oddly stylized video, good audio and a weak extras. If you're looking for a less well-written and slightly slimier "Mad Men" meets "The Sopranos", "Magic City" is worth checking out.
| | | | | |
| --- | --- | --- | --- | --- |
| The Show: B- | Video: B+ | Audio: B | Extras: D+ | Overall: B- |