Resident (The) (Blu-ray) [Blu-ray]
Blu-ray B - United Kingdom - Icon Home Entertainment
Review written by and copyright: Samuel Scott (1st May 2013).
The Film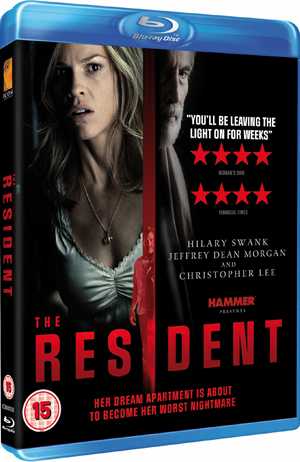 ***This is a technical review only. For reviews on the movie from various critics, we recommend visiting HERE.***
Every year, millions of single women move apartment. They don't know who lived in the apartment before them and they don't bother to change the locks - they should. After separating from her adulterous husband (Lee Pace) the beautiful Dr. Juliet Devereau (Hilary Swank) is one such woman starting a new life in a stunning loft apartment that seems too good to be true.
Video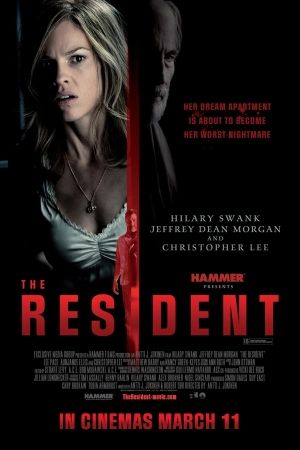 Icon Home Entertainment provides Antti Jokinen's English debut with a transfer in the original aspect ratio of 2.35:1 which uses an AVC-MPEG 4 codec. Those familiar with director of photography Guillermo Navarro's work with Guillermo del Toro will not be surprised with the colour scheme used here. Contrast is turned up high and the movie has an orangey/reddish tint throughout. There are a lot of dark colours used in The Resident but sharpness has generally been maintained and objects remained detailed despite the surroundings and general colour scheme. It should be noted however, that during some of the scenes that take place in virtual darkness there is some mild crushing, and some shadows are also ocassionally affected. I found skintones were sometimes a little warm because of some of the surrounding colours used but there were some moments of perfect clarity, such as the soapy water when Hilary Swank is in the bath, and the internal hospital scenes. There's a filmic quality running throughout, but it's consistent and not overbearing.

Audio


There are two audio options available here:
- English DTS-HD Master Audio 5.1 or English LPCM 2.0 Stereo

For the purposes of this review, I opted for the English DTS-HD Master Audio 5.1 option. As with any genre, the soundtrack is an important element of the experience, but when it comes to horror, I always feel it is one of the most important aspects. John Ottman's score is nothing out of the ordinary, relying on building tension, only for obvious attempts at cheap jump scares to get in the way of things.

Although I dislike cheap sound effects for scares, they do sound as they should and add to the overall experience, but more importantly is that there is some good natural use of the surrounds. Subway trains rattle away, general background sounds in the hospital such as minor chatter, and the sound of water dripping from the bathtub and from leaks in the building are all done to good, subtle effect. Directionality in the surrounds are sometimes lacking, and the LFE isn't as active as one would expect, but overall it's a good track - it just hasn't got much of a wow factor.

Extras


The main extra feature on the disc is an audio commentary with director Antti Jokinen. Often, commentary tracks with just one participant can feel slow due to having just one person who is perhaps struggling to think of things to say. Whilst I'd have loved to have either Jeffrey Dean Morgan or Hilary Swank join Jokinen, he does very well to keep things ticking along. There are absolutely no dead spots more than roughly fifteen seconds and Jokinen talks about a very wide ranging topic list. It's very much a commentary in which the director explains everything he possibly can, from why certain shots are made one way, to the cast members, to what he thinks about some of the characteristics of the main players and what the characters may have been thinking during certain scenes. It isn't a particularly exciting commentary, but is worth a listen for those who enjoyed the feature.

The extras finish up with a HD theatrical trailer and a HD start-up trailer for "Let Me In".

Considering Hammer Horror made this movie and Christopher Lee plays one of the supporting roles, I would have hoped we would have received some form of retrospective documentary or an interview with Lee and his relationship with Hammer. Still, the commentary is more than other localities have received, so fans should consider themselves lucky.

Overall



| | | | | |
| --- | --- | --- | --- | --- |
| The Film: C | Video: B | Audio: B | Extras: C- | Overall: C+ |

---
DVD Compare is a participant in the Amazon Services LLC Associates Program and the Amazon Europe S.a.r.l. Associates Programme, an affiliate advertising program designed to provide a means for sites to earn advertising fees by advertising and linking to amazon.co.uk, amazon.com, amazon.ca, amazon.fr, and amazon.de.