Undisputed (Blu-ray) [Blu-ray]
Blu-ray B - Germany - Splendid Film
Review written by and copyright: Samuel Scott (3rd May 2013).
The Film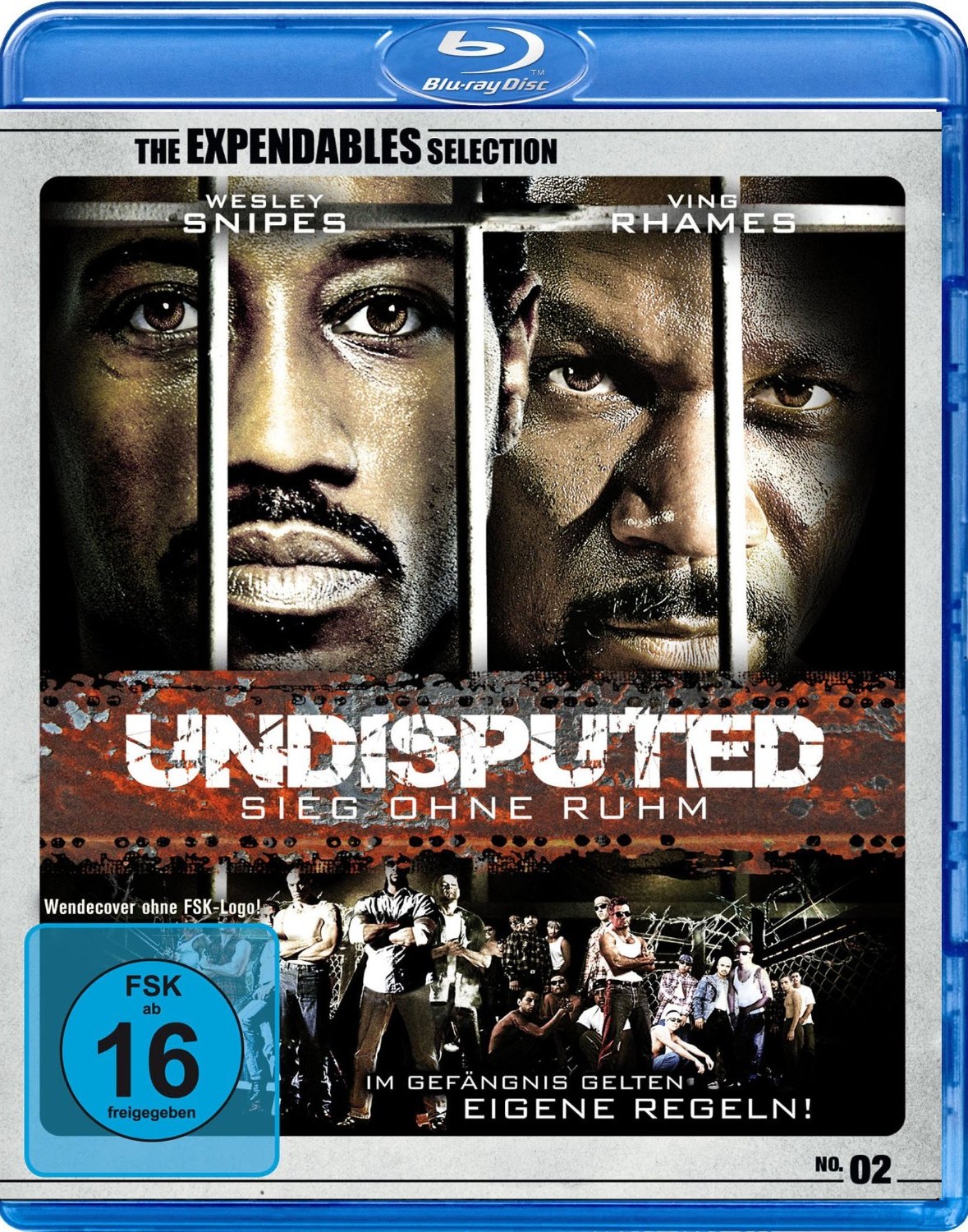 ***This is a technical review only. For reviews on the movie from various critics, we recommend visiting HERE.***
George "Ice Man" Chambers (Rhames) is a top ranked heavyweight boxer. However Chambers has his world turned upside down when he is accused of rape and sent to prison. Upon his arrival he hears talk about Monroe Hutchen (Snipes) who is the top ranked prison boxing champ 10 years running. Immediately there is bad blood with Chambers not wanting to be second to no one which leads to a lunch room fight between the men. Figuring it will be a good way to make money fellow convict Emmanuel 'Mendy' Ripstein (Peter Falk) sets up a prison boxing match between the two men to decide who is the real UNDISPUTED champ.
Video
Independent German distributor Splendid Film have given Walter Hill's "Undisputed" its worldwide blu-ray debut in the original aspect ratio of 2.35:1, using an AVC-MPEG 4 encode. Unfortunately, it's a massive disappointment and feels very much as though it has used a standard definition source. In fact, had I walked into the home cinema room and saw somebody else watching this, I'd have assumed they were watching my UK DVD release.

The first thing that strikes you is lack of sharpness. Those who view plenty of movies in HD will immediately realise that there is hardly any detail in facial close-ups, clothing or locations. There is sometimes a bit of blockiness in the picture, and the grain running throughout actually makes this blockiness, and the surprising amount of minor scratches and dings, even more noticeable than perhaps a more pristine transfer would've looked.

Black levels are generally okay, but some of the more lighter shades do look a little gray. Contrast and saturation levels are inconsistent, moreso in the more dark and drab scenes set inside the prison (of which there are plenty).

Those looking to upgrade may as well keep their DVD copy and wait until this is released elsewhere before spending their cold hard cash.

Audio


There are two audio options available:
- English DTS-HD Master Audio 5.1
- German DTS-HD Master Audio 5.1

Annoyingly, the film plays with the German dub by default, but after putting the English track on you'll be happier than you were with the picture quality. The surrounds make good use of the crowd noises and there are some subtle effects of general jailhouse noise such as chatter and the huge metal doors clunking open and shut. The soundtrack contains very much a rap/hip hop vibe and the LFE relects that well, pumping out the heavy bass when required. Directionality is generally okay and the track is quite immersive.

Optional German subtitles have also been included.

Extras


The extras start with a "Behind the Scenes" featurette (11:02, SD). Despite the short runtime, they manage to fit quite a bit of information in. There are interviews with various members of the cast and crew, and even a prison warden that helped supply 150 inmates from Nevada as extras. Interestingly, they used a new section of a prison complex to film, and paid the prisoner extras (who were all towards the end of their sentences) in vouchers. We also hear about the training undertaken by Snipes and Rhames, as well as how the project initially came to fruition.

The rest of the extras are self-explanatory:
Start-up Trailers (HD):
- "The Expendables" (2:32)
- "Far Cry" (1:39)
Bonus Trailers:
- "The Expendables" (2:31, HD)
- "Blades of Blood" (1:40, SD)
- "Far Cry" (1:39, HD)
- "Legend of the Fist" (1:09, SD)
- "Bodyguards and Assassins" (2:22, HD)
- "Sword with No Name" (1:57, SD)
- "Ong Bak 3" (2:32, HD)
- "The King of Fighters" (1:29, HD)
Theatrical Trailer (2:01, SD)

Start-up and bonus trailers are in German, whilst the featurette and theatrical trailer are in English. None of the extras include subtitles.

Overall



| | | | | |
| --- | --- | --- | --- | --- |
| The Film: B- | Video: C- | Audio: B | Extras: D- | Overall: C |

---
DVD Compare is a participant in the Amazon Services LLC Associates Program and the Amazon Europe S.a.r.l. Associates Programme, an affiliate advertising program designed to provide a means for sites to earn advertising fees by advertising and linking to amazon.co.uk, amazon.com, amazon.ca, amazon.fr, and amazon.de.