The Film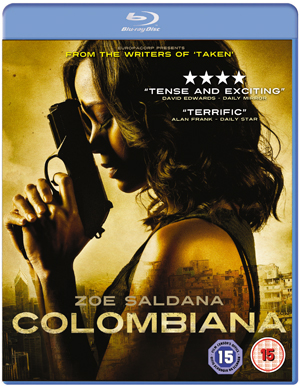 ***This is a technical review only. For reviews on the movie from various critics, we recommend visiting HERE.***
Zoe Saldana (Avatar, Star Trek) stars in action adventure Colombiana, produced & written by Luc Besson (The Transporter 1-3, Taken and Leon) and directed by Olivier Megaton (Transporter 3).

1992. Colombia. Nine-year-old Cataleya witnesses her parents' murder. Barely escaping the massacre herself, she takes refuge in the United States with Emilio, her gangster uncle...

Fifteen years later, Cataleya works for him as a hit woman. Her calling card – an orchid drawn on the chests of her victims – is a message to her parents' assassins. For Cataleya is determined to see her vengeance through to the bitter end... even if it means loosing everything she loves.
Video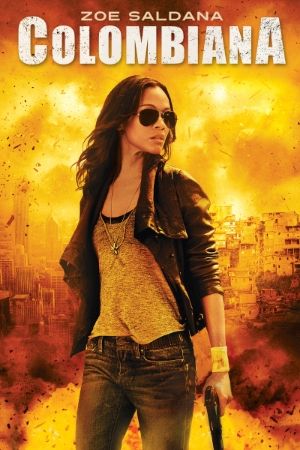 Entertainment in Video present "Colombiana" in its original aspect ratio of 2.35:1 using an AVC-MPEG 4 codec. For a film that relishes in various styles, you'd hope the picture quality would do well to show it off... and it does.

As the film opens, the first few scenes are set in Colombia. Using high levels of saturation of the various yellows and browns of the favelas, Latino skin tones and roads, the level of detail is excellent. The same can be said when the movie shifts to America. The jail scene features plenty of blacks and greys of the uniforms, security cameras and jail cell walls, and with signs of crushing blacks, detail is again near reference quality. The details really look good during close-ups of faces though. You see every wrinkle, every hair strand, every little bit of stubble and every facial contour.

As far as damage goes, there was none. I didn't notice anything in the way of edge enhancement or excessive sharpening, and although I think there was a little digital noise reduction, a light filmic look runs throughout making me believe any DNR was minimal. There was some very occasional moment that looked a little soft, but that could be due to the favourable colours used on set rather than a problem with the transfer.

Audio


There is only one audio option on offer, English DTS-HD Master Audio 5.1, and it's excellent.

The movie includes a good mix of action packed scenes, dialogue and moments where Saldana is sneaking around stealthily. All three types of scene make good use of the 5.1 audio with action scenes making a particular splash. Gunshots ring round, the sound of punches and kicks thump the LFE and there are a couple of car crashes and an explosion from an RPG which really shook my cinema room.

Directionality is solid throughout and the soundtrack by Nathaniel Méchaly and Craig Walker, coupled with solid subtle effects, really immerses you in the movie. Dialogue is clear and coherant at all times, mostly coming through the centre speaker. Overall, this track is just a shade off being reference quality.

English subtitles are available for the hard of hearing. White in colour, they are easy to read and well paced.

Extras


The main extra feature on this release is an audio commentary by director Olivier Megaton with picture in picture behind the scenes footage. Olivier Megaton is a decent solo commentator who manages to keep the track going without much in the way of prolonged moments of silence. Playing in a small box at the bottom of the picture, we not only get to see Megaton speaking, but we also get a glimpse at some footage taken on set. Megaton talks about the usual points of interests including casting, the idea behind the movie coming from Luc Besson's thoughts on a sequel to Leon, how certain scenes were filmed, locations and tidbits of information about the technicalities of directing and about the characters. It's an above average solo effort.

Next up we have your typical "Making Of" featurette (25:11, HD). The featurette shows behind the scenes footage of the filming interspersed with various interviews. Olivier Megaton begins by telling us that the movie was shot in three different locations; Mexico, Chicago and Paris and he is interviewed plenty throughout, talking mainly about the cast and the characters. We then have Amandla Stenberg who plays Young Cataleya telling us about her character and her chase scene at the beginning of the film. Stunt co-ordinator Michelle Julian talks about the stunt sequences, in particular the bike needed. Christophe Roblin is the stuntman on the bike and he also tells us a little about the scene. Also included in the interview segments are Zoe Saldana (Cataleya), Michael Vartan (Danny) and Romain Lacourbas (director of photography). Saldana is the most interesting, talking about her character, the weapons and the training she underwent, as well as various plot points. There is some good footage and snippets here and it's worth a watch.

The extras finish off with some trailers.
Start-up Trailers:
- "The Rum Story"
- "Shark Night"
- "Killer Elite"
Theatrical Trailer (1:44)

Overall


Although the film is certainly a case of style over substance, I had a blast watching it. It's no doubt a popcorn flick so leave your brain at the door and enjoy it for what it is. The disc is technically excellent, and the extras good.
| | | | | |
| --- | --- | --- | --- | --- |
| The Film: B+ | Video: A | Audio: A | Extras: C+ | Overall: B+ |