Daleks' Invasion Earth 2150 A.D. (Blu-ray) [Blu-ray]
Blu-ray B - United Kingdom - Studio Canal
Review written by and copyright: Adrian Busby (13th May 2013).
The Film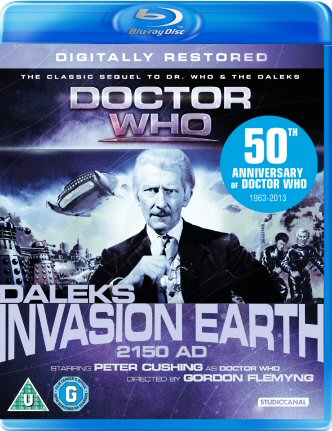 ***This is a technical review only. For reviews on the movie from various critics, we recommend visiting HERE.***

DALEKS INVASION EARTH 2150 A.D. directed by Gordon Flemyng, now fully restored and starring Peter Cushing in his return to the big screen as British TV's most iconic sci-fi hero, Doctor Who.

The earth of 2150 A.D. is a desolate and hostile ruin of a planet, crumbling at the edge of civilisation, slowly disappearing into the darkness of space. For the future of planet earth now belongs The Daleks, a destructive army of alien invaders who have turned the human race into cowering slaves. Meanwhile deep within the London Underground a group of resistance freedom fighters are planning an attack. But there's only one man who could possibly help them succeed in destroying their extra terrestrial enemies and take back control of planet earth. A man of mystery, a man of time and space, a man known only as... The Doctor!

Video


The film runs a total of 84:14, is presented in the original Techniscope aspect ratio of 2.35:1 and has been encoded for Blu-ray at 1080p using AVC. I'm pleased to confirm that, unlike some of the previous DVD releases, this presentation is of the correct theatrical version, i.e. the crime prelude is presented before the opening credits.

I made a number of comparisons with the previous Warner Bros DVD release, which revealed just how much work has gone into cleaning up the film, particularly noticeable is the lack of the huge number of specks and flecks which littered the DVD version, which means this presentation is largely very clean and impressive.

There is fine grain throughout (as expected) but I did spot a hair on the opening credits and a couple of marks early on in the warehouse. The image is also a little soft in places, although I suspect that's how it was filmed, as opposed to any issue with this transfer.

My only real complaint, and a minor one at that, is a couple of occasions when fine black vertical lines were noticeable on the left of the picture (at approximately 18 and 54 minutes). It looks like some sort of film damage and I can appreciate just how difficult they would have been to repair.

Audio


There is only a single audio track for the film itself encoded as a LPCM 2.0 Mono track in English.

The dialogue is clear and crisp throughout. The sound design is often impressive and the 60s score sounds great, even if it sometimes feels inappropriately subdued when there's action on screen! Again it's clear that the audio has been lovingly restored with no remaining signs of hiss or drop-outs at all. English subtitles are also provided, something sadly missing from previous DVD releases.

Extras


Restoring Daleks Invasion Earth 2150 A.D. featurette (7:11). The majority of the short runtime details the background of filming techniques, the techniscope process and how it was used, as opposed to the actual restoration of the film, which is covered by only two brief examples of the work being done. A wasted opportunity to promote the care and attention that's clearly been put in.

Interview with Bernard Cribbins (4:02). This man is such a wonderful gent. I could listen to his stories for hours and was delighted when he appeared multiple times in the new series – I'm even hoping they've found a space for him in the upcoming 50th Anniversary story in November. He reminisces fondly here about his experiences making the film.

Interview with Gareth Owen (4:08). Gareth is the author of The Shepperton Story and details the background and development of what was hoped would be a sequel to match the commercial success of the first film. Unfortunately it largely failed. We also find out why the children's breakfast cereal Sugar Puffs is so prominent.

Stills Gallery. There are 16 images in all, including model and publicity shots, posters and images from the campaign book.

Trailer (2:37). An action packed piece that's surprising by it's lack of the use of the word 'Daleks'!

Overall


A reasonable package which has a great hi-def transfer but slightly disappointing extras – not quite what the Dr ordered for the 50th Anniversary.
| | | | | |
| --- | --- | --- | --- | --- |
| The Film: B+ | Video: A- | Audio: A | Extras: B- | Overall: B |

---
DVD Compare is a participant in the Amazon Services LLC Associates Program and the Amazon Europe S.a.r.l. Associates Programme, an affiliate advertising program designed to provide a means for sites to earn advertising fees by advertising and linking to amazon.co.uk, amazon.com, amazon.ca, amazon.fr, and amazon.de.