Danger: Love at Work
R2 - United Kingdom - British Film Institute
Review written by and copyright: Samuel Scott (20th May 2013).
The Film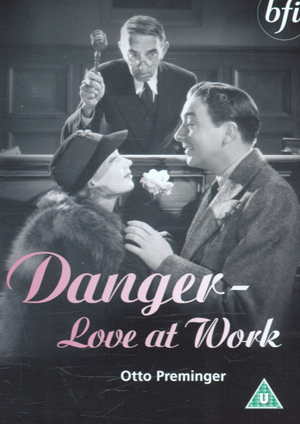 ***This is a technical review only. For reviews on the movie from various critics, we recommend visiting HERE.***

In this 1930s screwball comedy, lacksadaisical lawyer Henry MacMorrow attempts to get the kooky Pemberton family to agree on a large property deal involving part of their estate. Frustrated by the family's scatty entourage which includes a Dali lookalike, an exceedingly precocious child and their whimsical parents, he turns to the beautiful Toni Pemberton, the independently minded daughter of the family, with a fake sob story. The two of them join forces in a bid to gather the signatures from her decidedly odd family - but will it be love or trouble?

Danger - Love At Work was Otto Preminger's second film for the Hollywood studios and offers great insight into the working methods of the Austrian director who went on to create classic masterpices such as Laura (1944) and Anatomy of a Murder (1959).

Video


The British Film Institute release Preminger's "Danger: Love at Work" in its original full frame aspect ratio of 1.33:1, and as to be expected from the BFI's usual high standards, the transfer is very solid. Film grain is visible throughout and consistent, yet never distracts from the film in any way. Black levels are of a high quality, with details sharp and no noticeable signs of macro-blocking or banding. There is the very occasional scratch or speck of dirt, but these have been eradicated for the majority and the print looks clean 99.5% of the time. The only scratch/damage worth mentioning came towards the end of the movie, as MacMorrow tries to explain his lie to Toni, with the damage running the length of the screen for roughly five seconds. Outside of that, none of the scratches were more than instantaneous.

The disc is PAL and the feature runs (78:12).

Audio


Only one audio track is included here:
- English Dolby Digital 2.0 Dual Mono

For the entirety of the feature, the track does exactly as it should. Dialogue is clear throughout, sound effects crisp and the score unproblematic. There is a little background hiss which is generally consistent in volume level though it does peak a little before the end credits. It's barely noticeable though and no other major problems are here. Often with older films you will get some light scratches or distortion, but not here. A solid, if unspectacular track.

English HoH subtitles have been included. White in colour they are clear, concise and free of mistakes.

Extras


Unfortunately the only extra is a 6-page booklet with essay by Philip Kemp. A documentary looking at Otto Preminger or screwball comedies of the thirties in general would've been nice, or perhaps even a commentary with a renowned film historian/scholar.

Overall



| | | | | |
| --- | --- | --- | --- | --- |
| The Film: B | Video: B+ | Audio: B | Extras: E+ | Overall: B- |

---
DVD Compare is a participant in the Amazon Services LLC Associates Program and the Amazon Europe S.a.r.l. Associates Programme, an affiliate advertising program designed to provide a means for sites to earn advertising fees by advertising and linking to amazon.co.uk, amazon.com, amazon.ca, amazon.fr, and amazon.de.