Spying Game (The): 20th Century Spies (TV)
R2 - United Kingdom - Green Umbrella
Review written by and copyright: Samuel Scott (23rd May 2013).
The Film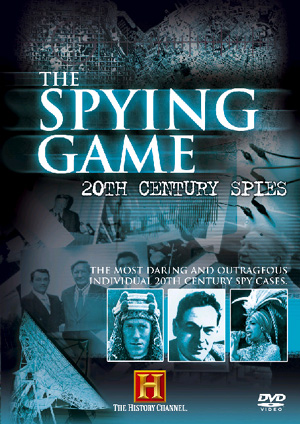 ***This is a technical review ONLY.***

The exploits of great spies were one of the most popular inspirations for books and films throughout the 20th century.

The truth is that real spies exist in a murky world of espionage that is often nasty, brutal and short. The great clashes of nationalism, imperialism, communism and fascism provided the backdrop for the 20th century spy.

We will probably never know the names of some of the greatest spies. It they did their work will enough, their exploits will remain forever unknown. But the stories of some that are known are extraordinary enough.

The lives of Mata Hari, Sidney Reilly and Lawrence of Arabia are just a few of the colourful characters in our survey of the most daring and outrageous individual spy cases to have been publicised in the 20th Century.

Video


"20th Century Spies" is one of the episodes of "The Spying Game", a documentary series that looked at the world of espionage that was originally shown on The History Channel in 1999. Green Umbrella release the documentary on DVD in what I presume is the original aspect ratio of 1.33:1. I can't see this originally being broadcast in a widescreen ratio due to the fact there appears to be no cropping and the framing is as you would expect.

The documentary is made up primarily of stock and archive footage, much of which is pre-World War I. Because of this, picture quality does vary rather wildly, though it is never of a particularly poor standard. There are quite a few artefacts and scratches, but detail remains reasonably good and colours, although a little on the dark side, are certainly adequate. I highly doubt Green Umbrella have done any work on the transfer and released it direct from the source materials provided. It's standard stuff.

The disc is PAL and the feature runs 45:12.

Audio


My equipment shows the audio track on this disc as being English Dolby Digital 2.0 Stereo, but to my ears, it sounded as though it was simply dual mono. The narration is clear throughout, though archive footage can vary due to the source and age of the materials used. Although the dialogue of the archive footage is always clear, there are occasions where some minor distortion is present. There are no scratches and no sign of background hiss.

No subtitles have been provided.

Extras


None.

Overall



| | | | | |
| --- | --- | --- | --- | --- |
| The Film: C | Video: C | Audio: C | Extras: F | Overall: C- |

---
DVD Compare is a participant in the Amazon Services LLC Associates Program and the Amazon Europe S.a.r.l. Associates Programme, an affiliate advertising program designed to provide a means for sites to earn advertising fees by advertising and linking to amazon.co.uk, amazon.com, amazon.ca, amazon.fr, and amazon.de.