Comic-Con Episode IV: A Fan's Hope
R2 - United Kingdom - Soda Pictures
Review written by and copyright: Samuel Scott (15th June 2013).
The Film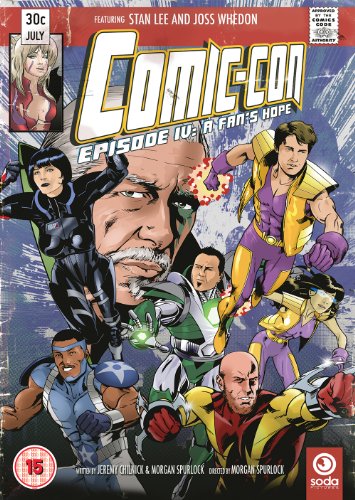 ***This is a technical review only. For reviews on the movie from various critics, we recommend visiting HERE.***

A costume designer, a guy who is planning to propose his girlfriend, two comic book artists and the owner of a comic book store. Everyone has different goals and dreams but they all share the same passion: comics. Comic-con Episode IV: a Fan's Hope follows them during the 2010 edition of Comic–Con in San Diego, an annual pop culture comic event attended by over 140,000 people. The documentary also features interviews with Hollywood figures who share their experiences as comic fans.

Directed by the Academy nominated documentary filmmaker Morgan Spurlock (Super Size Me) and presented by Joss Whedon and Stan Lee (Spiderman, Buffy the Vampire Slayer), the documentary explores the phenomenon of Comic and captures the spirit and energy that Comic-Con has infused into legions of fans.

Video


"Comic-Con Episode IV: A Fan's Hope" as an original aspect ratio of 1.85:1 which has been cropped slightly to 1.78:1 for this DVD release from independent British studio Soda Pictures. As per usual with documentaries which take place at an event, the picture quality does vary a little scene to scene, but it is overall quite good.

The best moments in regards to picture quality are the copious amounts of interviews which take place against a white screen. These have obviously been well set up by director Morgan Spurlock and feature the best details in the documentary, especially during facial close-ups. Next up, quality wise, are scenes in which the non-famous participants are followed in their home environment before making the trip to Comic-Con. As with the interviews, these moments obviously have time to be well lighted and the crew are able to use higher end (and larger) cameras than other shots. The last type of footage features the worst picture quality. This is footage that is taken at Comic-Con itself, in a crowded situation and on-the-fly. This is certainly to be expected as Spurlock is obviously unable to pre-determine the shots required and must essentially go with the flow.

Don't be alarmed however, as none of the footage looks particularly bad and is always more than adequate. There are no signs of damage of any form, as should be expected in such a recent feature from a prominent director, and although the sharpness, contrast and detail definition does vary from shot to shot, it is a good transfer.

The disc is PAL and runs 82:56.

Audio


There are two audio tracks included here:
- English Dolby Digital 5.1
- English Dolby Digital 2.0 Stereo

I opted to view the feature using the 5.1 audio track, although it should be noted that the disc plays the stereo track by default. The 5.1 track doesn't set the world alight, but then this isn't the latest summer blockbuster directed by Michael Bay and full of explosions, this is a dialogue heavy documentary. In fact, the surrounds were only really used to add a little oomph to the score by Jingle Punks which is reminiscent of comic book and science-fiction movies. Dialogue is always clear and there are no dropouts or scratches.

No subtitles have been included.

Extras


We start off the extras package with a small selection of deleted scenes:
- "Anthony Makes Custom Action Figures" (1:44)
- "Anthony's Car Breaks Down" (1:18)
- "Holly Looks At Gremlins on Showroom Floor" (1:07)
- "Holly Talks to Costume Designers Guild" (2:29)
I can see why all four scenes were ultimately removed from the end product. Although all four are interesting, they just didn't quite fit with the rest of the feature. Holly is extremely talented and it is when she talks to the guild that her enthusiasm really shines, especially when she it told she will make it - and she has - she is now in the costume department for the forthcoming Mass Effect movie. The best scene here though is about Anthony making custom action figures. Either way, all four are worth a viewing.

Next up are a mammoth amount of interviews totalling an hour or so:
- Ellen Page (2:10)
- Felicia Day (2:48)
- Frank Miller (1:48)
- Gerard Way (2:39)
- Grant Morrison (2:43)
- Joe Quesada (4:04)
- Jon Schnepp (4:19)
- Joss Whedon (4:39)
- Kenneth Branagh (4:56)
- Kevin Smith (5:18)
- Matt Fraction (3:51)
- Paul Dini (3:21)
- Robert Kirkman (3:11)
- Stan Lee (5:13)
- Todd McFarlane (4:29)
The interviews here are all about why each person loves Comic-Con and I have to applaud the fact they have interviewed such an array of industry personalities. The highlights for me were Robert Kirkman and Kevin Smith, though there is certainly someone for everyone. Topics touched on are the emergence of geek culture in recent years, the direction Comic-Con has taken in recent years and the passion of the fans. I was fascinated by these interviews.

The rest of the extras are unsubstantial and self-explanatory.
Start-up Trailers:
- "Tatsumi" (1:22)
- "Compliance" (1:57)
- "Gimme the Loot" (1:31)
Theatrical Trailer (2:03)

Overall


Want to know what Comic-Con is about and what it means to people? Then this documentary captures all aspects of the world's biggest geek fest I managed to attend myself in 2012. It's thoroughly entertaining and Soda's disc features a great selection of interviews on a technically good disc.
| | | | | |
| --- | --- | --- | --- | --- |
| The Film: A | Video: B- | Audio: B | Extras: C+ | Overall: B+ |

---
DVD Compare is a participant in the Amazon Services LLC Associates Program and the Amazon Europe S.a.r.l. Associates Programme, an affiliate advertising program designed to provide a means for sites to earn advertising fees by advertising and linking to amazon.co.uk, amazon.com, amazon.ca, amazon.fr, and amazon.de.