Mechanic (The) (Blu-ray) [Blu-ray]
Blu-ray B - Germany - Kinowelt Home Entertainment
Review written by and copyright: Samuel Scott (19th June 2013).
The Film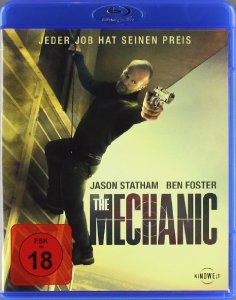 ***This is a technical review only. For reviews on the movie from various critics, we recommend visiting HERE.***

From the director of Con Air and Lara Croft: Tomb Raider, Jason Statham is Arthur Bishop - The Mechanic - an elite assassin with a unique talent for eliminating targets with deadly skill and total emotional detachment. But, when the Agency double cross him, and his mentor and friend Harry (Donald Sutherland) is killed, Bishop enlists Harry's son (Ben Foster) on a mission to avenge his death. As tensions rise and deceptions surface, those sent to fix the problem soon become the problem themselves in this explosive, high-octane thrill ride.

Video


Kinowelt present "The Mechanic" on blu-ray in the original aspect ratio of 2.40:1 with an AVC codec and although it isn't quite reference material, it's a very good transfer indeed.

The first thing to strike you is the use of orange hues, particularly strong during the opening scenes. Now I don't mind oversaturated colour when done well, but this is probably my only bug bear in the entire picture, mainly because it made skin tones feel rather unnatural at times and makes the transfer feel overly warm. Once you get past this unnatural colour scheme, then there really isn't all that much to complain about. There has obviously been no use of digital noise reduction here at all, with film grain noticeable throughout, though in some scenes it does appear more 'noisy' than others. Despite the deep orange hues, the amount of detail is surprisingly sharp. Jason Statham and Ben Foster's unshaven states are extremely well defined and stray threads of clothing or blood seeping into certain parts of carpets look astonishing.

I noticed no compression artefacts or signs of edge enhancement. The feature runs 92:16 including studio logos.

Audio


There are two audio tracks included on the disc:
- English DTS-HD Master Audio 5.1
- German DTS-HD Master Audio 5.1

It should be noted that the German track plays by default, so be sure to switch to the English track either via the menu or by using the remote control. Obviously, I opted for the English track, and it has to be said that it is close to reference quality. The track makes full use of the surrounds and LFE, and although there maybe isn't as much action as some Statham movies, there is still more than enough to give your system a decent workout. Bullets whizz by, gunfire has exceptional directionality (from the speakers moreso than the bad guys) and Mark Isham's score is well distributed. Although dialogue is clear at all times, I do think the volume of the speech in comparison to the explosions and score was a little on the low side, but there were no dropouts and no other noticeable damage.

Optional German subtitles are included.

Extras


We start off the extras with a small selection of deleted and extended scenes:
– Alternate Opening (1:30)
– Dinner (3:14)
– In the Bar (2:13)
– After the Carnapping (3:08)
– Bishop Lectures in the Car (0:47)
The alternate opening gives some additional action, but it was rightly cut in order to maintain the fact that Statham's character always aims for a clean hit. The rest of the deleted scenes add a little character development through additional dialogue, but look like they were cut for pacing.

Next up, we have a featurette entitled "Tools of the Trade: Inside the Action" which runs for 7:49. It's not the longest of making of featurettes, but the information relayed within by participants such as director Simon West and stars Jason Statham and Ben Foster, is of a higher standard than your typical back-patting affair. Of most interest to me, was just how much of their own stunts both leads managed to do, especially during the building escape.

The extras sadly come to an end far too soon with a selection of trailers:
American theatrical trailer (1:51)
German theatrical trailer (1:49)
Start-up trailers (in German):
– 72 Hours (1:59)
– Source Code (2:01)
– Unknown Identity (2:25)
Bonus trailers:
– Bank Job (2:24)
– Chaos (1:49)
– Mother's Day (1:59)
– The Silent House (2:16)
– The Tourist (1:01)

Overall



| | | | | |
| --- | --- | --- | --- | --- |
| The Film: B | Video: A- | Audio: A | Extras: D | Overall: B |

---
DVD Compare is a participant in the Amazon Services LLC Associates Program and the Amazon Europe S.a.r.l. Associates Programme, an affiliate advertising program designed to provide a means for sites to earn advertising fees by advertising and linking to amazon.co.uk, amazon.com, amazon.ca, amazon.fr, and amazon.de.