The Film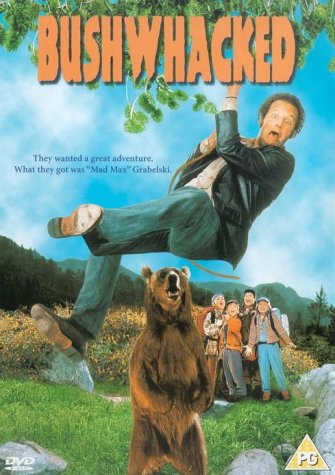 ***This is a technical review only. For reviews on the movie from various critics, we recommend visiting HERE.***

A dim-witted package delivery man finds himself on the wrong side of the law when a harebrained get-rich-quick scheme makes him a murder suspect. Daniel Stern ("Home Alone", "City Slickers" and "Rookie of the Year") stars as the inept "Mad Max" Grabelski, who heads for the hills with the cops hot on his trail. When he's mistaken for a world famous scout leader, Max's escape plan takes an hilarious wrong turn!

Video


Fox, in all their wisdom, have done something that you see every now and again. Something that seriously annoys me. Something unforgiveable. The opening credits are non-anamorphic in the original aspect ratio of 2.35:1, but the movie itself reverts to a full screen transfer. Why companies do this, I'll never know, but it's enough to really irritate you for the duration - especially when Fox released this in the OAR with an anamorphic transfer in America.

Well, with that major annoyance out the way, let's concentrate on the full frame transfer we've been given. Thankfully, it's not as bad as it could've been, but it far from excels. At times, detail is quite strong, most notably during the bear attack scene. Colours look good, if a little soft, with the various shades of greens and browns of the surrounding woodlands looking reasonably solid. There is some noticeable edge enhancement throughout, but it never reaches epic proportions, and as you would expect for a movie from one of the major studios, there is no damage to the print, with only minor artefacts and no scratches or blemishes. It's mediocre, but you can't forgive how poorly cropped the transfer is.

The disc is PAL, regions 2/4 encoded, and runs 86:30.

Audio


There are several options available here:
- English Dolby Digital 2.0 Surround
- French Dolby Digital 2.0 Surround
- German Dolby Digital 2.0 Surround
- Italian Dolby Digital 2.0 Surround
- Spanish Dolby Digital 2.0 Surround

To be honest, it might as well have been mono. Seperation is minimal and surround effects are very limited, with only a couple of noticeable moments in the entire feature. The whole track never really uses the range given, and ultimately feels flat, failing to impress. Despite this, dialogue is always clear and concise, volume levels are consistent, and there are no dropouts or scratches. There is some mild background hiss, but barely noticeable.

Subtitles have been included in Dutch, English HoH, French, German, Italian, Spanish and Swedish.

Extras


Just a theatrical trailer (1:15).

Overall


Bushwhacked is an enjoyable enough family film, even if it is as formulaic as they come. The disc is disappointing though.
| | | | | |
| --- | --- | --- | --- | --- |
| The Film: C- | Video: D+ | Audio: C- | Extras: E | Overall: D+ |