The Film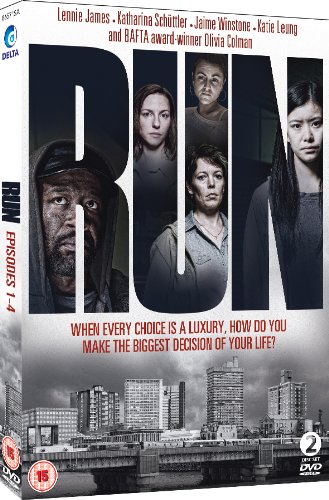 ***This is a technical review only.***

Painting a compelling picture of modern-day life, Run is an original four-part drama coming soon to Channel4 that weaves together the stories of four seemingly unconnected people facing life-changing decisions in a world where every choice is a luxury.

Carol (Olivia Colman, Broadchurch, Twenty Twelve, The Accused, Rev, Tyrannosaur, Peep Show) is a tough single mother striving to keep her family together. When her teenage sons commit an act of random violence that ends in the death of a stranger, Carol faces the impossible choice of protecting her children or doing the right thing.

Ying (Katie Leung, Harry Potter, Wild Swans) is an illegal Chinese immigrant who sells pirated DVDs and stolen phones on the streets of London in the hope of making a life for herself in the UK. But first she must pay her debts to the Snakehead gang who smuggled her into Britain. When an immigration raid leaves her with no friends, no home and no money, an unlikely relationship begins which could offer Ying a way out.

Richard (Lennie James, Line of Duty, The Walking Dead) is a recovering heroin addict who spends every day struggling to stay clean. Only one thing spurs him on -- the possibility of re-establishing contact with his teenage daughter. Faced with the prospect of never seeing her again, Richard is torn between returning to the world of addiction or salvaging the only relationship that matters to him.

Kasia (Katharina Schüttler, The Promise) is a young Polish woman who came to London filled with hope. Years later she is still working as a cleaner, struggling to make ends meet and contending with a gambling addict for a boyfriend. Her world is rocked when she discovers that he has been killed in a vicious attack. Even worse, she unearths his secret relationship with another woman, Tara (Jaime Winstone, True Love), a night-club stripper. Left alone to clean up the mess, Kasia finds herself in grave danger.

Raw and uncompromising, but full of humanity and hope, Run is a powerful take on inner city life and how every choice we make has consequences for those around us.

Video


Delta Leisure are primarily a company that sticks to releasing cds, though they do release the occasional dvd. They present the Channel 4 mini-series "Run", in the original aspect ratio of 1.78:1, which has been anamorphically enhanced and it's a solid transfer, if ever-so-slightly flawed. The main problem I had with the quality of the transfer is there is a bit of edge-enhancement running throughout, but thankfully it is also very slight, and probably only noticeable to those who look for such issues. There was also some minor shudder every now and then.

Other than the above, this transfer is exactly what one should expect from such a new show (so new, that at time of writing it is yet to actually air). Colours are solid, with the palette sticking to quite dark and grimy colours, as the various darker/unhappier aspects of the characters lives in London are closely examined. This really suits the tone of the show and the black levels are consistently strong. Details are also strong, especially with the many facial close-ups, and, particilarly with small details such as the bubbles in a pint of beer which can be surprisingly sharp.

The discs are region free and PAL format.

Audio


There's just a single audio track here:
- English/Fuzinese/Mandarin/Polish Dolby Digital 2.0 Stereo

The Fuzinese/Mandarin takes up roughly 50% of episode 2, the Polish about 20% of episode 4, whilst the rest of the mini-series is in English. Like the picture transfer, the audio is how you would expect a new show from a major channel to sound.... almost. There are two brief audio dropouts of roughly half a second each that take place at 37:30 of episode one, and although they don't ruin dialogue, they do stall the viewers attention with how noticeable they are. Apart from that, it's a great track. Seperation is reasonably good, and the score is delivered with power, never drowning out the always clean sounding dialogue.

Subtitles are only available for the non-English dialogue, and they are non-removable.

Extras


There are a selection of short featurettes included here, all located on disc two. Due to some poor authoring, I was unable to access them via remote from any of my 3 dvd players / 6 blu-ray players. Instead, I had to use a computer and access them that way.

"The New Talent of Run" featurette (4:21) follows the two Pamphilon brothers as they play brothers in episode one. They're new to acting, and very raw. There are interviews with Olivia Colman, stunt co-ordinator Andy Bradford, director Charles Martin, and the brothers themselves, as well as rehearsal and behind the scenes footage.

"Where Run Came From" featurette (4:24) is a closer look at how the show came about with interview footage of writers Daniel Fajemisin-Duncan and Marlon Smith. The show has long been sitting on the backburner, and we see test footage from as far back as 2008. There is also some footage from a pilot that was filmed and it's a shame that this pilot isn't included here on the disc.

"The World of Run" featurette (4:09) is more of an overview over the whole of the series and looks at various aspects of the characters and the way in which the stories are told. We are told that they have shot the show on the streets with a view of 'British realism', talking about coping with filming on the streets of South London. Also looked at, is how fresh the show is and how there hasn't been anything on British television like this before.

"What the Fuck is a D.I.T.?" featurette (3:57) interviews a whole heap of cast and crew members to see if they know what some of the jobs actually are that some crew members do. This is quite humourous and something I've never seen before. An interesting extra, and for those that want to now, a D.I.T. is a digital image technician.

Overall


Mark my words, when "Run" is shown on TV, it will be critically acclaimed and one of Channel 4's biggest hits for their drama department in some time. Hopefully Delta will fix the two audio dropouts and the authoring of the extras before this hits the shops.
| | | | | |
| --- | --- | --- | --- | --- |
| The Film: A- | Video: B+ | Audio: B | Extras: C | Overall: B+ |