The Show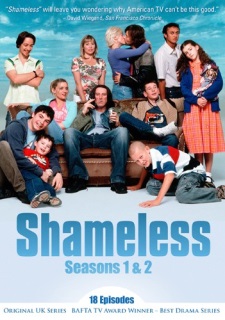 ***This is a technical review only. For reviews on the show from various critics, we recommend visiting HERE.***

Seasons 1 and 2 of the critically acclaimed and brilliantly funny drama from award-winning writer Paul Abbott features 18 hilarious episodes of the Gallaghers of Chatsworth Estate, probably the UK's most dysfunctional family.

The story centers around a young group of silblings pretty much neglected by their alcoholic father (David Threlfall - "Hot Fuzz", "Nowhere Boy"), surviving by their own wits - and humor - on a rough Manchester council estate. While they won't admit it, they need help and find it in Steve (James McAvoy - "Wanted", "X-Men: First Class"), a young middle class lad who falls for Fiona (Anne-Marie Duff - "The Magdaline Sisters"), the oldest sibling, and increasingly finds himself drawn to this unconventional and unique family. Chaos ensues with more tales of how one extraordinary family goes about its normal everyday life.

Season One Episode Breakdown:

"Meet the Gallaghers" (48:46) - Car thief Steve falls for Fiona and is surprisingly unfazed by the organized chaos of her family (brothers Lip, Ian, Carl, and Liam, little sister Debbie, and blind drunk father Frank).

"We're Going to the Moon" (48:34) - After a drunken fight with his family, Frank wakes up with a hangover... in France. Upon his return, he begins seeing agoraphobic (and horny) neighbor Sheila whose government benefits afford him a cushy lifestyle.

"We're Getting Married" (48:24) - In order to beg off the flirtations of a drunken customer, Kev tells her that he's getting married to the Gallaghers' neighbor Veronica; and the news quickly spreads around the estate (except that even Veronica doesn't know Kev is already married). Meanwhile, Ian becomes a marked man when he spurns the affections of a female classmate who does not know that he is gay.

"Abduction" (47:08) - Chaos ensues when young Debbie brings home a three-year-old boy who becomes the subject of a desperate search by the estate's residents driven into a frenzy by Frank.

"Affairs" (45:30) - Things take a soapy turn when Lip discovers that his father is sleeping with his girlfriend Karen (Sheila's daughter), and shop owner Kash's wife discovers his affair with Ian.

"Monica Comes Home" (48:20) - The unconventional family arrangements comes under scrutiny of housing and social services when Frank files a child support claim against his wife (who the children have believed to be dead).

"Dead" (47:06) - Frank fakes his death - with the help of his wife's lesbian lover - in order to escape debt collectors, and that's just the beginning of a string of surprises and double-crosses.

Season two reviewed separately (link forthcoming).

Video


While Warner Home Video had released only the first season in a two-disc set, Mill Creek presents seasons one and two on four discs. Invariably, there are compressions with the amount of material on each disc (over three hours each on discs 1 and 3 and almost four hours each on discs 2 and 4); however, those who place more stock in Warner's time-tested professional encoding and authoring will find that the 16:9 image didn't look all that hot on their two-disc set of the first season. This is nearly decade old SD PAL digital video converted to NTSC (by the licensors, not Warner or Mill Creek). The picture looks just okay upscaled on HDTV (some may handle it better than others), but probably best on smaller monitors. I only noticed one encoding glitch in the whole set.

The episodes are encoded with eight to nine chapters each, but there are no scene selection sub-menus in the episode selection menu. All episodes run ten seconds longer than on Warner set because they hold for that amount of time on the ending Channel 4 logo while the Warner episodes merely flashed the logo for a second or so.

Audio


Audio is standard Dolby Digital 2.0 stereo, and it gets the job done with clear dialogue and a lively music track. Directional use of sound effects is a bit more sporadic, although there are some surprises. Unfortunately, no English SDH subtitles have been included (which might have helped with the thick accents).

Extras


Mill Creek's edition has absolutely no extras; although, to be fair, the Warner edition only had two featurettes totaling twenty minutes. For fans of the show, Mill Creek's version is definitely the way to go since it includes season two in its entirety (Warner never got around to releasing any of the subsequent seasons).

Packaging


The four discs are house inside a standard single-disc keep case in four paper sleeves held in a square divider in place of the standard spindle. It's far from ideal packaging, but at least it keeps the discs separate from one another; but hardcore collectors will probably make other arrangements, while those on the go will probably just ditch the case and stick the discs in storage album. Disc three is labeled "Series 2 Disc 1" although the first episode of the second series - the seventy-minute Christmas episode - actually appears on "Series 1 Disc 2" after the first series' seventh episode.

Overall


Even at full retail price, Mill Creek's two-season set (over fourteen hours of video) is five dollars cheaper than Warner's edition of the first season.
| | | | | |
| --- | --- | --- | --- | --- |
| The Show: A+ | Video: C+ | Audio: A+ | Extras: | Overall: B+ |