Gangster Empire: Rise of the Mob (TV) (Blu-ray)
Blu-ray ALL - America - Mill Creek Entertainment
Review written by and copyright: Eric Cotenas (14th August 2013).
The Show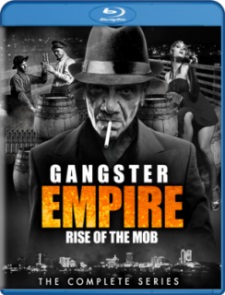 ***This is a technical review only. For reviews on the show from various critics, we recommend visiting HERE.***

Roam through the dark and smoke-filled history of the most ruthless men and family enterprises that changed crime in America! Meet the legendary figures and discover the real story behind the violence and corruption that pulsed through the soul of the Gangster Empire!

Series Episode Breakdown:
Part 1: Tea Parties, Revolution and Anarchy (46:29)
Part 2: Atlantic City and the Boardwalk Empire (46:16)
Part 3: Chicago and the Rise of Al Capone (47:51)
Part 4: 1929 - Year of Chaos and Crime (44:51)
Part 5: J. Edgar Hoover, the FBI, and "Public Enemies" (45:36)
Part 6: The Italian Mob and the real "Godfathers" (45:51)

Video


Four and a half hours of 1080p video on one BD50 is bound to have compression issues, but it doesn't look like this program looked all that great to start with. Most of the re-enactment footage has a flat, clean TV look; however, dark scenes or scenes featuring fog for atmosphere are noisy. The upscaled SD archival footage has the usual pixelation and banding, as does some of the HD footage (one of the credits for archival footage is Archive.org and even their HD video is heavily compressed for streaming and download). I would, however, venture that the video is probably less noisy than their DVD edition even thought that is a 2-disc release.

Audio


Audio is lossy Dolby Digital 2.0 stereo, but the sound design isn't very ambitious (the sound design, like the audio track, gets the job done).

Extras


There are no extras.

Packaging


The single BD50 is packaged in a standard blue Blu-ray keepcase with a single-sided cover insert.

Overall


GANGSTER EMPIRE: RISE OF THE MOB will probably be of limited interest once the viewer realizes that it's a low-budget documentary rather than a low rent ripoff of BOARDWALK EMPIRE. For those who do think the title is fascinating, go with the Blu-ray edition which is cheap for a 4+ hour program even at five dollars more than the DVD edition.
| | | | | |
| --- | --- | --- | --- | --- |
| The Show: C+ | Video: D+ | Audio: B+ | Extras: F+ | Overall: B- |

---
DVD Compare is a participant in the Amazon Services LLC Associates Program and the Amazon Europe S.a.r.l. Associates Programme, an affiliate advertising program designed to provide a means for sites to earn advertising fees by advertising and linking to amazon.co.uk, amazon.com, amazon.ca, amazon.fr, and amazon.de.