The Film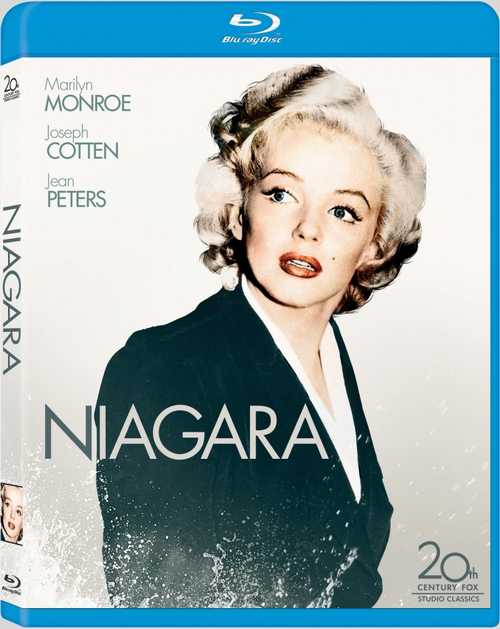 Marilyn Monroe had appeared in a number of movies before she landed the lead in her first color feature, 1953's 3-strip Technicolor noir (and cinematic curio) "Niagara". She'd signed with Fox in the late 1940's, and steadily worked her way—occasionally with some heavy campaigning by her agent—through a series of supporting parts to finally find a starring role. She had her first starring credit a year before "Niagara", opposite Richard Widmark in Roy Ward Baker's "Don't Bother to Knock" (1952), where she'd played troubled nanny Nell Forbes. That same year, Marilyn had a secondary role in the Cary Grant and Ginger Rogers vehicle "Monkey Business" (1952), directed by Howard Hawks. Even as far back as 1950, Monroe made memorable appearances in John Huston's "Asphalt Jungle" (1950) and Joseph L. Mankiewicz's "All About Eve" (1950); she played young ingénue Miss Caswell in the later, the bittiest of bit parts in a scene with the incomparable Bette Davis.

But Henry Hathaway's "Niagara" was the film in which Marilyn Monroe received her first ever top billing (over co-stars Joseph Cotten and Jean Peters, who were ostensibly more famous at the time). "Niagara" was the first of three films released in 1953 to star Monroe. By years end, with the sequent debuts of the Howard Hawks helmed musical "Gentlemen Prefer Blondes"—the film that shot Monroe to true movie star status—and Jean Negulesco's widescreen wonder "How to Marry A Millionaire" (the first film ever photographed in CinemaScope; although, the Biblical epic "The Robe" (1953) was technically released first) and a box hit, Monroe was well on her way to being an international superstar.

But in the nascent days there was "Niagara", a film with a slightly different Marilyn than audiences would, and came to, love in the movies that would follow in later '53 and beyond. Monroe is certainly as beautiful—and as blonde—as she was in any of her roles after this film. But there's something very different about her turn as Rose Loomis in "Niagara"; something that sets the role apart from the rest of the characters she embodied in the heyday of her career. The bombshell persona she perfected in her most popular films often relied on a ditsy-dumbness, va-va-va-voom sex appeal (that was in one way "like Jell-O on springs"), or both (see: "Gentlemen Prefer…", "How To Marry…", and Billy Wilder's "The Seven Year Itch" (1955) and "Some Like It Hot" (1959)). Her later pictures dumped the ditsy-ness (mostly), kept the sexiness, and mixed in some at times rather somber seriousness ("Bus Stop" (1956), Sir Laurence Olivier's "The Prince and the Showgirl" (1957), and John Huston's morose masterpiece "The Misfits" (1961)). Every single one of these post-"Niagara" parts spins Monroe as a good girl, and puts her in a positive light—or at least not a bad one. Marilyn's Rose is most certainly not a good girl in "Niagara". No, Rose Loomis is not a nice girl at all; she's a classic femme fatale, and fits right in with "Niagara's" noir-ish style and story. Monroe's performance is not particularly praiseworthy in light of her later career—she's certainly good here; sensual, sinful, and scorching hot in all sorts of tight, perfectly curvy dresses and other outfits that accentuate in all the right places. But it was early yet, and she would do much, much better (both comedic and dramatic) work in several others films. Monroe's role as Rose is a case of interesting casting and character because the bad-girl spin makes it unique in her career.

Not-so-newlywed couple Polly (Jean Peters) and Ray Cutler (Max Showalter; credited here under the name Casey Adams) has crossed the border into Canada to stay at the Rainbow Cabins, which overlooks Niagara Falls. The Cutlers intend to enjoy a much "delayed" honeymoon, while Ray also visits the local branch office of the company he works for, in hopes that he'll meet the big boss and bigger things (a promotion?) will maybe be set in motion. Little does the honeymooning couple know, they are about to be a part of something huge; a scandal involving salacious sex, a manhunt, and possibly even murder. When they first arrive at the Falls, the Cutler's find the room they've reserved occupied by the Loomis'—the radiant and much younger Rose (Monroe) and her unhealthy husband George (Cotten), a moody and violent Korean War veteran. The Cutler's are kind folk, and when they learn of George's past, and probable PTSD (or, as it was known in the Fifties, "Battle Fatigue"), they let the other couple extend their stay in the room, and take up residence in one of the other cabins. The Cutler's new view is less picturesque, but nonetheless still pretty… pretty. And the Loomis' seem like nice people whom they might befriend; at least, that's how it seems at first. But the other couple is not nice. See, Rose and George are frightfully unhappy, and they make it well known to all around with Rose's open flirtation and George's violent, jealous outbreaks frequently disrupting everyone's honeymoons and vacations, delayed or otherwise. They're so miserable together, Rose has hatched a plan, with the help of her boyfriend Patrick (Richard Allan), to kill George while the couple is vacationing at the Rainbow Cabins. After the deed is done, the newly widowed Mrs. Loomis and her lover mean to dump the dead body over the Falls and live happily ever after.

To say that Rose and Patrick's murder-plot doesn't go entirely as planned—well, it really doesn't need to be said, does it? The movie would be shockingly short if the plan did work out fine. But what goes wrong, and exactly how the plot twists and turns is something I won't spoil, even if "Niagara" is 60 years old. The surprises in the script (by celebrated Hollywood screenwriters Charles Brackett, Richard L. Breen and Walter Reisch), and the twists the plot takes in telling this story of betrothal and betrayal are all part the fun. The element of unknowing is where the picture gets a good deal of its entertainment value (not that it isn't entertaining on second, third, etc. viewing, when you already know the secrets and surprises).

All is not well in "Niagara" though, as entertaining as it ultimately is. The picture is plagued with scenes seeping with broad histrionics—not unlike the other Technicolor noir made at Fox, John M. Stahl's "Leave Her To Heaven" (1946), with Gene Tierney—and character parallels between the two couples that are too thickly drawn. It's clear-cut good and bad, casting each Culter and Loomis as complete opposites. The film often dives to the depth of overwrought melodrama to get the point across. One of the most laughable and lamentable has Cotten's character cracking a vinyl record, and smashing it into small pieces in a rage. Most often, these scenes date the picture than any others, and give some scenes a dour disconnectedness that clashes with the rest of the taut, well-paced thriller within.

Filmed on location at the Falls and in the surrounding city (with very little studio work)—in sumptuous Technicolor to boot—"Niagara" has a battle of beauty on screen, often between Monroe and the unsullied backdrop of the city and scenery that frames the story (as yet unpolluted by the tourist-trapping and general terrible-ness that makes it less appealing today). Although he was primarily known for his Westerns—particularly his John Wayne Westerns; "True Grit" (1969) and "The Sons of Katie Elder" (1965)—director Henry Hathaway helmed many noir films over the course of his career, "The House on 92nd Street" (1945) and "Call Northside 777" (1948) among them. "Niagara" is a curious entry in the noir cycle, not only (but mostly) because it was shot in color, which gives the film an unusual expressionistic look. Hathaway and cinematographer Joseph MacDonald play with shadow and light to an even greater degree than some of their contemporaries did in back and white, framing many crucial scenes in cabins at night lit only by the luminous Falls themselves, and dark tourist tunnels that somehow become menacing just out of reach of bright daylight. It's a true testament to the talent of the film's director, who makes the film an enthralling and unique viewing experience. In the end, Hathaway makes the film a stylish and legitimately thrilling piece of pure entertainment. "Niagara" may not be a great movie, but it is a very good one. Its marvellous sights—and cinematography—are as eye-catching as the film's star, and that alone makes it worth watching.

Video


With its dazzling colors shone through the spectrum of the mists that surround the famous falls, it would scandalous if Fox's high definition transfer of "Niagara" weren't brilliant—doubly so because the disc is being released during the film's 60th anniversary. Fear not; for this is a remarkable rainbow-hued remaster certainly fit for that six-decade milestone.

"Niagara's" high-def transfer is a five-star, A+, effort from Fox. The disc looks fantastic. Colors are wonderful—the wide array of vibrant, bold hues make for an image that is lovely and lush. I can't speak to the origins of the source—I was under the impression that all of Fox's 3-strip Technicolor negatives were junked by the studio in the 70's; an awful oversight in archival preservation in an era where mistreatment of film elements was sadly not uncommon—but there is nary a speck, hair, sign of dirt, damage and other debris to be found on whatever element this is based. I doubt you'll find a problem even if you put the disc under a microscope. There's not a single instance of the garish haloing and red-fringing aberrations that sometimes affect Technicolor films when elements are misaligned. Fluctuations are kept to a minimum—I only noticed one really egregious error in a wide shot of the Falls—and the transfer retains a consistent fine gloss of light film grain, which preserves the natural look of film without the use of serious noise reduction. If any DNR has been applied, it's been done with the utmost care. There's some inherent softness in close up shots of the ladies, but that's to be expected given the era (diffusion was very popular). But otherwise the transfer has an at-times staggering level of detail.

Joseph MacDonald's gorgeous glassing in glorious 3-strip, with some neat noir-ish touches that are simply a stunning sight in color, gets the respect it deserves. The 1080p 24/fps AVC MPEG-4 encoded high definition transfer is one of the studio's finest presentations in some time—which is certainly saying something considering their sterling track record in the transfer department. Presented in its original 1.37:1 Academy ratio, and reportedly taken from an all new digital remaster and restoration, Hathaway's "Niagara" has never looked better. In fact, I'd wager few catalog films—from the Fifties or otherwise—look this good on Blu-ray.

Audio


In an unexpected but welcomed move, Fox gives two worthwhile lossless options: a tasteful surround remix in English DTS-HD Master Audio 5.1 (48kHz/24-bit), and the original mono track (for purists) in DTS-HD Master Audio 1.0. I watched and then rewatched the first 25 or so minutes of the film flip-flopping between the two tracks. Neither one is clearly superior in my mind. The mono replicates the original sound design and offers an appreciable up-kick in clarity via lossless encoding. Although slightly narrower than the surround, it sounds natural and clean. The remix offers much the same in terms of clarity, but further expands the soundstage by bleeding Sol Kaplan's score and pulling effects, like the cascading water at the Falls, into the rears without any egregious errors. I suppose it comes down to one's personal preference. I ultimately opted for the mono, but only because all things being technically equal—lossless to lossless—I try to replicate original exhibition whenever possible. Additional foreign language tracks include: French DTS 5.1, German DTS 5.1, Japanese DTS 5.1, Italian DTS 2.0, Spanish DTS 2.0, and Spanish Dolby Digital 1.0 mono. Optional subtitles are available in the following languages: English, Croatian, Czech, Danish, Dutch, Finnish, French, German, Greek, Hebrew, Hungarian, Icelandic, Italian, Japanese, Norwegian, Polish, Portuguese, Spanish, Swedish, and Turkish.

Extras


"Niagara" celebrates its 60th anniversary this year, so it's a bit of a disappointment that—like many of Fox's Monroe titles—the Blu-ray release is basically barebones. I understand that studios, and thus home video departments, are a lot tighter with the purse strings these days, and lavish special editions are just not in the budget most of the time. Still, "Niagara" deserved something more than a few, mostly standard definition theatrical trailers. A commentary. A featurette. Even an old Monroe documentary from PBS, the A&E Networks Biography would've sufficed.

The theatrical trailer (1.37:1; 1080p; 3 minutes 2 seconds) for "Niagara" is included. It's a bit worn, with speckles and dirt, and is inexplicably in black-and-white. One would think a color preview would better sell the picture, with its vibrant Technicolor in all ravishing rainbow hues.

Additional bonus trailers are included under a menu marked "More Monroe Movie Trailers":

- "Bus Stop" (2.35:1 widescreen; 480p; 2 minutes 24 seconds).
- "Gentlemen Prefer Blondes" (1.37:1; 480p; 2 minutes 32 seconds).
- "How to Marry a Millionaire" (1.37:1; 480p; 2 minutes 25 seconds)—note, not only is this trailer for the first Cinemascope feature in academy ratio, which is forgivable and quite understandable considering it had to play in front of films presented in the narrower ratio, but like the "Niagara" preview, it too is inexplicably in black-and-white despite the actual production being shot Technicolor!
- "Point of No Return" (1.85:1 widescreen; 480p; 2 minutes 54 seconds).
- "The Seven Year Itch" (1.85:1 widescreen; 480p; 2 minutes 23 seconds).
- "Irving Berlin's There's No Business Like Show Business" (2.35:1 widescreen; 480p; 2 minutes 46 seconds).

The disc authored with optional bookmarks and the resume playback function.

Packaging


"Niagara" falls (sorry) onto Blu-ray as part of 20th Century Fox's Studio Classics line. The dual layered BD-50 is region free, and comes packaged in a simple eco-elite keep case.

Overall


"Niagara" is perhaps not a great movie, but it is beautifully shot, and genuinely entertaining. If you haven't ever seen it, it's worth watching simply for Marilyn Monroe's in an uncharacteristic role as a femme fatale. The Blu-ray has a terrific Technicolor remaster and luscious lossless audio in both 5.1 and original mono formats for you choosing. Unfortunately, even for the film's 60th anniversary, Fox has forgone any sort of meaningful extras. Recommended.
| | | | | |
| --- | --- | --- | --- | --- |
| The Film: B | Video: A+ | Audio: B+ | Extras: F | Overall: B |