The Film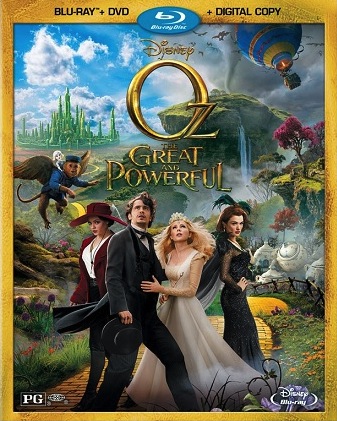 It can't really be said that Sam Raimi lost his way once he hit the big time since, as most of his fans know, he'd turned away from horror films right after "Army of Darkness" in 1992. His output from that point until "Spider-Man" (2002) was a mixed bag, with "A Simple Plan" (1998) being his most well-received film during that period. It was exciting when he got the big-budget gig directing Peter Parker. And at the time, the film was a revolutionary record-breaker. But as the series went on, Raimi's style seemed to devolve into the same homogenized, slick CGI-heavy aesthetic most studios force on their directors. This is also coming from someone who doesn't think his "Spider-Man" series has held up well, even the critically-lauded second instalment. His best work in years came in the form of "Drag Me To Hell" (2009), which was mostly a return to form save for the terrible CGI elements that were used where practical effects would have better sold the gag. It seriously blew my mind to see Raimi, heralded for his ingenuity on the "Evil Dead" series (1981-1993) effects, lazily using bad computer graphics. There must be something about technology that keeps pulling him in, because after dropping out of a proposed fourth instalment for the web slinger, Raimi was announced as director for the prequel (of sorts) to the timeless classic, "The Wizard of Oz" (1939). And this, "Oz The Great and Powerful" (2013), is by far the most commercially marketable, creatively bankrupt picture he's ever been behind.

Oscar "Oz" Diggs (James Franco) is a traveling circus magician operating in Kansas circa 1905. One night after his performance, the husband of a woman he flirted with comes to make an example out of Oz. Not being much of a fighter, he escapes in a hot air balloon to avoid conflict but winds up right in the path of an oncoming tornado. The violent storm thrashes Oz and his balloon and, eventually, spits him out into the mystical Land of Oz. Upon arrival he meets Theodora (Mila Kunis), who believes he has been sent there to destroy the wicked witch and restore peace to the kingdom (haven't, like, a thousand movies done this?). Oz accompanies Theodora to her castle, and along the way the saves the life of Finley (Zach Braff) a small winged monkey wearing a bellhop outfit. Oz arrives at the castle and is treated like a king because he is now the king… but first he has to defeat the wicked witch. Oz and Finley set out, running into China Girl (Joey King), a diminutive porcelain doll-woman whose town was destroyed by the wicked witch's horde of flying monkeys. She joins the trio and they eventually find the "wicked witch", who turns out to be Glinda the Good Witch (Michelle Williams). It turns out Theodora, and her sister, Evanora (Rachel Weisz), had lied about who was the wicked one. Oz and Glinda decide to work together, which sends the lovelorn Theodora into a tizzy, culminating in her transformation into the true Wicked Witch. She enters Glinda's domain and issues a warning that her Emerald City armies will march on her city and defeat everyone. All the while Oz has been doing everything he can to find a way home, until he finally accepts that, for now, he's stuck here. So, he trains the villagers to fight using magic techniques, eventually leading the citizens on their own march to the Emerald City to cut Theodora off at the pass and end her and her sister's reign of terror.

There were some vaguely interesting theories floating around the net about a month or so after this came out suggesting Sam Raimi made a thinly-veiled remake of "Army of Darkness". I can see where some of these assertions came from, though I still doubt the veracity of such claims. Like "Army of Darkness's" hero, Ash, Oz comes from another world, finds himself in the midst of two warring factions, and trains the more benevolent people to combat the evil that hangs over them. Are there similarities? Sure, but how many pictures have employed this conceit before? It's nothing new. And "Army of Darkness" is about a thousand times more enjoyable on a number of levels. Not the least of which are that James Franco doesn't have a thimble-full of the charisma The Chin himself, Bruce Campbell, possesses; and "Oz" is a CGI nightmare, whereas "Army" was all practical effects. And they rocked. The most "Sam Raimi" this film gets is utilizing some of his trademark camera work during a few tense action scenes. Sam loves Dutch tilt and fast zooming, and the parts during which he employs these techniques actually make it feel like this is his movie. But then they end and you're right back to an "Alice in Wonderland 2" no one wanted. Well, at least I didn't want it.

Surprisingly, James Franco isn't the film's weakest link. That dubious distinction goes to Mila Kunis, who seems so hopelessly out of place here. Theodora, before her transformation, speaks in constant breathless tones and wears ridiculously oversized hats. The weird thing, too, is that Theodora isn't a bad witch until she feels Oz has betrayed her, yet when we're first introduced to her there's such a sense of faux altruism and exuberance to her performance that I thought she was faking being nice, only to reveal herself as the wicked witch once we got to the Emerald City. It's odd. Once she does get all green and ugly on us, Kunis takes it right to the stratosphere with an over-the-top performance that seems better suited for the stage. Plus, I just wasn't totally nuts about Howard Berger's makeup on her. It read too "stereotypical witch", although I know that's kinda what they were going for here. But it also read "Halloween Drag Queen", which I'm guessing they weren't trying to accomplish.

I'd caught this in theaters, and a second viewing at home did ameliorate a few issues I had before. Findley, the little flying monkey, wasn't quite the annoyance I recalled, but he's still a useless character. He's not funny. He's not cute. There's an "uncanny valley" effect that almost always occurs with CGI anthropomorphic animals; a lifelessness in the face that kills their emotional impact. Findley spends most of the film looking stoic and then abruptly putting on a smile to please his new master, Oz, when he appears. And Braff isn't a great voice actor. The China Girl was cute, though. Great design on her, and she's got a spunky, can-do attitude. Oh, they also managed to get the Queen's flying monkeys right. They appear here as muscular flying baboons that look like they could rip a man apart with ease. Unfortunately, they don't. But they do look awesome.

It's a shame the visual landscape had to look so much like Tim Burton's "Alice in Wonderland" (2010). I know the film grossed over $1 billion at the worldwide box office, but if you ask most people they'll probably tell you they didn't like it. It wasn't a great film by any means; it just happened to get lucky and catch the tailwind of "Avatar" (2009) when 3D was uber-hot. Oz looks too much like the settings in that picture, with so much of the bizarre topography and predatory fauna looking like it could belong in either universe. Oz should have stayed closer to the classic MGM film's world and minimized the cute little critters aimed to get kids into the theater. But that's kinda what it's all about these days, right? Artist integrity is a four-letter word on a mega-budget movie; the only concern is asses of all sizes in seats.

So, what's good about the film? It is an easy watch. Despite the undeniably conventional nature of the plot and visual aesthetics, the story is kinda fun. Franco is a hard guy to take seriously in any film (there are a couple exceptions), and it works well here since Oz is also the kind of guy most people shouldn't take seriously. There's also a great cameo from a heavily made-up Bruce Campbell that's too damn short but great to see nonetheless. The flying monkey army is a credible threat and quite ferocious. Mila Kunis is still gorgeous. It does contain some of Raimi's trademark style. At the very least, it's worth a watch if you're a fan of the source material or the director.

Video


"Oz" starts off with a crisp, well-balanced black & white opening, framed at 1.33:1, which runs for about 20 minutes before the 1080p 24/fps AVC MPEG-4 encoded image expands to an epic 2.40:1 scope. The transition from black & white to color would be jarring in most films, but here, in the whimsical Land of Oz, the eruption of color is particularly striking. For better or worse, the design team behind "Alice in Wonderland" (2010) worked their magic here, absolutely saturating Oz in every imaginable color. The image pops right off the screen with so many varied hues and bold primaries fighting for attention. Black levels are exquisitely dark for the most part, only showing a minor amount of crush, but fine details in the image are never lost in the shadows. There is a very fine amount of grain present, almost non-existent. That's also part of the picture's downfall, in that you can plainly tell almost none of these environments are real sets. Franco constantly looks like he's in front of a green screen (because he is), and that causes the image to lose integrity in some respects. This is also partly due to the intended 3D environment, which looked much better on the big screen in 3D than at home in 2D. I don't like to advocate post-conversion 3D films, but "Oz" managed to make good use of the format. Perhaps the 3D disc alleviates some of the faux-set aesthetics of this image.

Audio


The film flies high with a powerful English DTS-HD Master Audio 7.1 surround sound track (48kHz/24-bit) that provides a robust, immersive experience for viewers. The film's opening tornado roars with tremendous force, enveloping viewers in the melee as effects effortlessly pan throughout your system. As the world of Oz unfolds, composer Danny Elfman's score is there to imbue the picture with energy and mood, in the process delivering one of his best works in a decade. The track does a perfect job at separating the many effects and cues that populate Oz's sound field, and dialogue is never lost in the mix despite whatever action may be occurring on-screen. The track exhibits constant activity, rarely letting up for a moment. This is up in that rare airspace of reference-quality audio that, while not a bombastic action track, expertly demonstrates the right way to do sound design.

The disc also includes tracks in English both Dolby Digital 2.0 surround and 5.1 – French Dolby Digital 5.1, and Spanish Dolby Digital 5.1, as well as an English 2.0 surround DVS track. Subtitles are included for English for the hearing impaired, French, and Spanish.

Extras


"Oz" was one of the biggest hits of the year, so it's not surprise that Disney has delivered it on home video with a hefty stack of extras. And thankfully, the majority of them are all worthwhile. Included here are a Disney second screen experience, numerous featurettes, bloopers, and theatrical trailers.

DISC ONE: BLU-RAY

"The Magic of Oz The Great and Powerful Second Screen Experience" (1080p) is an interactive feature that allows viewers with an iPad 2 or higher to download an app from the iTunes store that will sync up with the film. As it plays, viewers are shown concept art, behind-the-scenes footage, interviews, and more. I like that Disney is attempting to push the boundaries of hi-def features to a further degree, but watching a second screen during an already-visually-excessive feature is a bit of overkill. Plus, a large majority of potential users for this feature are cut out to begin with since it needs an iPad to work.

"Walt Disney and the Road to Oz" (1080p) is a featurette that runs for 10 minutes and 13 seconds. This excellent piece covers Walt Disney's fascination with L. Frank Baum's world of Oz. Walt had tried to make a feature, "The Rainbow Road to Oz", as far back as the 40's, but he was beaten to the rights by MGM. Some years later he was finally able to acquire them, but the project fell through when it just wasn't working as he had envisioned it.

"My Journey In Oz by James Franco" (1080p) is a featurette that runs for 21 minutes and 43 seconds. This is like a personal video diary, with Franco interviewing the film's key cast & crew members about the film. I honestly expected this to be a little more interesting, but it winds up being him asking fairly standard questions.

"China Girl & The Suspension of Disbelief" (1080p) is a featurette that runs for 5 minutes and 26 seconds. Actress Joey King, who plays the "wheelchair girl" as well as China Girl, talks about her dual role in the film, voicing her character, and so forth. I hate to say it, but this is kind of a cute segment thanks to King's enthusiasm.

"Before Your Very Eyes: From Kansas To Oz" (1080p) is a featurette that runs for 11 minutes and 2 seconds. This covers the film's production design, which they claim was going for a very original take on the world of Oz. But since this was also done by the team behind Tim Burton's "Alice in Wonderland" (2010), it only manages to look like more of the same.

"Mila's Metamorphosis" (1080p) is a featurette that runs for 7 minutes and 43 seconds. We sit with Mila in the make-up chair as Oscar-winning effects artist Howard Berger applies her witchy look. Berger has been around for years, and he considers his work here as paying homage to the legendary Dick Smith. This is worth watching just to listen to him speak about his craft.

"Mr. Elfman's Musical Concoctions" (1080p) is a featurette that runs for 7 minutes and 13 seconds. Elfman, who famously had a falling out with Raimi during "Spider-Man 3" (2007), returns to compose the score here. His work has been a bit lazy the past few years, but I found his score to "Oz" was a step up from previous projects.

A reel of bloopers (1080p) runs for 5 minutes and 6 seconds.

Bonus trailers are for:

- "The Lone Ranger"
- "Once Upon a Time"
- "The Little Mermaid"
- "Iron Man 3"
- "Disney Infinity"

DISC TWO: DVD

The feature-length film is included here in standard definition.

The set also includes an insert with a code to download a digital copy of the film.

Packaging


The two-disc set comes housed in a standard Blu-ray keep case, with each disc housed on a hub opposite the other. A shiny, slightly embossed slip-cover is included with initial pressings.

Overall


"Oz" is a vapid film with little substance, however, it looks pretty and that seems to be enough for a pass these days. Raimi doesn't bring anything new to the table in terms of story or scenery, but he does manage to make the film enjoyable enough that watching it is a breeze. If nothing else, Blu-ray enthusiasts will marvel over the spectacularly colorful images produced here.
| | | | | |
| --- | --- | --- | --- | --- |
| The Film: C+ | Video: A | Audio: A+ | Extras: B | Overall: B- |