The Film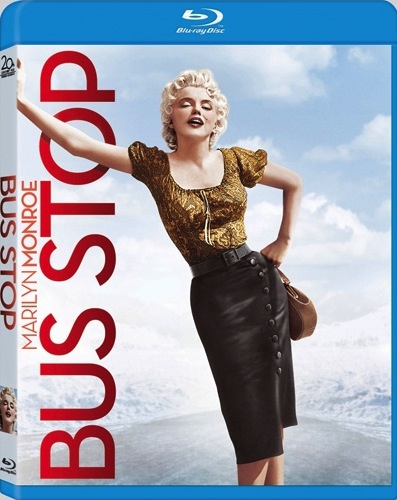 Between 1952 and 1953, Marilyn Monroe went from supporting player in the studio stable, to one of the top stars for 20th Century Fox, and one of the biggest earners at the box office, female or otherwise. She did this with the release of three increasingly successful features over the course of a single year. In the first of her marquee films, Henry Hathaway's "Niagara" (1953), a nifty color-noir, Monroe played a femme fatale with a furious and eventually ferociously deadly sensuality, and was both praised and attacked for her performance; the raw sexuality on display was integral to the film's plot, but also an affront to the wholesomeness and sensibilities of some in 1950's America. It was the other films she was in that year, the one-two punch of Howard Hawks' dazzling diamond of a musical "Gentlemen Prefer Blondes" (1953), and Jean Negulesco's widescreen wonder "How to Marry a Millionaire" (1953) that brought Monroe her bigger fan base. In those films, she quickly perfected her "dumb blonde" persona—the Marilyn Monroe archetype she'd try desperately to leave behind in the few remaining years of her life and career. Although audiences, and some critics, were won over by Marilyn's charisma while playing ditzy characters in those latter pictures, she was less than satisfied, especially when many assumed she was exactly like those characters; man crazy and inarticulate. A few of her most vocal detractors took issue with Monroe's overt sexuality not just as the femme in the former, but all three features (remember, this was an era that was still pretty puritanical when it came to such seductive sensationalism, and ever mindful of the, slightly waning, motion picture Production Code). The most scathing reviewers suggested—if not in these exact terms—she was all "T" and "A", and no talent; a mediocre actress who had made it based on looks alone. Looking at them now, in the context of her career as a whole—during which she proved to be both a capable comedienne, and as equally skilled in drama—those comments seem overly harsh to say the least, but at the time they were made, Monroe took them to heart.

Spurred on by one financial and critical failure of fantastical proportions— Walter Lang's faulty film version of Irving Berlin's "There's No Business Like Show Business" (1954), in which Monroe only agreed to appear, in a small role, to secure her casting as the female lead in Billy Wilder's big screen adaptation of the Broadway hit "The Seven Year Itch" (1955)—and the fallout of her personal and professional foibles on the set of that subsequent film (her self-doubt and crippling stage fright boiled over into a tenuous relationship with the Wilder), Monroe took a year off from acting to reexamine her career and hone her craft, by studying at The Actors Studio under the tutorage of Lee Strasberg, who became one of Monroe's most vocal supporters (and eventual mentor).

Monroe reinvented herself at The Actors Studio, deciding to branch out from comedy into drama. Strasberg, of course, was the man who brought so-called Method acting, an approach informed by the theories of Konstantin Stanislavsky (who believed actors should look internally for the motivation to produce the eternalized emotions of their character), into the mainstream. Strasberg considered the magnetic Marilyn Monroe to be one of his two greatest students (the other was original Method-man, Marlon Brando). In her time away from Hollywood, Monroe manifested her more serious self, and took to intense studying. Her newfound focus and belief in "The Method" would lead to some of her greatest work. Perhaps no greater than her performance in "Bus Stop", where she plays a pale-faced waif named Cherie, a talentless saloon singer who has hopeless dreams of one day making it in Hollywood. It remains, if not her best, and most interesting performance, then at least tied for the title.

While at The Actors Studio in New York, Monroe found a new drama coach in Strasberg's wife, Paula. She would accompany Monroe to set everyday for the rest of her career; unlike Marilyn's previous coach, Strasberg encouraged Monroe to make her own choices—to do what felt right for her character. With this creative freedom in mind, Monroe also took the time to reconsider herself—specifically, the trajectory of her career. Unhappy with her place at 20th Century Fox—and the difficulties she faced on each project due to studio boss Darryl F. Zanuck's low opinion of his star—Monroe renegotiated her contract by simply refusing to work. Zanuck and Monroe—or perhaps more accurately, Zanuck's lawyers and Monroe's lawyers—eventually struck a new deal. After a period, in which Zanuck tried to make a Marilyn Monroe movie without Marilyn Monroe and it famously flopped (Nunnally Johnson's unintentionally ironically-titled "How to Be Very, Very Popular" (1955), considering it wasn't and bombed both with critics and audiences), and subsequent release of "The Seven Year Itch" (1955) to rave reviews and smash success at the box office, the deal drawn up allowed the actress to appear in pictures for other producers and studios, while also starring in features for Fox, where she would get final director and cinematographer approval. To top it off, Monroe would do all this under her own brand. The deal had repercussions not just for the major star, but many other actors and actresses of the era. Monroe's $8,000,000/4-picture deal was unprecedented; no mere actor ever had that kind of power, and autonomy, over a Hollywood studio before (of course, actor/directors and the rare actor/producer were a different matter). It was a major coup; a sign of the changing times, and inevitable collapse of the failing studio system.

Monroe's first film under the newly formed Marilyn Monroe Productions was "Bus Stop", released and produced by 20th Century Fox. Loosely based on the stage play of the same name by William Inge, and helmed by veteran stage director, and Method supporter, Joshua Logan, the film tells the tale of Bo (Don Murray), a voracious young buck fresh off the farm, who's traveling south by bus from Montana with his farm-hand father-figure Virgil (Arthur O'Connell) to participate in a rodeo. At a decrepit diner on the road, Bo meets Monroe's character, Cherie, and is instantly smitten. Caught up by her looks, Bo manhandles her a bit and essentially kidnaps her, re-boarding the bus with the woman, who has a secret, reluctantly in tow.

The screenplay, by George Axelrod, expands the scope of the original play—which took place entirely at the titular bus stop—and takes Bo and Cherie's budding abduction-cum-potentially-Stockholmian-romance to Phoenix, before heading back in a northern direction. The structure, and logic, is circular in nature, the setup slowly undone until Bo and Cherie shed their presumptions of each other, and accept their flawed figures for who they are. Their journey is strikingly shot in Fox's patented Cinemascope process by the great Milton Krasner, who works wonders with the dark interiors of the diner/saloon, and expansive vistas along the open road in. (For cinematography and widescreen nerds: "Bus Stop" is also notable for featuring one of the first two-shot close-ups ever attempted in Cinemascope).

The picture's biggest caveat is that Monroe and Murray have very little chemistry on screen, in part because Murray—a newcomer at the time, making his screen debut here—and Monroe hated each other off of it. Their uneasiness makes the pairing odd, especially in the second half of the film, in which Cherie too falls for the brash Bo, although only after he's been beaten down a little by her cold-shoulder rebuffing and shows some humility. The romance is much less romantic than was probably intended. Murray's Bo comes off as controlling and cold, rather than charming; reportedly, this wasn't pure acting, as he attempted to dominate the production, and make it his show rather than Monroe's. It's interesting to note the part was offered to Elvis Presley, but his manager Colonel Tom Parker passed on the project in favor of other prospects. Presley was not a terrifically talented actor, but I can't help but wonder if he would've at least brought some charm to the character of Bo. (One also ponders the unintentional prescience of Bo's manipulative and controlling ways with Cherie, and Presley's own future relationship with child-bride Priscilla). Incidentally, Presley wasn't even the first choice. The part was originally offered to Brando; it's a pity he turned down the role, as Strasberg's two favorite students on screen might have made rare movie magic rather than mere movie history.

But, casting choices and undercooked chemistry be dammed, "Bus Stop" is Marilyn's film through-and-through—and she is magnificent in it. Cherie is the most complex, and damaged character she ever played—perhaps a little of herself, or at least the way she saw herself. Cherie is a singer, but a poor one—Monroe intentionally sang off-key—and her beauty, faded behind rumpled cast-off clothes. Cherie (and in turn, Monroe) is incredibly vulnerable. Murray's best actor Oscar for his part seems criminal in light of the fact Monroe wasn't even nominated for what is one of the finest performances in her career. Credit not just to Monroe, but director Joshua Logan, who both coddled and controlled his leading lady where he saw fit. Before shooting the film, Logan is to have scoffed at Monroe's casting, famously claiming, "but Marilyn can't act!"—a sentiment seemingly shared by many before the film's release. But Logan, and most other critics, admitted they were wrong when the film was said and done. Indeed, Ms. Monroe could act; quite well. "Bus Stop" was a turning point for her, and had her personal peculiarities not proved her undoing, we might have had many more marvellous performances from her. Unfortunately, we only have a few. "Bus Stop" is certainly one of her best, even if the film itself quite as strong.

Video


"Bus Stop" was photographed in Cinemascope and Deluxe Color by seven-time Oscar nominated cinematographer Milton Krasner. Krasner shot many a feature in his tenure at Fox. He lensed several of the studio's earliest widescreen films, including the sequel to "The Robe" (1953), "Demetrius and the Gladiators" (1954), as well as "Désirée" (1954) starring Marlon Brando, Jean Negulesco's "The Rains of Ranchipur" (1955), and Leo McCarey's "An Affair to Remember" (1957). Krasner was reportedly Monroe's favorite cinematographer; he captured her beauty in both black-and-white ("All About Eve" (1950); "Monkey Business" (1952)) and color (Billy Wilder's "The Seven Year Itch" (1955)).

20th Century Fox's 1080p 24/fps high definition AVC MPEG-4 encoded transfer of "Bus Stop" appear to be fairly faithful to the original photography it exhibits all the telltale signs of a true "Scope"/Deluxe source. The dreaded mumps—the result of a flaw in the anamorphosis applied by the Bausch & Lomb lenses that made objects appear wider in the center of the frame, narrower at the edges; in close ups, actors look fatter or thinner than natural depending on their composition within the frame—as well as detail and density degradation during fades and other transitions often seen in opticals of the era are inherent issues that can only be "corrected" so far, even with digital technology (and that doesn't take in to account where or not such corrections should be applied even if they were available). The bluish blacks (and subsequently somewhat milky contrast), and spikes in both graininess and softness plague "Bus Stop" at every corner are also an unfortunate consequence of the Scope lens and color-process combo. As these so-called flaws have little to do with the transfer or encode itself—and are rather is a reflection of the source material—are don't really consider them problems in the conventional sense. Likewise, sharpness is limited, but texture detail and grain retention are excellent The image has a fine layer of film grain, and the studio's remaster doesn't appear to reveal many instances of overzealous processing or artifacts. The 55-plus year old source is also spotlessly clean and in near-pristine condition, without any serious dirt, damage or other debris. Sure, together the various peculiarities of the elements don't make of a conventionally pretty picture, but there's very little that can be done about it, and I'd wager Fox has dealt with the "problems" as best as they could while still remaining faithful. My one complaint—which doesn't stem from the Cinemascope source, and rather the remastering—is that the color correction of this disc tends to favor a teal-orange tone, which I doubt was accurate. But that revisionist color scheme seems inevitable these days. And, overall, "Bus Stop" is a very good-looking Blu-ray of a 50's Scope feature.

Audio


Fox's English DTS-HD Master Audio 4.0 soundtrack preserves the 4-track stereo configuration of the original theatrical release. The mix has solid dialogue reproduction, and the score by Cyril Mockridge and Alfred Newman—with additional music from Tex Ritter, and of course the requisite Monroe tune; here, "That Old Black Magic", originally by Harold Arlen and Johnny Mercer—sounds nice and full. The track has decent stereo separation, with the correct directional dialogue. As you might expect, surround and bass activity are near nonexistent. The disc also includes dubs in French DTS 4.0, German DTS 4.0, Japanese DTS 4.0, Turkish Dolby Digital 2.0 surround, Thai Dolby Digital 2.0 mono, Italian Dolby Digital 1.0 mono, and Spanish Dolby Digital 1.0 mono. Optional subtitles are available in English for the hearing impaired, Croatian, Czech, Danish, Dutch, Finnish, French, German, Greek, Hebrew, Hungarian, Icelandic, Italian, Japanese, Norwegian, Polish, Portuguese, Spanish, Swedish, and Turkish.

Extras


"Bus Stop"—like many of Fox's Monroe titles, including the recently released "Niagara"—is basically barebones. The DVD release included a restoration comparison and two photo galleries, both of which have been dropped in the transition to high definition. The restoration piece is out of date now—the Blu-ray appears to use an different, or at least further tweaked, master—and the galleries aren't a huge loss, in my opinion.

A theatrical trailer (2.35:1; 480p; 2 minutes 24 seconds) for "Bus Stop" is included.

Additional bonus trailers for Fox's other Monroe titles can be found under a menu marked "More Monroe Movie Trailers":

- "Niagara" (1.37:1; 480p; 3 minutes 2 seconds).
- "Gentlemen Prefer Blondes" (1.37:1; 480p; 2 minutes 32 seconds).
- "How to Marry a Millionaire" (1.37:1; 480p; 2 minutes 25 seconds).
- "Point of No Return" (1.85:1 widescreen; 480p; 2 minutes 54 seconds).
- "The Seven Year Itch" (1.85:1 widescreen; 480p; 2 minutes 23 seconds).
- "Irving Berlin's There's No Business Like Show Business" (2.35:1 widescreen; 480p; 2 minutes 46 seconds).

The disc is authored with optional bookmarks and the resume playback function.

Packaging


"Bus Stop" makes its high def debut as part of 20th Century Fox's Studio Classics line. The dual layered BD-50 is region free, and comes packaged in a simple eco-elite keep case.

Overall


"Bus Stop" arguably features Marilyn Monroe's finest performance ever on film. The picture, which saw her embrace the Method, and enjoy at the time unheard of creative freedom, was a chance for Monroe to show off her acting chops and prove some of her more vocal critics wrong—which she most certainly did. It's rarely conventionally pretty, but blu-ray's video transfer reflects the mumpy, dupey, Cinemascope-y source; the lossless sound mix does a decent job recreating the original 4-track stereo. Most unfortunately, aside from the few trailers, "Bus Stop" is yet another Monroe Blu-ray without extras. Recommended, especially for fans.
| | | | | |
| --- | --- | --- | --- | --- |
| The Film: B | Video: B+ | Audio: B | Extras: F | Overall: B |