Dragon Eyes (Blu-ray) [Blu-ray]
Blu-ray B - United Kingdom - G2 Pictures
Review written by and copyright: Samuel Scott (6th October 2013).
The Film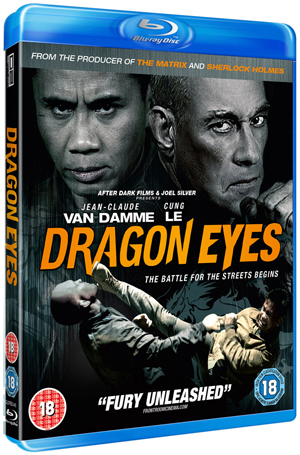 ***This is a technical review only. For reviews on the movie from various critics, we recommend visiting HERE.***

St. Jude Square is a neighbourhood living in fear as dueling drug gangs and corrupt police terrorize the streets...until hope arrives in Hong (Cung Le - Fighting, Tekken, Pandorum), a mysterious stranger who after release from prison decides to take a stand and fight back. Using his unparalleled martial arts skills and calling on the teachings of his ex-cell mate mentor Tiano (Jean-Claude Van Damme - Universal Soldier, Timecop) Hong begins his savage campaign for justice, taking on the brute force of the gangs and the notorious corrupt police chief Mr V (Peter Weller, Robocop, 24).

A heavy handed barrage of bare knuckle street fighting and mixed martial arts, starring legendary MMA fighter Cung Le and featuring UFC stars including Dan Henderson, Trevor Prangley and Gilbert 'El Nino' Melendez.

Video


G2 Pictures release yet another blu-ray onto the UK market with a 1080i/50 transfer, a disgrace for such a new movie which has been released 1080p in other European localities. Despite this, the transfer is better than some of their other efforts such as "Transit".

Using an AVC MPEG-4 codec and the original aspect ratio of 2.35:1, the transfer is, as expected, a mixed bag which differs wildly scene to scene. Whilst in some scenes detail is high, especially during facial close-ups, others feel bland and lacking sharpness. Background items merge into the walls rather than being distinct, and darker scenes are missing definition in the locations and sets. The 1080i transfer has also resulted in some interlacing, though thankfully it is not as noticeable as you may expect. Some aliasing and edge enhancement is also present, but at least the transfer is free from dirt or any other sort of damage. Adequate, but certainly room for improvement.

The disc is a BD25 and the feature runs 87:46.

Audio


Just a single audio track available here:
- English DTS-HD Master Audio 5.1

The track is often quite boisterous, but the dance music that occasionally joins some of the fight scenes feels rather out of place. Effects of people being punched and kicked pack a powerful thump, with good directionality and use of the surrounds. The LFE is used well during the more robust scenes. The track is nothing special, in fact, it is as standard as they come, but it is a moment for a little praise in comparison to the rest of the disc. There were no noticeable signs of damage to the track.

Optional subtitles are available in English.

Extras


Bonus Trailers:
- "Transit" (2:05)
- "The Girl From the Naked Eye" (1:44)

Overall



| | | | | |
| --- | --- | --- | --- | --- |
| The Film: D+ | Video: C- | Audio: B- | Extras: E | Overall: D+ |

---
DVD Compare is a participant in the Amazon Services LLC Associates Program and the Amazon Europe S.a.r.l. Associates Programme, an affiliate advertising program designed to provide a means for sites to earn advertising fees by advertising and linking to amazon.co.uk, amazon.com, amazon.ca, amazon.fr, and amazon.de.