Afterwards
R2 - United Kingdom - Optimum Releasing
Review written by and copyright: Samuel Scott (8th October 2013).
The Film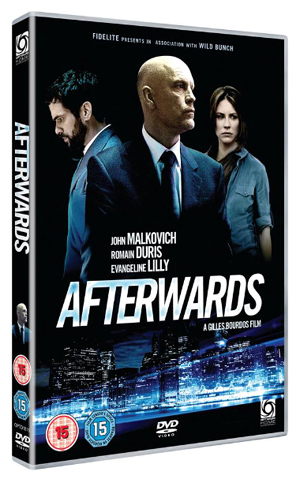 ***This is a technical review only. For reviews on the movie from various critics, we recommend visiting HERE.***

New York lawyer Nathan (Duris) learns from unconventional Doctor Kay (Malkovich) that his life may be coming to an end. Nathan is successful in his profession but he has recently divorced Claire (Evangeline Lilly), the love of his life. At first he is not convinced by the mysterious doctor, who suggests he should put his life in order before it is too late, but as strange events unfold, Nathan begins to sense that maybe he really isn't long for this world.

Video


Optimum Releasing presents Afterwards to DVD in the UK in the original aspect ratio of 2.35:1 which has been anamorphically enhanced. It's a solid transfer, without any major problems.

The film is mainly made up of many dark scenes, with lots of shadows and dark clothing. The sharpness in the blacks is quite good, with plenty of distinction between each shade, and detail in the clothing and facial close-ups are as good as to be expected from a mid-budget thriller on DVD, though not exceptional. At times, there is some brief jaggedness to the shots, mainly during moments where the camera is panning rather than stationary. There are no problems with artefacting, scratches or any other sort of print damage.

The disc is PAL and runs 103:33.

Audio


There is just a single audio option here:
- English Dolby Digital 2.0 Stereo

For the most part, it is more than adequate, but it does have one major problem. From the nine minute mark, there is a reasonably long section in which the audio is slightly out of sync by about a tenth of a second. Although that might not sound like much, it is certainly noticeable, and once you spot it for the first time, it can niggle away at your enjoyment of the feature. Separation is reasonable, mainly for dialogue, but I think we could have really benefited from a 5.1 track here for the more grisly moments - especially for the score. There were no dropouts or scratches in the track.

English subtitles are available for the French dialogue only (roughly 10% of the movie) and they are optional.

Extras


A lonely theatrical trailer (2:09) is your lot.

Overall



| | | | | |
| --- | --- | --- | --- | --- |
| The Film: C+ | Video: B | Audio: D+ | Extras: E | Overall: C |

---
DVD Compare is a participant in the Amazon Services LLC Associates Program and the Amazon Europe S.a.r.l. Associates Programme, an affiliate advertising program designed to provide a means for sites to earn advertising fees by advertising and linking to amazon.co.uk, amazon.com, amazon.ca, amazon.fr, and amazon.de.