The Film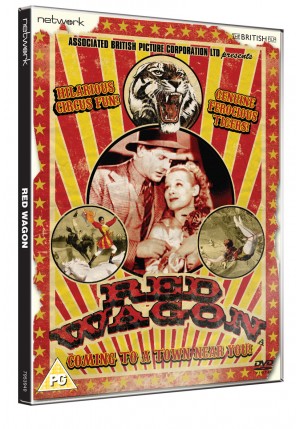 Red Wagon (Paul L Stein, 1933)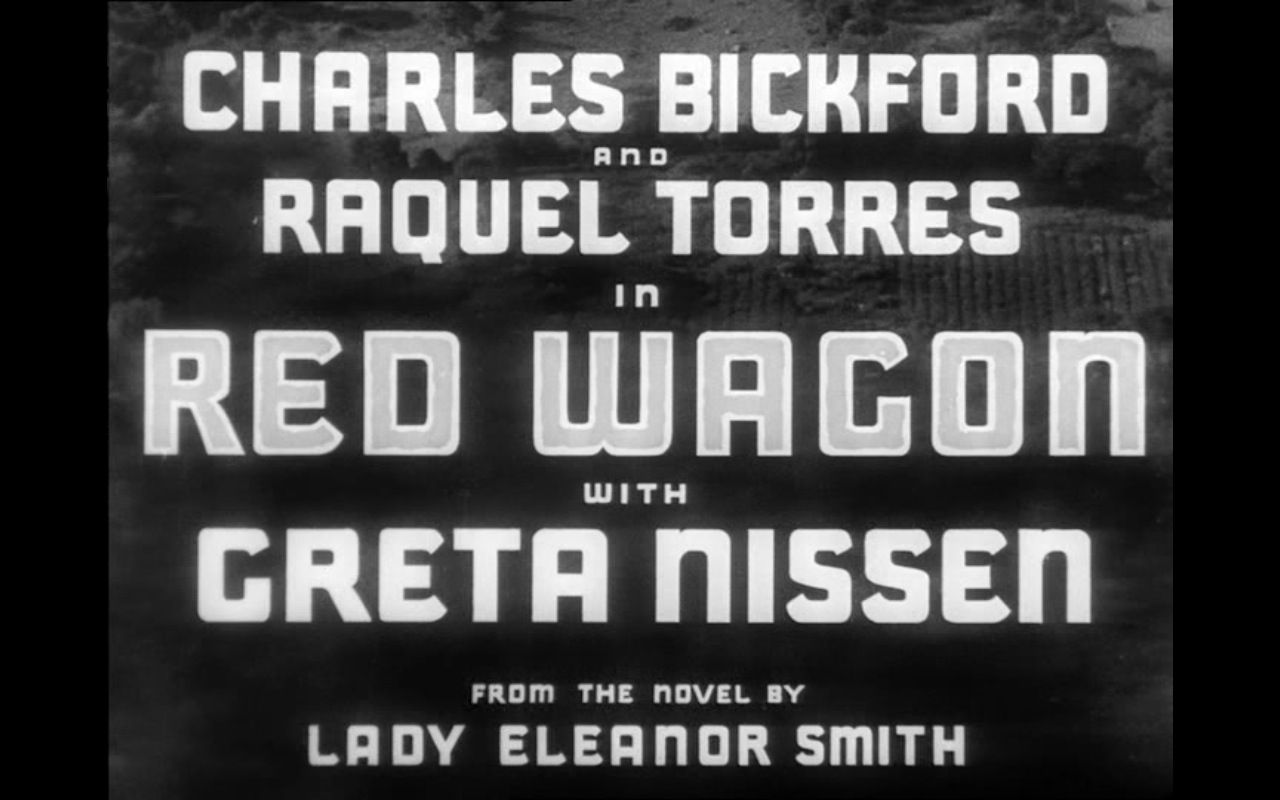 Designed as a vehicle for the American star Charles Bickford, Red Wagon was based on a 1930 novel by Lady Eleanor Smith: the international flavour of the cast led Picturegoer to assert that the film was a 'British movie milestone' that 'is probably richer in Hollywood "names" than any picture ever made here' (quoted in Cargnelli, 2012: 127). Costume designers Motley acted a costume consultants during the production, and in his book on Motley Michael Mullins argues that 'the film attempted to blend the appeal of British aristocratic tone with the adventure of the circus' (1996: 197).

The film featured both an international cast and crew: director Paul L Stein was an Austrian émigré, and the film's musical director was Kurt Schroder. The film's narrative begins in America, where a young Joe Prince and his parents, both of whom are acrobats, are traveling with a circus. Mulligan, billed as 'Professor Mulligan: America's Matchless Pill Prophet', has angered some local miners by short-changing them 'on that fake medicine stuff' ('You was a fool, a damned fool. Hick farmers is one thing, but roughneck miners is entirely different, see? [….] If they find ya, boy, you haven't got a chance', the circus' owner tells Mulligan). The miners attack the circus, causing the big tent to collapse in the middle of Joe's parents' act. Joe's father dies, with his dying words begging his wife to look after the child. However, shortly after the miners set fire to the tents and wagons, and Joe's mother is shot as she flees. Joe manages to escape. In the morning, the Cronks, another British couple traveling with the American circus, vow to take care of the child: 'I'm going to take you back to England where your mammy came from', Jean Cronk promises Joe: she'll act as Joe's mother, 'and we'll teach you how to be a champion acrobat'.

However, in England, Joe discovers the Cronks promises to be wrapped in deceit: Jean Cronk treats him cruelly. Eventually, both she and her husband are found guilty of cruelty and neglect and jailed for six months. Joe is entered into John Abbot Orphanage, where he resides for six years. When he's released, he is asked what he plans to do. He wants to join the circus; the manager of the orphanage asks him, 'You still have those wild gypsy ideas in your head?' and tells Joe that he is to be an apprentice to a grocer – 'and that is what I call a career, Mister Joseph Prince'.

Uninspired by a potential future as a grocer's apprentice, Prince runs away. He encounters some gypsies traveling through the English countryside. He soon falls under the spell of a seductive young gypsy woman, Sheba (Raquel Torres).


Parting ways with the gypsies, he once again ends up with a traveling circus and zoo, where he is taken on as a pitcher, and finds that Mr Cronk is also traveling with the circus. (Cronk tells Prince that Jean Cronk 'hopped it with a snake charmer'.)

Over the years, Prince becomes a famous 'trick rider'. When the circus owner dies, Prince takes ownership of the circus. He begins a halting romance with Zara (Greta Nissen), the animal tamer, which is brought to a dead stop when Sheba re-enters Prince's life. Prince marries Sheba but neglects the circus, allowing his competitor Cranley (Frances L Sullivan) to catch up. A mishap during her act, and jealousy over Prince's marriage to Sheba, leads Zara to question her alliance with Prince. Meanwhile, Sheba proves herself to be less than trustworthy. These events seem to herald the collapse of Prince's dream to run his own circus.

The film's title, 'Red Wagon', refers to the circus' red wagon, which is given over to the star of the circus. When Joe first joins the circus which becomes his own, the circus owner has installed his lover in the red wagon. Later, Joe gives the wagon over to Zara. When Joe marries Sheba, Zara's occupation of the red wagon provokes Sheba's jealousy: 'I thought you said we was to have the best wagon', Sheba complains. This jealousy leads to Sheba sneaking into Zara's wagon and stealing a bracelet: this event is the catalyst that leads to the climax of the film,in which Zara threatens to leave Joe's circus and join that of Joe's competitor, Cranley. As we have already been reminded, Zara's tiger-taming act is the circus' biggest draw: 'Where would you be if it wasn't for Zara and her tigers?', Cranley asks Joe after he offers to buy Joe's circus so as to run it as 'a number two show'. (Naturally, Joe refuses this offer angrily.)


From the outset, Prince is branded with a love of the circus. The very first sequence features a very young Prince having the phrase 'Circus First' tattooed on his arm by his father. 'Just like you, dad', Joe says when the tattoo is completed. Later, after Joe has been taken under the wing of the Cronks, he rides a white horse. He falls from the horse: at this age, it seems that he does not have his father's aptitude for acrobatics. However, Joe tells the horse, 'I'll always ride you when I have a circus of me own'.

Joe progression from child to adult owner of his own circus takes up roughly half an hour of the film's running time; much narrative information is condensed into this short space of time, and in its first sequences the film makes heavy use of montage to denote the passage of time. During these sequences, the film bridges Britain and America, where Prince's father is derogatorily labeled 'Britisher' by the other circus folk. (Prince's youth in America presumably also explains, at least partially, the American accent of the film's star, Charles Bickford, who plays the older Prince.) As Christian Cargnelli notes, '[i]t is tempting to read the transatlantic angle of Red Wagon as a metaphor for the state of Anglo-American film relations at the time, mirroring the struggle for supremacy in British cinema' (op cit.: 128). However, as Cargnelli also notes, whilst the film 'deserves attention for its elaboration of internationalism', it also relies heavily on very simplistic stereotypes, including the juxtaposition of the 'good blonde white woman [Zara] and the dark-haired, treacherous Gypsy girl' (ibid.).


The film foregrounds the conflicts between circus folk and gypsies. When Sheba returns to Joe's life, he is reminded that 'Circus folks don't mix with gypsies; you know that. They'll laugh at you'. ('Let 'em try it', is Joe's curt reply.) However, through the character of Sheba, Red Wagon foregrounds a number of stereotypes about gypsies: Sheba is untamed, wild, feisty and a thief. She refuses to sleep anywhere but on the floor of the wagon. She is also duplicitious: she is revealed to be involved in a relationship with Davey, another gypsy. ('Sheba, you belong to me', Davey moans at one point.) Essentially, Sheba is a prototypical femme fatale; her involvement with Joe blinds him to his responsibilities and almost leads to his ruin. 'If only Joe'd take a look at these bills instead of gazing into the unholy eyes of his black-haired beauty', one of the circus employees complains.

The BBFC suggests that the original running time of this film was 106:40 mins. This DVD runs for 90:44 mins (PAL). Even accounting for PAL speedup, this is a substantial difference. If the running time of the original 1933 version, as listed on the BBFC's website, is correct, this DVD contains an edit of the film that is 15 minutes shorter than the original version. (We might speculate that this is an abbreviated version of the film prepared for overseas markets.)


Video


The print is presented in the film's original aspect ratio of 1.37:1. Contrast within the monochrome image is strong. There is some intermittent print damage (vertical scratches and the like) but nothing too problematic, and nothing remarkable given the age of the material.

Audio


Audio is presented via a two-channel mono track which contains some drop outs here and there due to wear and tear but is clear throughout. There are no subtitles.

Extras


None.

Overall


There are some great depictions of circus and carnival life in cinema and television, from Tyrone Power's Nightmare Alley (Edmund Goulding, 1947) to HBO's short-lived series Carnivale (2003-5). Like these, Red Wagon offers an interesting insight into the politics of circus life. It's a pacy, lusty film. However, on the other hand it resorts to simplistic clichés and stereotypes – particularly in its representation of the gypsy Sheba. Additionally, the exposition (which takes up the first half hour of the film) is quite protracted.

This DVD contains a good presentation of the film but is sadly free of contextual material. Additionally, if the BBFC's information is accurate it would also seem to contain an abbreviated version of the film, at least compared with the version originally submitted to the BBFC for classification.


References:
Cargnelli, Christian, 2012: 'Be kvite kviet, everybody, please!: Paul L Stein and British Cinema'. In: Bergfelder, Tim & Cargnelli, Christian (eds), 2012: Destination London: German-Speaking Emigres and British Cinema, 1925-1950. Berghahn Books: 123-141

Mullins, Michael, 1996: Design By Motley. Associated University Press



For more information, please visit the homepage of Network and take a look at Network's The British Film page.

This review has been kindly sponsored by:


| | | | | |
| --- | --- | --- | --- | --- |
| The Film: | Video: | Audio: | Extras: | Overall: |