The Film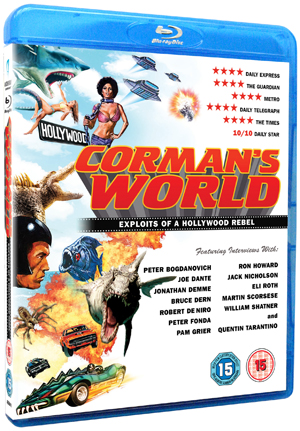 Let's start this off with a fact: Roger Corman is a legend in the world of filmmaking.

Now, those of you who aren't familiar with Roger's contributions to cinema might not be able to fully appreciate that statement. In fact, some of you might dismiss it outright, assuming Corman is just some king of schlock, and nothing more.

The truth is that Roger Corman has been bankrolling almost every picture he's made since he got started in the business with "Monster From the Ocean Floor" way back in 1954. As someone who has been a fan of Corman's work since childhood (New World Pictures released some great films on VHS back in those days!), I never would have guessed how well his business model works, and continues to work, with little to no outside help. Corman is the reason they invented the term "one man army" in the film world; he's been responsible for almost every facet of a film's production at one time or another. He's one of film's renaissance men, able to command any post at a moment's notice to ensure the production runs smoothly. This is one of Corman's greatest strengths: saving money. There's a lexicon of stories regarding his legendary penny pinching, including tales of how he would quickly re-dress sets if he finished filming a picture early, that way he could make another film on the fly with the space he already rented! I can't think of anybody else who has done what Roger has done – and been successful at doing it – while turning out films that are genuinely regarded as cult classics still enjoyed today.

And that, of course, is why Roger Corman deserves to have his own documentary. I think it's a tall task to tell his life's tale in one film, but the producer's of "Corman's World: Exploits of a Hollywood Rebel" (2011) have done a commendable job of condensing a nearly 60 year career into a scant 90 minutes. It's an impossible task to cover every base, every major film production, every back room production story, every heated on-set argument… which is why they do well to keep away from specifics here and instead focus on the grander picture that is Corman's world.

I got worried early on that this was going to be a documentary that relied heavily on Roger telling his own stories, with some peppered-in comments from a few vaguely well-known former actors telling us about the dramatics of working on one of his low-budget films. You know who showed up to prove me wrong? Jack Nicholson. Quite possibly the most famous of all of Corman's former talent, Nicholson delves into his history and discusses how he came to work with Corman (the only guy who would give him a job at the time), how they worked together, the duties (and double duties) that he pulled, why they split… and then Jack gets so emotional about his feelings towards Corman that he literally CRIES during the interview. Among the other heavyweights who drop in to shine some love onto Roger: Ron Howard, who is interviewed in a graveyard; Bruce Dern, who's in the middle of getting a haircut (!) when he gets his moment; Jonathan Demme, riding in a limousine; the inimitable Dick Miller, and many more. It almost felt like a running joke to see where some of these guys were getting interviewed. I mean, Bruce Dern is sitting in a chair at a friggin' Fantastic Sam's or something while the filming takes place. It definitely keeps things more interesting than most documentaries where everyone is interviewed with the same exact backdrop behind them.

Another thing I wasn't expecting was the inclusion of archival interview footage of deceased stars talking about their experiences working with Corman. One was slightly expected, though: David Carradine. Other than his work on "Kung-Fu" (1972-1975), Carradine was best known for one of Corman's more popular productions, "Death Race 2000" (1975). The footage of him looks pristine, likely taken only a short time before his untimely demise. We also get some face time with director Irvine Kershner (he did some space film people seem to like), and one of my favorite Corman actor/directors, Paul Bartel. Even more impressive is that all of this footage is seamlessly integrated, so that even the clips of Bartel flow organically within the picture. Nothing looks too vintage or beaten up.

I don't want to spoil any of the stories here because, well, that's a great majority of the fun in watching a picture like this. You have to hand it to a man who has been able to buck the system, operating outside the norm by his own standards and his own rules, and in the process he's launched dozens of Hollywood careers, produced a countless number of films that have, and will continue to, stand the test of time. Corman might not be making them like he used to (the recently released "Camel Spiders" (2012) might just be the worst thing with his name attached… and that's certainly saying something), but the fact is that he's STILL making them despite the fact that he's well into his 80's! That proves that, while ostensibly his motives are financial, the truth is that the man simply loves what he does. And with any luck, he'll be doing it until the day he dies. There's a comfort in knowing that the King of B Movies is still out there, doing what he does best, and nobody will ever be as prolific or independent.

Video


Anchor Bay Entertainent present the documentary to the UK market in an aspect ratio of 1.78:1 which uses an AVC MPEG-4 coded. As per usual with documentaries that features a large amount of archival footage, the quality of the transfer does differ throughout.

Let me start by saying that all the footage shot exclusively for this documentary, be it interviews or following Corman as he works behind the scenes of a recent movie, is exemplary. Detail is strong, colours vivid, and there are no problems with edge enhancement, aliasing, dirt, scratches or digital noise reduction. The archive footage looks closer to VHS/DVD quality, depending on the source material that was available to filmmaker Alex Stapleton at the time. I won't take this footage under too much consideration in the final score, but it is worth noting that some of the films have been released on DVD at least, looking better than the footage included here.

Audio


There is a single audio track included here:
- English Dolby TrueHD 5.1

As should be expected for a dialogue heavy documentary, the mix is very much focused on the front speakers. The rears are used on occasion for the score, but this would've worked just as well as a simple stereo mix. The audio sounds clear for the majority, though certain elements of the archival footage are not as clean as they could be, and on occasion lack depth and fidelity.

Subtitles are available in English HoH and Spanish.

Extras


"Extended Interviews" (1080p, 13:08), is exactly what it says on the tin. It features longer interview segments that were trimmed down from the documentary. Most notably Eli Roth talks about how he met Corman and Ray Harryhausen on the same day and how Corman asked him to make a movie for him after the financial success of Cabin Fever. Roth goes on to tell us he tried to get Corman to finance Cabin Fever 15 times, but was rejected each time due to the costs. Also of note is Ron Howard who talks more in-depth about making Grand Theft Auto and how Roger Corman was to work under. Martin Scorsese is the final participant who talks about how Boxcar Bertha helped him figure out exactly where he belongs in filmmaking, and how to use his time on set.

"Special Messages to Roger" (1080p) (15:12) is a rather pointless but heartwarming selection of industry colleagues backslapping Corman. Nothing particularly exciting.

The extras package finishes with a theatrical trailer (1080p, 2:06).

Overall


Film reviewed by Anthony Arrigo.
A/V and extras reviewed by Samuel Scott.
| | | | | |
| --- | --- | --- | --- | --- |
| The Film: A | Video: B | Audio: B | Extras: D+ | Overall: B |