The Film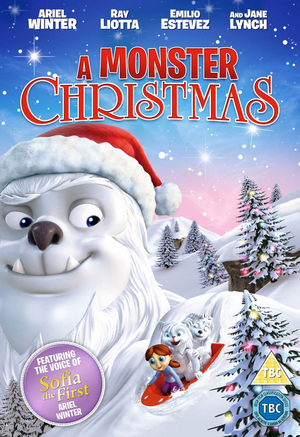 ***This is a technical review only. For reviews on the movie from various critics, we recommend visiting HERE.***

Despite repeated warnings from their father about the most feared animal ever, HUMANS, two Snowkids find themselves in a sleepy mountain town after being chased by a scientist determined to capture them, resulting in them being taken in by a seven year-old girl, against her family's will.

With Christmas fast approaching, the Snowkids father, the scientist, and the local Animal Control all try to track the Snowkids down, while the human family just tries to stay sane when they realise exactly what they've taken into their home!

Will the hapless pair be captured or will their father find them in time, ensuring that they and the humans have a very merry Christmas?

With the voice talent of Ariel Winter (Sofia the First), Ray Liotta (Bee Movie), and Jane Lynch (Glee).

Video


Kaleidoscope Home Entertainment debut "A Monster Christmas" in the United Kingdom in the original aspect ratio of 1.78:1 which has been anamorphically enhanced. It's a technically solid presentation.

One thing should be noted immediately. Although the animation is good, it has obviously been done on a budget so has detail limitations and is quite basic. Despite this, the picture quality is solid throughout, only occasionally suffering from sharpness to edges and depth of colours. Set primarily in snowy backgrounds, the clarity of the abominable snowkids never deteriorates into the background, and despite some minor blocking due to the animation process, there is reasonable distinction in the the various shades. As should be expected for such a recent animated feature, there were no signs of damage at all, and I noticed no compression issues - hardly a surprise considering the short length of the feature.

The disc is PAL and the film runs 41:41.

Audio


There are two audio options available here:
- English Dolby Digital 5.1
- English Dolby Digital 2.0 Stereo

I opted to use the 5.1 track for my viewing, and it should be noted that you will need to put the 5.1 audio on manually, either with the remote, or via the menu, thanks to the stereo track playing by default. The track uses the surrounds mainly for the score, and occasionally for effects. There is some good directionality with the subtle effects such as a laptop being typed on, or the knocking on the front door by the scientist. Dialogue generally comes through the centre channel, and is perhaps a little loud at times in comparison to the score, but every word is crystal clear. There were no scratches or dropouts, and I noticed no background hiss.

No subtitles have been included.

Extras


Only a start-up trailer for "When Santa Fell to Earth" (1:07).

With such a good voice cast present including Ray Liotta, Jane Lynch, and future megastar Ariel Winter, some interviews or a featurette on the voice dubbing would've been a welcome addition.

Overall


A Monster Christmas is nothing new, but I can't imagine that any kids aged 8 and under would be disappointed to receive this in their stocking come Christmas. It receives a solid technical presentation to boot.

Released 28th October 2013.
| | | | | |
| --- | --- | --- | --- | --- |
| The Film: C+ | Video: B | Audio: B | Extras: E | Overall: C+ |