Super Hybrid AKA Hybrid (Blu-ray) [Blu-ray]
Blu-ray B - United Kingdom - G2 Pictures
Review written by and copyright: Samuel Scott (15th October 2013).
The Film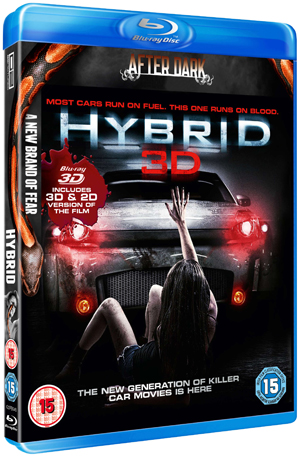 ***This is a technical review only. For reviews on the movie from various critics, we recommend visiting HERE.***

Since the beginning of time a breed of creatures has lived unnoticed among human civilization. This perfect predator has successfully camouflaged its existence through an unparalleled ability to change form. Today the hybrid creature has found the perfect form - the automobile - allowing both anonymity and mobility with the ability to hunt virtually undetected... until now.

HYBRID 3D is a suspense-filled, fast-paced action thriller with stunning special effects that will leave audiences gasping for breath, and wary to ever walk alone to their car again.

Most cars run on fuel. This one runs on blood.

Video


G2 pictures release Hybrid (AKA Super Hybrid) in the United Kingdom on a disc which features both 2D and 3D versions of the movie. The 2D version uses an AVC MPEG-4 codec, whilst the 3D version uses an MVC codec. Both are 1080p and in the original aspect ratio of 2.35:1.

I opted for the 3D version for my viewing, which was disappointing, but not unexpected considering the budget. The opening and ending credits showcase the best 3D, with good depth to an overhead view of a city road system and to city landscapes. Apart from that, depth is lacking throughout. There are several good pop-outs, usually when there is a crash of cars, with glass and metal shards shattering out the screen. Other attempts at depth and pop-outs are very much lacklustre, most notably attempts to have parked cars protrude the screen. After the initial crash incident in the opening scenes, the back of a police car pops out the screen slightly, but looks amateurishly done and unnatural. There was also quite a bit of ghosting present throughout, particularly surrounding lighting. Detail is average, with facial close-ups looking okay, but background items and locations lacking any real sharpness. There are no problems with edge enhancement, dirt or scratches.

The disc is region B locked, and 94:36.

Audio


There is a single audio option available here:
- English DTS-HD Master Audio 5.1

The sound is quite basic, with not too much going on in the surrounds apart from some tyre squeal and the sound of crunching metal. In fact, the surrounds are mainly used for the rather mediocre score, which is a by-the-numbers genre effort. Separation is good for the most part, and directionality okay, but more could've been done to intensify the feel of the dark, drab, garage environment. Dialogue is clear at all times, and there were no signs of damage to the track by way of dropouts or scratches.

No subtitles have been included.

Extras


Start-up Trailers:
- "Alone" (1:31, 3D)
- "Rogue River" (2:10)
- "There Be Dragons" (2:19)
Theatrical Trailer (2:12)

Overall


Note: 3D receives a D+. Picture score is based on the picture overall.
| | | | | |
| --- | --- | --- | --- | --- |
| The Film: D+ | Video: C | Audio: C+ | Extras: E | Overall: D+ |

---
DVD Compare is a participant in the Amazon Services LLC Associates Program and the Amazon Europe S.a.r.l. Associates Programme, an affiliate advertising program designed to provide a means for sites to earn advertising fees by advertising and linking to amazon.co.uk, amazon.com, amazon.ca, amazon.fr, and amazon.de.