Che: Part One AKA The Argentine (Blu-ray) [Blu-ray]
Blu-ray B - United Kingdom - Optimum Releasing
Review written by and copyright: Samuel Scott (17th October 2013).
The Film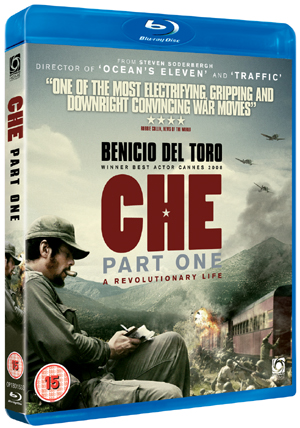 ***This is a technical review only. For reviews on the movie from various critics, we recommend visiting HERE.***

Directed by Academy AwardŽ-winning filmmaker Steven Soderbergh (Ocean's Eleven, Traffic), Che: Part One stars Benicio Del Toro (The Usual Suspects, 21 Grams) in a career-defining role that won him the Best Actor award at the 2008 Cannes Film Festival.

Partly based on his own memoirs (Reminiscences of the Cuban Revolutionary War), Che: Part One follows Ernesto Che Guevara's transformation from humble physician to military leader during the Cuban Revolution, depicting his eventual overthrowing of the repressive Batista regime. Meticulously researched and containing intense and realistic depictions of guerrilla warfare, this is a captivating portrait of one of the most controversial figures of the Twentieth Century. An astounding and moving story of one man's belief and the events that would eventually shape him into becoming a legendary symbol of rebellion and hope.

Video


Optimum Releasing release Che: Part One for British audiences on Blu-ray in the original aspect ratio of 2.40:1. The transfer uses an AVC MPEG-4 codec, and is 1080p. I feel it gives a good representation of what Soderbergh was aiming for.

As anyone who has viewed Steven Soderbergh's movies will know, he tends to deploy various different styles in his movies, and Che is no different. We have interview scenes with a journalist in which contrast has been intentionally turned up quite high giving these segments the feel of a legitimate vintage newsreel interview. The rest of the movie is also strongly presented, despite the minor edge enhancement that becomes noticeable from time to time. The jungle foliage is detailed, and the greens lush and vivid, whilst facial close-ups look excellent. Shadow detail could've been better, but is still above average. I noticed no aliasing, dirt or scratches.

The disc is a BD50 and is region B locked. The film runs 134:03.

Audio


Just a single option available here:
- English DTS-HD Master Audio 5.1

Like the transfer, the audio is a strong showing. It's very subtle for the majority, but makes great use of the surrounds as people move around the jungle foliage. The surrounds and LFE move up a gear during fighting scenes though, with gunfire and explosions used to great affect. Directionality and separation is also noteworthy, but not quite reference quality. Dialogue is always clear, and there were no signs of any dropouts, scratches or background hiss.

Optional English subtitles are available, but for Spanish dialogue only - a travesty for those who are deaf or hard of hearing. How much extra effort would it have been to subtitle the other 10% of the feature?

Extras


First up, we have a featurette entitled "Che" (10:49). This is an all too brief look at the film and the legacy of Che featuring interviews with director Steven Soderbergh, and cast members Benicio Del Toro and Damian Bichir. Basic stuff.

Next we have an interview with director/cinematographer Steven Soderbergh (13:19) which is an interesting and informative piece about the struggles Soderbergh had in getting finance, filming the feature, and how strong Del Toro felt about getting the movie made. Best question is about the audience reaction to the film.

The rest of the extras are self-explanatory.
Start-up Trailers:
- "Gomorrah" (2:01)
- Maltesers advert (0:32)
- "Vicky Christina Barcelona" (2:41)
- "The Wrestler" (2:20)
- Sky HD advert (0:37)
Teaser Trailer (1:18)
Theatrical Trailer (1:26)

Overall



| | | | | |
| --- | --- | --- | --- | --- |
| The Film: B+ | Video: A- | Audio: A- | Extras: D | Overall: B+ |

---
DVD Compare is a participant in the Amazon Services LLC Associates Program and the Amazon Europe S.a.r.l. Associates Programme, an affiliate advertising program designed to provide a means for sites to earn advertising fees by advertising and linking to amazon.co.uk, amazon.com, amazon.ca, amazon.fr, and amazon.de.