The Film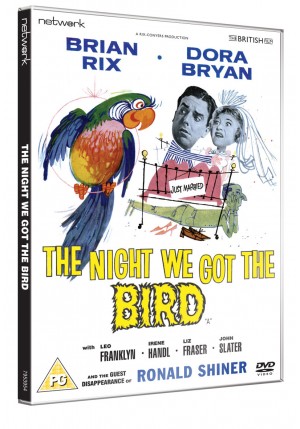 The Night We Got the Bird (Darcy Conyers, 1961)
Based on Basil Thomas' 1958 play The Lovebirds (subtitled: 'A Laughter and Nonsense Show'), Darcy Conyer's film The Night We Got the Bird (1961) is a slapstick farce that was also the final film of actor Ronald Shiner. Shiner plays Cecil Gibson, and the film opens outside the home of his extended family in Brighton. Gibson, a crooked antiques restorer and dealer, returns home in his van, in the early hours of the morning, and is greeted by a passing policeman, PC Lovejoy (Terry Scott). 'Good evening, Lovejoy', Gibson asserts. 'You mean, "Good morning", sir', Lovejoy corrects him. 'Depends what you've been up to', Gibson responds before attempting to sneak into the house.

Inside the house we find chaos as Fay (Liz Fraser) wakes the whole household by shouting and demanding shrilly to know where her pink lipstick is (''ave you seen my pink flash?', she screeches). As Gibson tries to sneak into this bedlam, he is confronted by his wife Julie (Dora Bryan).

Later, when Gibson drives to work, he is confronted by another character: Wolfie Green (John Slater) and his 'stooge' (Denis Shaw). Wolfie demands that Gibson restore a four poster bed for him ('and I want it to look like new, or else someone's going to have the pleasure of scraping you off the Brighton front'). However, Gibson has other plans: he intends to sell the bed and manufacture a home-made copy which he will then pass on to Wolfie.

To aid him in his devious endeavours, Wolfie hires the blustering Bertie Skidmore (Brian Rix) as a salesman in his shop. Wolfie's intent is that his customers do not think the childlike Skidmore (who speaks with a pronounce stammer and who, in his first scene, is introduced in a suit and bowler hat: shorthand in many British farces for a naïve character) is capable of swindling them. To this end, Wolfie employs Skidmore to unwittingly sell the fake 'antiques' he and his assistant 'Chippendale' Charlie (Reginald Beckwith) have made to his customers – including an old lavatory seat which is transformed by Skidmore into an 'antique' 150 year old mirror, and is bought from Skidmore by Ma (Irene Handl). ('There's been many a rosy cheek framed in that', Skidmore tells Ma during his sales pitch to her.)

However, one day Gibson is killed in a car accident after being chased by an irate Wolfie – who has discovered Gibson's plan to defraud him over the four poster bed. Shortly afterwards, Skidmore marries Julie. After the ceremony, they return home to find that a mysterious person has given them a South American parrot as a wedding gift. It isn't long before Skidmore becomes convinced that the parrot is in face a reincarnated Gibson. ('That voice reminds me of my late friend Cecil', Skidmore says when the parrot speaks to him on Bertie and Julie's wedding night. 'That's right. Not so much of the late. Got here in ruddy time, didn't I?', the parrot responds.) Skidmore soon withdraws from Julie and appears to undergo some sort of breakdown.


The film offers some obvious crude humour: Skidmore is introduced as he enters Gibson's shop. 'That's a perfect French bust', Skidmore notes. 'Oooh, thanks', Gibson's female employee responds as a cut reveals her to be seated in a chair, her ample cleavage exposed by her low-cut top. Elsewhere, Gibson and 'Chippendale' Charlie manufacture 'a genuine Chippendale chair' but firing a shotgun at an old wooden armchair so as to simulate woodworm holes.

One of the highlights of the film is an effective comic montage that depicts Skidmore, after being employed by Gibson, selling various fake antiques to the marks who enter Gibson's shop. Another joke that works nicely takes place after Skidmore and Julie's wedding: they flee from the family and climb aboard an open top bus. 'Any room on top?', they ask. The conductor takes a look at them, noting Julie in her wedding dress, and responds: 'Depends what you want to do, mate'. The humour here arises from the incongruous sight of Skidmore and Julie, in their wedding attire, aboard a Brighton tourist bus. Shortly afterwards, Julie's father Victor tells the couple that he hopes to have a grandson: 'Keep up your strength for the honeymoon', he tells Bertie. 'Aye, that's right. It's a long way to Weston-Super-Mare', Bertie responds. The climax of the film depicts the bird escaping and Bertie attempting to recapture it. Bertie's pursuit of the bird takes him to a funfair, which leads to some fairly amusing, if fairly obvious, physical jokes.


Such jokes may seem obvious but they are presented convincingly by the cast. In particular, Shiner's voice animates the parrot. (In fact, Andrew Spicer refers to Shiner, 'with his huge beaked nose, slits for eyes, convex body and screeching, squawking voice', as 'a parrot in human form' (2003: 114).) However, the film is not without its vocal critics. Writing in a book about motorcycles, Rod Burris (2010) suggests that 'the only reason anyone would want to watch this Shepperton Studios slapstick comedy/farce' would be to see Liz Frazer's character's boyfriend's 'fairly standard Viper or Venom [motorcycle], but with a 21 inch wheel, knobbly front tyre and alloy guard' (66). Likewise, in his book British Film Character Actors Terence Pettigrew (1982) twice refers to The Night We Got the Bird as 'mindless': his entry on Reginald Beckwith refers to the film as 'a mindless farce', and his later entry on Ronald Shiner amends this description slightly, referring to the film as 'a dreary, mindless concoction, involving a ludicrous parrot' (28, 184). These comments are a little harsh but not hugely wide of the mark: ultimately, The Night We Got the Bird is a mildly amusing affair, uninspiringly shot but kept alive by the performers. The pre-titles sequence, which has nothing to do with the film's narrative, depicts an elderly man in a wheelchair chasing a woman dressed as a nurse before putting money into an old-fashioned What the Butler Saw-type rotoscope machine. The title of the machine: 'The Night We Got the Bird'. This gag, which opens the picture, underscores the film's status as a somewhat crude, largely forgettable diversionary entertainment.

Including the original BBFC certificate and (not so vintage) Studiocanal logo which precede the film (both of which total c.20s), the running time of this disc is 78:40 mins (PAL). The BBFC website indicates that the original cinema release was cut, but does not specify a length or running time. On the other hand, both the pressbook (included here as a PDF file) and the BFI list the film's original running time as 82 minutes. The specific length of the film is cited in the pressbook as 7349 feet, which equates to a film running time of 81:39 and a PAL runtime of 78:23. This evidence seems to suggest that this DVD presents the film in its original UK cinema version, as cut by the BBFC in 1960.


Video


The film is presented in what seems to be its original aspect ratio of 1.66:1, with anamorphic enhancement. The monochrome photography is presented very well here, with very strong contrast and good detail. There is some very minor damage here and there, but on the whole this is a very good presentation of the film.





Audio


Audio is presented via a two-channel mono track. This is clean and free of issues. There are no subtitles.

Extras


Extras include a stills gallery and the film's original pressbook (as a PDF file).

Overall



The Night We Got the Bird is no classic, but it is an amusing example of British comic cinema. The performances are uniformly good, but on the whole the film is very flatly shot and given little life through its direction. The presentation of the film on this disc is very good, with strong contrast and a crisp, clear image. At the moment, it's a little unclear as to whether this version of the film is cut as per the original UK cinema release, but the running times of this disc and the quoted running time of 82 minutes on the BFI's website (if the latter is accurate) would seem to indicate as much.


References:
BFI Film & TV Database: 'The Night We Got the Bird' release details. [Online.] http://ftvdb.bfi.org.uk/sift/title/64039?view=release

Burris, Rod, 2010: Velocette Motorcycles: MSS to Thruxton. Dorchester: Veloce Publishing, Ltd (Third Edition)

Pettigrew, Terence, 1982: British Film Character Actors: Great Names and Memorable Moments. Maryland: Rowman & Littlefield

Spicer, Andrew, 2003: Typical Men: The Representation of Masculinity in Popular British Cinema. London: I B Tauris




For more information, please visit the homepage of Network and take a look at Network's The British Film page.

This review has been kindly sponsored by:


| | | | | |
| --- | --- | --- | --- | --- |
| The Film: | Video: | Audio: | Extras: | Overall: |