The Film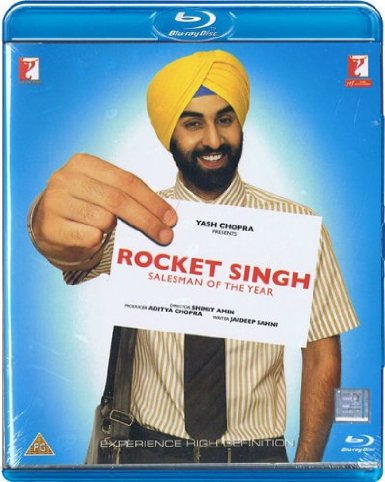 ***This is a technical review only. For reviews on the movie from various critics, we recommend visiting HERE.***

Harpreet Singh Bedi (Rambir Kapoor) has just graduated, and his marks are, well, let's say a little embarrassing. But marks never stopped him from dreaming of an exciting and adventurous career, and they never will.

He takes a deep, positive breath and dives into the world of sales, rumoured to be an ultra cool career for all smart people blocked from entering medical, engineering or business schools by brainless entrance exams. It's everything he dreamt of, with its smooth dressing, smoother talking men and women who can sell ice to an eskimo, dreams to an insomniac, and a lifetime mobile connection to a dying man. But soon, his idea of success begins clashing with the strange ways of these 'professionals' he looked up to.

"Rocket Singh: Salesman of the Year" is the sometimes thoughtless, sometimes thoughtful story of a fresh graduate trying to find a balance between the maddening demands of the 'professional' way, and the way of his heart - and stumbling upon a crazy way which turned his world upside down, and his career right side up.

Video


Yash Raj Films have released Rocket Singh: Salesman of the Year onto Blu-ray in India in the original aspect ratio of 2.35:1. The transfer is 1080p and uses an AVC MPEG-4 codec. The quality is good, but does suffer from a few flaws.

The biggest flaw for me, were the Yash Raj Films watermarks which show up whenever a song starts. These watermarks only appear if you have the subtitles on, but as I am not a Hindi speaker, I required the subtitles, and therefor had to make do with the watermarks. The contrast levels seemed to be boosted a little high, with some scenes appearing to be a little too warm, especially with regards to reds. Black levels are good, and detail is generally strong, though every now and then, the lack of clarity in lighter colours causes detail to lessen (such as the design in Rocket's shirt at the start of the film). Some minor aliasing was also present, but not enough to be of any concern and there was also some signs of compression related issues present. The print itself is clean, with no scratches or dirt, and very minor natural grain.

The disc is region free, and the feature runs 154:11.

Audio


There are two audio options included here:
- Hindi DTS-HD Master Audio 5.1
- Hindi Dolby Digital 5.1

I opted for the DTS-HD Master Audio track and found it to be decent, if a little underwhelming. There was some minor background hiss during several scenes, and although the surrounds and LFE are used plenty for the very enthusiastic score, I found there to be a lack of subtle effects apart from the occasional ringing telephone. Admittedly, the theme song that plays over the final credits is very well mixed and includes some surprisingly good channel separation, with the back-up singers coming through the rears, but not loud enough to outshine the main performer. Bar the background hiss, there was no damage to the audio with no dropouts or scratches present.

Optional subtitles are available in Arabic and English. I viewed the movie using the English subtitles, which were clear, easy to read and well-paced. There were a few grammatical errors, but nothing unforgivable.

Extras


On the Blu-ray disc, only a song selection is available:
- "Gadbadi Hadbadi"
- "Pankhon Ko"
All this does is jump to the moment in the film in which the song plays.

The rest of the extras are on a DVD which does not include a standard definition copy of the film.

The "Making the Film" featurette (23:21) is mainly in Hindi but does have one or two interview segments in English. To be honest, I found this a difficult watch because of the non-English friendly elements that were included.

The "Pocket Mein Rocket" music video (3:25) is just that, a music video. It's the theme tune for the film and is quite bass heavy. It has a kind of hip hop and pop feel with a typical Bollywood twist. Not my type of thing, but not awful.

The "Making of Pocket Mein Rocket Music Video" featurette (4:41) is a short look behind the scenes of filming the music video. In English, it features a few short interviews as well as some amusing outtakes from the filming of the video.

Next we have a large selection of deleted scenes (20:37). Unfortunately, these are in Hindi without subtitles, so I cannot comment further.

The bloopers (5:42) are a selection of cock-ups in line delivery, but in Hindi without subtitles, so was lost on me.

A selection of deleted montages (8:46) is essentially several scenes of the film edited together to music from the film, that were deleted from the feature.

The final extras are unsubstantial and self-explanatory:
"Forthcoming Attractions" reel (3:01)
Start-up Trailers (3:52):
- "Pyaar Impossible"
- "YRF Film Television Company"
Theatrical Trailer and Promos (6:47)

Overall


Please note, due to the extras not always being English friendly, I have given the extras score based on what I could view. If you understand Hindi, you will get more out of the extras package than I did.
| | | | | |
| --- | --- | --- | --- | --- |
| The Film: B- | Video: B- | Audio: B- | Extras: D+ | Overall: B- |