Renoir
R2 - United Kingdom - Soda Pictures
Review written by and copyright: Samuel Scott (26th October 2013).
The Film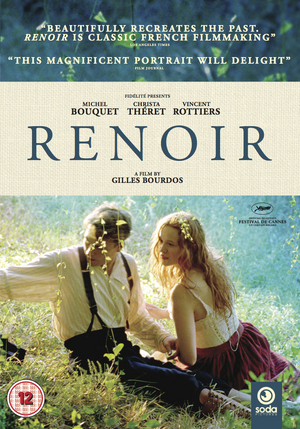 ***This is a technical review only. For reviews on the movie from various critics, we recommend visiting HERE.***

The Cote d'Azur, 1915. The great painter Pierre-Auguste Renoir is in his twilight years, tormented by the loss of his wife and the news that his son Jean has been wounded in WW1.

When a young girl enters his idyllic Mediterranean world, Pierre-Auguste rejuvenates and becomes newly inspired by her beauty and spirit.

But when Jean returns home to convalesce - and in the face of his father's fierce opposition - he falls in love with the muse, and within the battle-shaken Jean, a filmmaker begins to grow.

Video


Soda Pictures presents Gilles Bourdos' 2012 film Renoir in the original aspect ratio of 1.85:1. The first thing you'll notice is just how vivid the impressionistic colour scheme used throughout the feature is. If you are familiar with Renoir's paintings, then you'll know just how powerful his selections of oranges, greens and reds can be, and Taiwanese cinematographer Ping Bin Lee has managed to capture this beautifully. It is most prevalent in Andrée Heuschling's (Christa Theret) clothing and flowing red hair, but the fields and shrubberies also show off this colourful palette well. Thankfully, these colours are well represented in Soda's transfer, although black levels could've been a little darker at times. I did notice some edge enhancement from time to time, and a couple of the outdoor scenes were grainier in comparison to the rest of the feature, but the grain was never overpowering and made for a natural filmic quality for the vast majority. At times, the camera purposely loses focus to give off the effect that we are looking at a watercolour painting, and this mesmerised me when it occurred. Detail was good, but not fantastic, and shadow detail was often lacking. I noticed no signs of damage to the print such as scratches or dirt. It should be noted that some may find the skin tones to be overly warm, but in my opinion, this is due to the colour scheme used and as intended.

The disc is region 2 encoded, and the feature runs 107:15.

Audio


There are two audio options here:
- French Dolby Digital 5.1
- French Dolby Digital 2.0 Stereo

I opted for the 5.1 audio for my viewing. Renoir is very much a dialogue driven film, and therefor the surrounds are not used for some reasonable lengths of times. This can be forgiven, because when these droughts in surround use happen, there is no score and the environments tended to be closed off rooms. When the story takes place outside in fields, the surrounds get a little subtle use from very light animal noise such as chirping birds, but other than that, they are quiet in this respect and kept almost solely for the score by Alexandre Desplat which is well separated between the speakers depending on the instrument. Dialogue was clear at all times, and there were no scratches or dropouts present.

Optional English subtitles have been included.

Extras


Start-up Trailers:
- "Museum Hours" (2:04)
- "Monsieur Lazhar" (2:05)
- "Sister" (1:54)
Theatrical Trailer (1:50)

Overall


With the vivid imagery and colour scheme that is present here, Renoir is crying out for Soda to release the title in Blu-ray, but the DVD is a solid presentation that is certainly worth buying.
| | | | | |
| --- | --- | --- | --- | --- |
| The Film: B | Video: B+ | Audio: B | Extras: E | Overall: B |

---
DVD Compare is a participant in the Amazon Services LLC Associates Program and the Amazon Europe S.a.r.l. Associates Programme, an affiliate advertising program designed to provide a means for sites to earn advertising fees by advertising and linking to amazon.co.uk, amazon.com, amazon.ca, amazon.fr, and amazon.de.