Smash and Grab: The Story of the Pink Panthers
R2 - United Kingdom - Kaleidoscope Home Entertainment
Review written by and copyright: Samuel Scott (28th October 2013).
The Film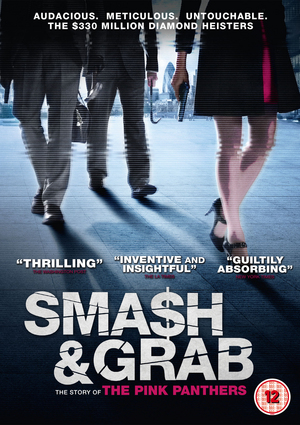 ***This is a technical review only. For reviews on the movie from various critics, we recommend visiting HERE.***

The Pink Panthers are the world's most successful diamond thieves - having stolen more than $330 million worth of jewels from boutiques in the world's most opulent cities. With incredible unprecedented access, gang members Mike and Lela tell their story using a unique and cutting edge animation style (for obvious reasons they wouldn't show their faces).

In addition, we see an interview with Lucky, a courier, and Mr. Green, the fence, or final link in the illicit diamond trade. Intercut with their stories are Inspector Yaan Glassey of the Geneva Anti-Criminal Brigade and Captain Hervé Conan of the Paris police. They describe their ambitions and achievements in the global mission to track the gang down and take them to court.

Smash & Grab the inside story of the world's most infamous criminal gang.

Video


Kaleidoscope Home Entertainment release Smash and Grab: The Story of the Pink Panthers onto DVD in the original aspect ratio of 1.85:1, which has been anamorphically enhanced. I had previously seen this documentary just a few weeks ago, as part of the BBC documentary series, Storyville, and this DVD looks just like the television broadcast. As to be expected for a documentary, the picture quality does vary from scene to scene depending on whether it is a stationary pre-set interview, on the fly footage, or archival footage. The pre-set interviews do look great, with good detail and strong colours. The footage taken on the move isn't quite as good, and sometimes lacks a little sharpness. The archival footage is of mixed quality, from a phone camera, through to old American footage about Yugoslavia. Overall, the picture quality is as you would expect for such a new documentary, and there are certainly no causes for concern.

The disc is PAL, and the feature runs 89:28.

Audio


There are two audio options available:
- English Dolby Digital 5.1
- English Dolby Digital 2.0 Stereo

I opted for the 5.1 track, and I have to admit, I was taken aback by just how active it was in comparison to most documentaries. Sure, the surrounds were not really used for anything apart from the often enthusiastic score, but the score did add a little excitement when showing footage of the pink panther gang committing robbery. The dialogue, and anything that actually happens on screen, is kept for the front speakers. Dialogue is clear at all times, and I noticed no scratches or dropouts. I detected zero background hiss.

No subtitles have been included apart from where people are not speaking English, a shame considering the number of deaf and hard of hearing people in the UK.

Extras


Nothing at all.

Overall



| | | | | |
| --- | --- | --- | --- | --- |
| The Film: B+ | Video: B+ | Audio: B- | Extras: F | Overall: B- |

---
DVD Compare is a participant in the Amazon Services LLC Associates Program and the Amazon Europe S.a.r.l. Associates Programme, an affiliate advertising program designed to provide a means for sites to earn advertising fees by advertising and linking to amazon.co.uk, amazon.com, amazon.ca, amazon.fr, and amazon.de.