Camp 14: Total Control Zone
R2 - United Kingdom - Kaleidoscope Home Entertainment
Review written by and copyright: Samuel Scott (30th October 2013).
The Film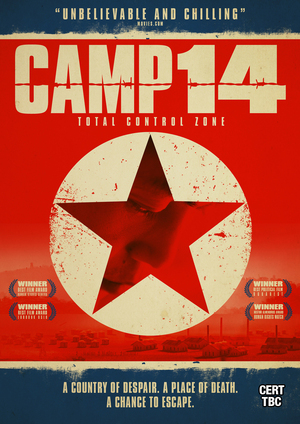 ***This is a technical review only. For reviews on the movie from various critics, we recommend visiting HERE.***

From director Mark Wiese comes the award winning, powerful story of Shin Dong-hyuk who was born as a political prisoner in a death camp in North-Korea.

From the age of six, he was subjected to forced labour, hunger, beatings and torture. He was always at the mercy of the wardens, and knew nothing of the world outside the barbed-wire fences. He thought everybody lived that way. With the help of an older prisoner, he succeeded in escaping at the age of 23 and encountered a world completely strange to him. Camp 14: Total Control Zone offers a unique insight into this incredible story; from one of the few people who can talk first-hand about the ordeal of being raised in a North Korean prison camp.

With CGI animation to bring his memories to life and the testimony of two former high-ranking North-Korean officers involved in the prison-camp system, Camp 14: Total Control Zone portrays shocking stories and perspectives in a film that is difficult to believe is real.

Video


Kaleidoscope Home Entertainment releases Camp 14: Total Control Zone onto DVD in an aspect ratio of 1.78:1 which has been anamorphically enhanced. As with any documentary, the picture quality varies throughout dependent on whether the footage is archival or newly filmed. Sometimes, the footage is incredibly difficult to watch, and you're actually glad the archive footage is of poor quality - scenes like the secret filming of a North Korean woman being wrapped around the head with a piece of wood and then getting her head stood on by a soldier. As seems to be the 'hot' documentary style right now, there are several animated scenes. These scenes look very strong and are easily the highlight of the transfer, using an anime style. Detail isn't always strong throughout, especially outside of the interviews, but it's not bad by any stretch of the imagination. As far as documentaries go, this is a typical transfer. Nothing to cause concern, yet nothing to get overly excited about.

The disc is PAL and the feature runs 101:46.

Audio


A single audio track has been included here:
- English/Korean Dolby Digital 2.0 Stereo

There is something very annoying about this track, and I think it is down to the filmmakers rather than the DVD release. Sometimes Korean dialogue is dubbed, and at other times, it is subtitled. Now, I don't mind to much either way (subs preferable), but documentary makers need to pick one or the other and stick with it for the duration, not change between the two in what appears to be a completely random manner. Other than this complaint, the audio is typical of a documentary. Dialogue is clear at all times, channel separation has been kept to a minimum, and there are no dropouts or scratches. Some occasional background hiss does sneak in, but in archival footage only, so is likely down to the source material.

English subtitles are only available for the non-dubbed Korean dialogue. They are forced.

Extras


None.

Overall


It's a depressing and harsh look at life in Camp 14, North Korea - and boy, will it open your eyes. The feature is on a technically competent disc but some extras about North Korea would have been an ideal addition to the overall package.
| | | | | |
| --- | --- | --- | --- | --- |
| The Film: B+ | Video: B- | Audio: B- | Extras: F | Overall: B- |

---
DVD Compare is a participant in the Amazon Services LLC Associates Program and the Amazon Europe S.a.r.l. Associates Programme, an affiliate advertising program designed to provide a means for sites to earn advertising fees by advertising and linking to amazon.co.uk, amazon.com, amazon.ca, amazon.fr, and amazon.de.