Blade (Blu-ray) [Blu-ray]
Blu-ray ALL - Holland - RCV
Review written by and copyright: Samuel Scott (18th December 2013).
The Film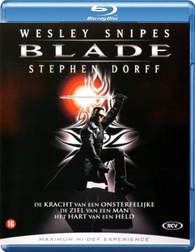 ***This is an A/V and extras review only. For reviews on the movie from various critics, we recommend visiting HERE.***

A blood-chilling, action-packed thriller about modern day vampires unlike any previously encountered. Wesley Snipes is BLADE, the ultimate vampire hunter, an immortal warrior who possesses the superhuman strength and cunning of a vampire but shares none of their weaknesses.

Able to walk by day and stalk by night, Blade must confront his ultimate adversary, the omnipotent vampire overlord Deacon Frost, Stephen Dorff, who is intent on leading an underground legion of vampires to conquer mankind. Blade must use his awesome powers and razor-sharp weaponry like never before to prevent the annihilation of the entire human race.

Video


Blade has been released on Blu-ray in Holland by RCV. The transfer is in the original aspect ratio of 2.35:1 using an AVC MPEG-4 codec. I have to admit that my expectations were not too high due to the amount of dark scenes in the movie, but I was left surprisingly impressed.

The opening scenes that take place in the vampire nightclub look phenomenal. The reds of the blood spray are vivid, whilst the detail on the clothes and faces of the many background actors is very good indeed. This is also the first time we see the visual effect used when a vampire is killed, and unlike some 1990's movies from this budget range, the sharpness of the HD transfer does not make the CGI look overly fake. For those worried about all the action that takes place in the shadows - don't be. Shadow detail is strong and although there is some occasional crushing of the blacks, clarity and sharpness is generally very good. The only other issue is some minor edge enhancement, but it's not noticeable enough to be too much of a problem.

The disc is region free, and the feature runs 120:16.

Audio


There is only one audio option available here; English DTS-HD Master Audio 5.1. Again, the audio impresses straight from the off, with the nightclub scene showing off good use of the LFE, and some solid channel separation and directionality with regards to thuds, crowd noise and the score. Not only does the score add adrenaline to action-packed scenes, it also adds tension during more suspenseful moments, such as when Blade finds out where the blood bank is. I noticed no signs of damage to the track such as dropouts, scratches or background hiss.

Optional Dutch subtitles are available, but on my player, they appeared to be wrongly flagged as French when accessing via the remote control. It should be noted that there are burnt in English subtitles for all vampire language.

Extras


Start-up Trailers (6:00, SD):
- "Resident Evil: Extinction"
- "Sin City"
- "My Bloody Valentine"

Overall



| | | | | |
| --- | --- | --- | --- | --- |
| The Film: A- | Video: B+ | Audio: B+ | Extras: E | Overall: B+ |

---
DVD Compare is a participant in the Amazon Services LLC Associates Program and the Amazon Europe S.a.r.l. Associates Programme, an affiliate advertising program designed to provide a means for sites to earn advertising fees by advertising and linking to amazon.co.uk, amazon.com, amazon.ca, amazon.fr, and amazon.de.