The Film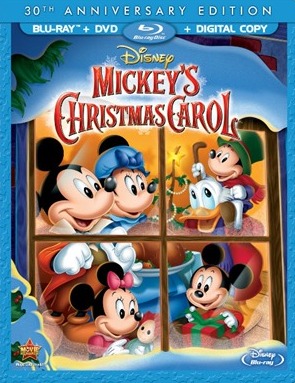 When it comes time to watch Christmas classics after Thanksgiving hits the rear view mirror, one timeless short film has proven to have immense replay value during its now thirty year history. Disney's "Mickey's Christmas Carol" (1983) is their popular retelling of Charles Dickens' 1843 short story, "A Christmas Carol", though as you'd expect from a Disney animated short the cast is made up of certain familiar faces. The miserly old Ebenezer Scrooge is played by Scrooge McDuck, while his undervalued, overworked employee, Bob Cratchit is represented by none other than Mickey Mouse himself. There's always been a special magic to Disney's classic fables, where they're able not only to entertain kids and adults alike, but they can also imbue the simplest of stories with bouts of laughter and emotion. Dickens' classic tale is the perfect foundation for Walt's empire to build upon, using clearly defined characters that most will already know. Even those who haven't seen or read a lick of Dicken's tale will be able to follow this condensed version quite easily.

For those unfamiliar, the story follows the world's most infamous tightwad, Ebenezer Scrooge, as he obsesses over his vast fortune and belittles all around him. He cares not for anything other than his precious wealth, even responding to a simple Christmas salutation with his trademark "Bah, humbug!" One night, Scrooge is visited by his old partner, his old deceased partner, Jacob Marley (Goofy), who tells him that three spirits will be paying him a visit on this night. Scrooge is afraid, but immediately dismisses the confrontation once Marley vanishes. But just as he had foretold, Scrooge is visited by three ghosts – of Past, Present, and Future – who show him how he has squandered his life away caring only for his money… but there's still time for him to make amends and live his life like a virtuous man.

"Mickey's Christmas Carol" was the first theatrical Mickey Mouse short film to be produced in over thirty years, not counting re-releases. There is no stated reason for why that was, but it was likely due to the studio focusing on other projects and an expansion of the Disney character universe. Who really knows? This short brought together many familiar faces, from various animated works stretching as far back as the 60's. The end result is a heart-warming tale that kids are bound to love, and most parents (especially in this age) probably grew up watching this themselves. Disney's retelling may even stand as the preferred version for many children of the 80's (this reviewer included), so it seems only fitting that they would pry open the vaults and finally release this on high definition.

Video


Yikes. Despite being billed as a restoration, the 1.78:1 1080p 24/fps AVC MPEG-4 encoded picture is quite ghastly. This is the sort of thing that children and "Joe Six Pack" won't notice or care about, which is exactly what Disney was probably counting on. The animation no longer has a classic aesthetic; it now looks so scrubbed, recolored, and digital manipulated that it might as well have been made yesterday. DNR plagues this image. There is no grain visible whatsoever, and everything has a shiny, waxy appearance. Worse yet, line work looks to have been overdone with a thick black Sharpie, giving all images a "heavy" look that seems incongruent with Disney's usual style of that period. Fine details are history; everything – background, foreground, literal ground – is a smudgy mess. A shot of Ebenezer's bedside candle looked so waxy and devoid of detail that it might as well have been rotoscoped. Is this Disney's poor attempt to bring the animation more in line with current standards? If so, stop it. Now. Because you are RUINING these films.

Audio


It's a bit better on the audio side of things, with an English Dolby Digital 2.0 stereo lossy track that at least sounds like it belongs to the period. It's nothing to crow about, but dialogue levels are balanced well in the mix. A few loud moments send a jolt of life through the track, such as when Marley trips down the stairs. Some of the voice work sounds very poor, almost like an echo. And totally flat. But it all fits the film just fine, and that's what matters most. Stereo tracks are also included in French and Spanish and subtitles are included in English for the hearing impaired, French and Spanish.

Extras


Disney included the easiest and best extras they could have – bonus holiday shorts! There's also a sing-a-long interactive feature, too, but that's way less fun as well as a handful of bonus trailers.

DISC ONE: BLU-RAY

A handful of bonus shorts (1080p), looking cleaned up and vibrant, are included to accompany this Christmas feature:

- "Yodelberg" runs for 3 minutes and 33 seconds, this new Mickey Mouse short was animated in a cool vintage style, with the mouse scaling a mountain to get his bride.
- "The Hockey Champ" runs for 7 minutes and 28 seconds, a classic Donald Duck short from 1939 about hockey, featuring his nephews Huey, Dewey, and Louie.
- "Pluto's Christmas Tree" runs for 6 minutes and 41 seconds, Mickey and Pluto chop down a tree, but Chip & Dale aren't pleased.
- "The Art of Skiing" runs for 7 minutes and 53 seconds, Goofy goes skiing. Enough said.
- "Corn Chips" runs for 6 minutes and 57 seconds, another classic Donald short.

"Disney Intermission" is an interactive feature that plays one of three songs – "We Wish You a Merry Christmas", "Deck the Halls", or "Jingle Bells" – when the film is paused.

Also included are bonus trailers (1080p) for the following:

- "The Jungle Book" runs for 1 minute and 14 seconds.
- "Frozen" runs for 1 minute and 37 seconds.
- "Planes" runs for 1 minute and 28 seconds.
- "Anti-smoking PSA" runs for 36 seconds.

DISC TWO: DVD

This is a DVD copy containing the same features as the Blu-ray and an insert contains information on redeeming the digital copy.

Packaging


The two-disc set comes in a standard Blu-ray keep case, with each disc housed on a hub opposite the other, a slip-cover is included for initial pressings.

Overall


Still a joy to watch all these years later, but, damn, what a dreadful image they produced for this hi-def debut.
| | | | | |
| --- | --- | --- | --- | --- |
| The Film: A | Video: C- | Audio: B- | Extras: A- | Overall: B |