The Film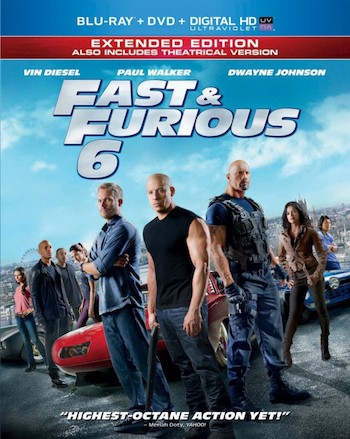 This past Thanksgiving the film world received shocking news, Paul Walker, the star of the successful "Fast & Furious" franchise was killed in a devastating car accident. It was news that came out of nowhere an a sad loss of a young and talented actor that was not only beloved by his fans but also his cast mates. His passing put the proverbial breaks on the recently still not complete "Fast & Furious 7" and with the release of "Fast & Furious 6" on Blu-ray led Universal to change it's marketing strategy and vowed to donate a portion of the sales to Walker's charity organization Reach Out WorldWide, which organizes medics and volunteers to respond to worldwide disasters. Only recently did news break that "Fast 7" has been given a new release date (April 10, 2015) but it's not clear how Universal intends to complete the film without Walker at this time. It's also rather surreal watching a film with an actor that has passed away so recently. The car chases and stunts are a constant reminder that the guy in this film died in a fiery car crash. With this still in mind, "Fast & Furious 6" remains as am excellent popcorn action guilty pleasure, in fact this series just kept getting bigger and better as soon as director Justin Lin took over directing duties.

Carrying over from the events in "Fast Five" (2011), the gang are living luxurious lives after getting away with their $100 million heist in Rio de Janeiro. Dominic Toretto (Vin Diesel), Brian O'Conner (Paul Walker) are living quiet lives on the Canary Islands, Brian recently a father with wife Mia (Jordana Brewster) are called back into service by Agent Hobbs (Dwayne Johnson) after a dangerous group of ex-military operatives lead by Shaw (Luke Evans) are causing grief for Interpol and are after a potentially devastating piece of technology. They have to be stopped, Dom, Brian and their crew are the only ones crazy enough to bring them down. The only problem is, previous thought dead Letty (Michelle Rodriguez) is running with Shaw's crew. Everyone's back in this new adventure including Roman (Tyrese Gibson), Han (Sung Kang), Gisele (Gal Gadot) and Tej (Ludacris) in a roller-coaster ride of action.

When the "The Fast and the Furious" (2001) was released over a decade ago, it marked the start of an all new obnoxious, over-the-top highly sexualized fuel-injected action films, a franchise that would deliver 6 films (with a 7th on the way) and coated in a bevy of beautiful babes, exotic locations and an ensemble cast that would - over the years, be one of the most fun casts to watch onscreen. I have to admit I was not a fan of the first two films in this series when they originally came out. They promoted a dangerous lifestyle, glamorized crime and that it pays to break the law because at the end you get hot girls and money! There was nothing remotely likable about any of the characters, aside from them being eye candy. And if you where around 16 years-old and possessed a penis then you are the appropriate target audience. But then something happened... Justin Lin came into the franchise with its third instalment "The Fast and the Furious: Tokyo Drift" (2006) featuring none of the cast from the previous two films and taking the series into a whole new direction, and since then Lin has been at the helm of each "Fast" film.

What Lin brought to the series was chemistry among the cast and most importantly a means to develop these criminal characters into likable rogues, modern anti-heroes while still maintaining the elements that made the series popular to begin with - hot cars and equally hotter women. I loved the banter between the cast, their interactions are part of what makes this series so much fun to watch.

The action is over-the-top and as the film progresses the action set pieces get faster and bigger in scale, from the film's London street chase to the tank sequence and finally the showdown on an airport runway that's so comically long - the runway just keeps going and going and going it's as if we're on a 30 mile long runway. These obvious leaps of logic and reality are however easily dismissed because you're totally engage in the action. The car stunts mix a combination of practical stunts with CGI and the melding of these elements really works to sell the sequences, in a nutshell they look terrific, fast, thrilling and on a certain level (granted a level of near-silliness) work.

It's a difficult balancing act dealing with a big ensemble and merging in one action spectacle after the next, and I think Lin has nailed the formula as each film gets better and better than the last. This 6th instalment is the biggest and most ridiculous of them all, but with all the eye-rolling moments scattered throughout the film, Lin manages to deliver an enjoyable ride for fans of the series and also manages to make new ones in the act (this reviewer being one of them).

Video


Presented in a widescreen ratio of 2.35:1 mastered in HD 1080p 24/fps using AVC MPEG-4 compression, the resulting image is fantastic. The image is beautifully detailed and sharp. Colors are bold and blacks are solid. I was impressed with the depth and detail of the image, even in night time scenes, which hold up spectacularly. Textures are excellent, skin tones look good and overall the print is clean from any edge-enhancements, DNR or compression related issues. In a nutshell this image can easily be considered reference quality.

Audio


Four audio tracks are presented here in English DTS-HD Master Audio 5.1 surround mixed at 48kHz/24-bit, French DTS 5.1 and Spanish DTS 5.1 surround as well as an English Descriptive Video Service Dolby Digital 2.0 stereo for the visually impaired. For the purposes of this review I chose to view the film with its English DTS-HD audio. Much like the image the sound is terrific. The surround mix features clean and clear dialogue, but it's the action scenes that truly shine, it's aggressive, loud, complex and fully immersive. Everything you'd expect from a big budget Hollywood action film. Furthermore the score uses the sound field brilliantly and the film's subtle and quieter moments are also handled well and mixed with precision. Subtitles are included in English for the hearing impaired, French and Spanish.

Extras


Universal has released this film with a ton of extras, not only do we get two versions of the film, we also have an audio commentary, a series of deleted scenes, fourteen featurettes, plus the usual resume playback and bookmarking features as well as a DVD version of the film. Below is a closer look at these supplements.

DISC ONE: BLU-RAY

As mentioned previously this disc features two versions of the film, the original "PG-13" theatrical version as well as an "Unrated" extended cut.

The longer cut of the film includes a feature-length screen-specific audio commentary with director Justin Lin. Lin provides a thorough and highly detailed track in which he analyses each scene in the film offer fans an in-depth look at the making of the film. He comments on the cast, working with such a fun ensemble, choreographing the action stunts and working with the visuals effects houses that merged CGI with the practical stunts to create some exciting scenes. He offers fan a lot of information about the production which fans will easily eat up.

Next up is "Fast & Furious 7 First Look" (1080p) featurette which runs for 1 minute 4 seconds, this is a short promotional look at the next film in the series.

A series of three deleted scenes (1080p) are included which run a total of 1 minute 40 seconds, it's easy to see why these scenes were omitted, they don't really add anything to the overall film. You can view these scenes individually or with a 'play all' option, they include:

- "Intro to CCTV"
- "Han & Gisele Talk"
- "Prison Guard"

The next supplement is "Take Control" (1080p) a featurette which runs for 19 minutes 18 seconds, this feature was originally intended to be a picture-in-picture interactive feature, but instead Universal opted to just present the clips here together as a single featurette. The following are a series of interviews with key cast and crew as they discuss various aspects of the film, mostly in regards to the action scenes, stunts, etc. To be honest I'm glad that Universal decided to present these clip in this fashion rather than spread under 20 minutes of content over the course of 131 minutes of film.

Next up are the "The Making of Fast & Furious 6" (1080p) a 4-part featurette that can be viewed individual or with a 'play all' option, they include:

- "Fastest of Them All" runs for 10 minutes 6 seconds, and takes a closer look at the overall aspects of this film, the direction the filmmakers wanted to go with this instalment.
- "Reuniting the Team" runs for 7 minutes 34 seconds, and takes a closer look at reuniting the cast together, working with them and the fun they have on set.
- "Letty's Return" runs for 4 minutes 42 seconds, takes a closer look at the return of this beloved character as well as re-shooting her death scene among other things.
- "Mastermind and the Mole" runs for 4 minutes 21 seconds, this clip takes a closer look at the villains of this instalment.

Next up are the "Planes, Tanks and Automobiles" (1080p) a 4-part featurette that can be viewed individual or with a 'play all' option, they include:

- "London Chase" runs for 7 minutes 56 seconds, this clip focuses on the shooting of the sequence (actually shot in Glasgow, Scotland), the stunts, CGI and overall creation of the sequence.
- "Highway Heist" runs for 6 minutes 28 seconds, this clip focuses on the intense highway sequence with the tank, originally the filmmakers intended to shoot this sequence in London, but that was not going to be possible, so they found a recently completed highway that they were able to use before it was opened to the public and takes a look at the incredible mess they made shooting this sequence.
- "Antonov Takedown" runs for 6 minutes 18 seconds, this clip focuses on the shooting of the runway sequence where the team take down the Antonov plane and how they achieved the complicated sequence.
- "Dom & Letty Race Again" runs for 3 minutes 35 seconds, this clip focuses on the reunion of these two characters amid a street race that ends in a confrontation.

The disc also includes "It's All About The Cars" (1080p) a 3-part featurette that can be viewed individual or with a 'play all' option, they include:

- "On The Set With Vin" runs for 3 minutes 16 seconds, is a behind-the-scenes clip with Vin Diesel shooting the highway chase and how he did a lot of his own stunts.
- "Gearhead's Delight" runs for 6 minutes 27 seconds, is another behind-the-scenes clip takes a look at the picture car coordinator and his role on the set.
- "The Flip Car" runs for 5 minutes 23 seconds, this behind-the-scenes clip takes a look at the villain's flip cars, their design, build and mechanics.

"Hand to Hand Fury" (1080p) is the final featurette which runs for 9 minutes 44 seconds, this film is filled with more than just car stunts, there are several furious hand to hand fights in the film and this clip delves into the choreography, stunts and shooting of these fight sequences.

The disc also authored with Universal's usual resume playback feature and bookmarks feature.

DISC TWO: DVD

This is a DVD version of the film and also included is a promo code for the UltraViolet digital copy version of the film as well.

Packaging


Packaged in a 2-disc Blu-ray keep case, first pressings are housed in a cardboard slip-case.

Overall


"Fast & Furious 6" is a terrifically fun ride, it's often silly, relies on many action clichés - one liners, muscled up heroes taking a pounding and never drawing blood, over-the-top and unbelievable sequences, etc. Just switch your brain off and be entertained by this highly enjoyable instalment. The A/V quality is stupendous and the extras are well worth exploring.
| | | | | |
| --- | --- | --- | --- | --- |
| The Film: A | Video: A+ | Audio: A+ | Extras: A+ | Overall: A+ |