Maskerade AKA Mask Maker (Blu-ray) [Blu-ray]
Blu-ray ALL - United Kingdom - 101 Films
Review written by and copyright: Samuel Scott (28th December 2013).
The Film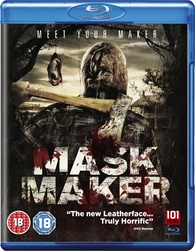 ***This is an A/V and extras review only. For reviews on the movie from various critics, we recommend visiting HERE.***

A lucky couple hit the jackpot when they purchase a 19th century plantation home for a bargain price. They invite their friends up for the weekend to celebrate their good fortune and to start making the house a home. The locals in the town (Michael Berryman - The Hills Have Eyes, Treat Williams - 127 Hours) try to warn them about the sinister history of the house but they won't listen.

When the friends start to go missing, along with the skin off their faces, the survivors realise the plantation's former owner has risen from his grave and he's not happy...

Video


Independent distributor 101 Films release the low budget slasher "Mask Maker" (original title: "Maskerade") onto Blu-ray in the United Kingdom at an aspect ratio of 1.78:1 (OAR = 1.85:1). The transfer is 1080p and uses an AVC MPEG-4 codec. It's a bit of a mixed bag, but overall good.

As with many low budget features, there are some obvious budget limitations as to the standard of equipment used. A lot of natural light has been used in some scenes, and this does at times cause a little bit of an adverse affect on the level of detail. Generally, detail is solid - if far from reference quality - with facial details and undergrowth in the background clearly visible when not purposely out of focus. Some details were lacking, such as darker hair colours, and shadow details were often a little below par, probably due to the lighting on-set. Skin tones seem a little warm, but contrast levels are consistent. The most impressive parts of the transfer are in the various flashback scenes, which use more greyish colours in comparison to the blacks, browns and greens of the present day segments. Overall, whilst it won't leave you in awe, the transfer is as good as similar budget horror releases on Blu-ray from some of the more experienced and well-known distributors.

The disc is region free, and the feature runs 89:53.

Audio


There is just a single audio track available here; English DTS-HD Master Audio 5.1. Unfortunately, it is very much front focused for every detail apart from the score by Nathan Furst. All dialogue is very much centre based, and there are no subtle effects coming from the surrounds, which is a shame. Even some crickets chirping, or the occasional door closing would've helped the atmosphere of the feature. The score itself is nothing we haven't heard before, and is reminiscent of basic slasher films of yesteryear. Dialogue is always clear, and there were no signs of damage such as drop outs or scratches. I also noticed no signs of background hiss. Despite the uneventful use of the surrounds, the track has no issues.

Unfortunately, no subtitles have been included.

Extras


None.

Overall



| | | | | |
| --- | --- | --- | --- | --- |
| The Film: C- | Video: B- | Audio: B- | Extras: F | Overall: C |

---
DVD Compare is a participant in the Amazon Services LLC Associates Program and the Amazon Europe S.a.r.l. Associates Programme, an affiliate advertising program designed to provide a means for sites to earn advertising fees by advertising and linking to amazon.co.uk, amazon.com, amazon.ca, amazon.fr, and amazon.de.