The Film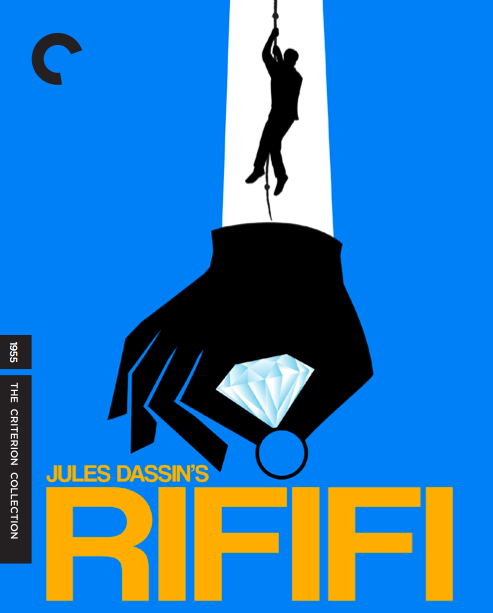 In the late 40's and early 50's Jules Dassin was making a name for himself in Hollywood, delivering gritty, thought-provoking hard boil films such as "Brute Force" (1947), "The Naked City" (1948), "Thieves' Highway" (1949) and "Night and the City" (1950) - with each film gaining notoriety. Then it all fell apart, when in 1951 director Edward Dmytryk named him a communist to the House Committee on Un-American Activities (Senator Joseph McCarthy's witch hunt group assembled to identify and remove potential threats to America's freedom from Communist forces). As a result Dassin was blacklisted, unable to find work in Hollywood Dassin moved to Europe in order to continue making films. After several years of false starts including two pictures being shut down by U.S. Government pressure, Dassin found his talents of most use in France. Having not made a film in five years, Dassin jumped quickly on "Rififi", a film based on a novel that he was not particularly fond of - he found it racists (the original crime novel cast these characters as shady North Africans) and occasionally difficult (especially since the book contains a scene of necrophilia). He took the job regardless and shaped the film in a way that suited him more and would make the content more palatable. The result is one of the best noir crime films to ever be produced, a film that then film critic François Truffaut (who would go on to become one of France's most important filmmakers) wrote - "Out of the worst crime novels I ever read, Jules Dassin has made the best crime film I've ever seen", high praise indeed.

Recently released from prison, Tony le Stéphanois (Jean Servais) reunites with his friend Jo le Suedois (Carl Möhner) and his Italian associate Mario Ferrati (Robert Manuel) who've been hatching a plot to steal jewels from the Mappin & Webb Ltd jewelry shop and invite Tony to join their team, he declines as he's trying to remain straight. After a rough night and learning that his ex-girlfriend Mado (Marie Sabouret) has become Louis Grutter's (Pierre Grasset), a dodgy night club owner - Tony changes his mind and decides his life isn't exactly the way he wants it and decides to take Jo and Mario's offer to burglarise the shop. The team of criminal professionals is assembled including a top-notch safe cracker and they embark on the heist of their lives but things get complicated quickly afterwards with a series of events that will change their lives forever.

For a movie that Dassin had little to no interest in making, he certainly knocked it out of the park, perhaps making the best of a rotten situation - blacklisted from Hollywood, out of work for five years and suddenly working on a film whose source material (the novel) he disliked, with a limited budget that meant working in real locations and with not a single star among the cast. Some of the best aspects of this film come from its limitations, the real locations are exactly that... real, which adds to the overall aesthetic of the film. The fact that there are no stars in the film works to its advantage, we're not distracted by the star, the story and more importantly the heist are the true stars of the film.

Speaking of the heist, the film pulls some serious punches, but this sequence is the knock out punch. Incredibly the entire heist scene runs for 32 minutes and without a single line of dialogue spoken... you read that correctly, no dialogue, not even any music, it's 32 minutes of pure tension. You simply can't do that in todays cinema, can imagine holding people's attention for 32 minutes without a word spoken? Dassin manages it and delivers not only the most memorable scene in the film but a sequence that's been lauded for its genius and often imitated. The interaction between the cast sells this scene, they really appear as if they were life-long criminals, the scene is also about as accurate as you can get in terms of breaking an entering, so much so that the film was banned in several countries fearing that people would use it as an instructional guide on how to rob a jewellery store.

"Rififi" features some terrific filmmaking, tight storytelling, brilliant black and white photography, terrific performances from the criminal ensemble and easily the most memorable and tense heist sequence committed to film. I've loved this film ever since I first saw it fifteen years ago and still love it - it's one of the most impressive crime films to come out of France and easily one of the films that after viewing it you'll want to share it with as many people as possible. Highly recommended.

Video


Presented in the film's original 1.37:1 full screen ratio, this Criterion release is presented in HD 1080p 24/fps and mastered using AVC MPEG-4 compression. The Criterion Collection is known for their pristine transfers and "Rififi" is no exception. The Black and White photography looks good, with solid blacks, whites look good, although are sometimes muted, and perfectly balanced grays. The transfer is mostly free from specks, dirt and damage, Criterion has done an excellent job in ensuring this print is clean and presentable. The film's grain is nicely layered and there are no traces of digital noise reduction or any compression related issues. For a nearly 60 year-old film this image looks great.

Audio


Two audio tracks are included, one in the film's original French LPCM 1.0 Mono track (48kHz/24-bit) as well as an English Dolby Digital 1.0 Mono dub. It's quite rare that Criterion includes a dub track, usually they only include the film's original audio track. For the purposes of the review I chose to view the film with its French track. The audio is perfectly adequate for the film, it's primarily dialogue-centric with front end audio sounding good. Dialogue was clear and distortion free, the film's score was also decently presented despite the limited depth of a mono track. I couldn't detect any flaws with this audio track. Optional subtitles are included in English.

Extras


The Criterion Collection have included a small collections of supplements all carried over from the now 13 year-old DVD edition Criterion released. We get an interview, a stills gallery, the film's theatrical trailer as well as the usual booklet with liner notes. Also included is a DVD edition of the film. Below is a closer look at these extras.

DISC ONE: BLU-RAY

First up is an interview with director Jules Dassin from 2000 which runs for 28 minutes 42 seconds, this is a terrific clip, Criterion covers all the bases here, with Dassin's involvement in the project as well as discusses his blacklisting from America, working on the script and with the cast. He offers some excellent background in this worthwhile feature.

Next is a stills gallery (1080p) this is a decent collection of production sketches by designer Alexandre Trauner, also included are a series of cast photos and production stills.

Finally the disc also features the film's original theatrical trailer (1080i) which runs for 2 minutes 45 seconds.

The case includes a 16-page booklet with essay by critic J. Hoberman entitled "A Global Caper" as well as notes about the technical specs of this edition and a cast and crew list.

DISC TWO: DVD

This is the standard DVD edition of the film with the same extras as seen on the Blu-ray release.

Overall


See it, buy it and tell your friends about it, "Rififi" is a true crime classic. I was generally pleased with Criterion's release of this film on Blu-ray however was a little disappointed that no new extras were included, a British Region B release from Arrow films has not only included the extras seen on this disc but also featured some decent additions.
| | | | | |
| --- | --- | --- | --- | --- |
| The Film: A+ | Video: A | Audio: B | Extras: B+ | Overall: B+ |