Cleanskin [Blu-ray]
Blu-ray ALL - United Kingdom - Warner Home Video
Review written by and copyright: Samuel Scott (1st January 2014).
The Film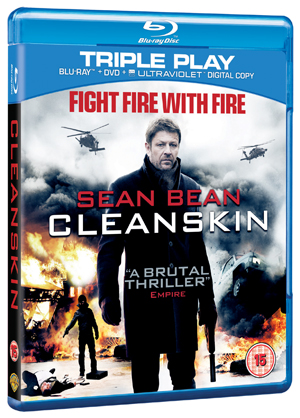 ***This is an A/V and extras review only. For reviews on the movie from various critics, we recommend visiting HERE.***

Fight fire with fire.

Sean Bean plays Ewan, a secret service agent deep undercover in Londonís criminal underbelly, on the heels of a terrorist cell. His mission: to terminate with extreme prejudice.

Also starring Charlotte Rampling and James Fox as his operators and Abhin Galeya as Ash, the eponymous 'cleanskin', an extremist unknown to the security services and every agentís worst nightmare.

Video


Warner Home Video presents Sean Bean vehicle "Cleanskin" onto Blu-ray in the United Kingdom in the original aspect ratio of 2.40:1. The transfer is 1080p and uses an AVC MPEG-4 codec. Shot on a budget of £2 million using an Aaton Penelope camera, the transfer is a little disappointing, but adequate.

The biggest problem facing the transfer, is that it is just a tad soft at times, and overly noisy. Skin tones sometimes feel washed out, whilst edges lack sharpness and colours lack depth and vividness. Black levels are inconsistent, sometimes strong, other times slightly lighter than they should be - something that is especially true in darker scenes. Detail is also average. Sometimes the facial details look great, especially Sean Bean's ruggedness, but a lot of the background detail isn't as sharp as I would hope from a high definition transfer. There aren't any signs of damage to the print such as scratches, and it is certainly passable, but I just hoped for something better than average considering this had a bigger budget than most British films of this calibre.

The disc is region free, and the feature runs 107:50.

Audio


Apart from the main audio track of English DTS-HD Master Audio 5.1, we get the option of English Audio Descriptive Dolby Digital 2.0 Surround. As my sight is perfectly good, I obviously opted for the lossless track without the requirement for narrative. Unfortunately, it falls into the same category as the transfer - adequate, yet uneventful. Although there are a few moments where the generic score comes to life, it never really immerses you into the film. The majority of the effects such as bomb explosions, sound as generic as those found in the ten terrorism thrillers before it, and the LFE usage doesn't always seem to come in at quite the right time. The surrounds are used sparsely for the effects, and a lot of the time, the feature even feels as though it is very much centrally based audio wise. On the plus side, dialogue is always clear and there are no problems with dropouts or background hiss. This isn't a poor track, it just feels rather underwhelming at times.

Optional English subtitles for the hard of hearing have also been included.

Extras


Quite a poor selection here; just 2 TV spots (0:32, 1:02) and a theatrical trailer (1:32).

Overall



| | | | | |
| --- | --- | --- | --- | --- |
| The Film: C+ | Video: C+ | Audio: C+ | Extras: E | Overall: C+ |

---
DVD Compare is a participant in the Amazon Services LLC Associates Program and the Amazon Europe S.a.r.l. Associates Programme, an affiliate advertising program designed to provide a means for sites to earn advertising fees by advertising and linking to amazon.co.uk, amazon.com, amazon.ca, amazon.fr, and amazon.de.